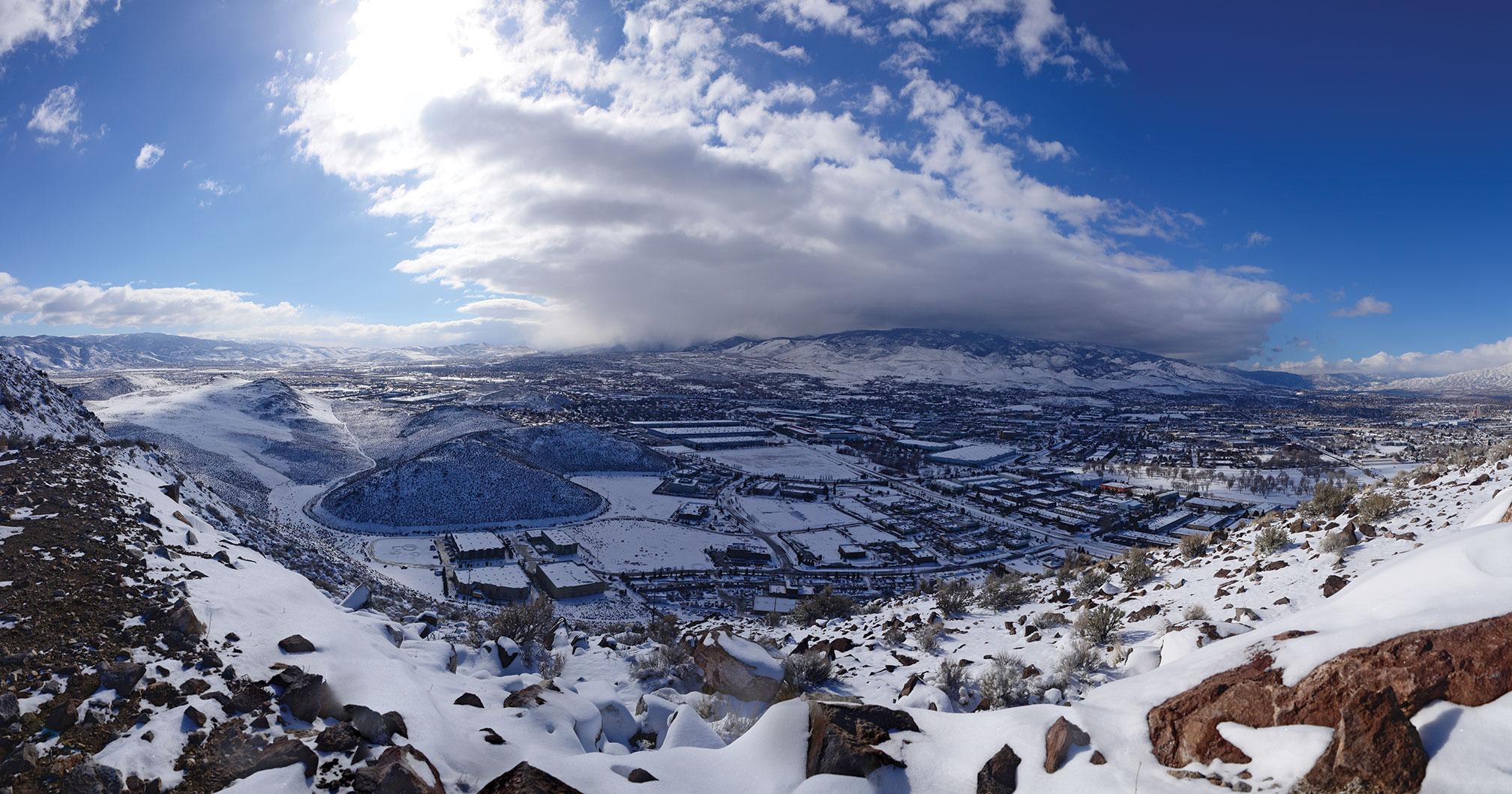 Reno on a winter day, photo by Phil Mosby
05 Oct

Airport Offerings Take Flight
New nonstop flights bolster the region's air service
Don't be surprised to hear a few more Southern accents—from both Southern California and the Southern United States—on the ski slopes this season.
Dallas, Atlanta and several locations in Southern California are among the latest additions to the slate of offerings to and from Reno–Tahoe International Airport, which continues to regain air service following a slump in seat capacity that reached a nadir in 2014.
As of July, the airport had added ten new flights in the past 13 months, says Brian Kulpin, vice president of marketing and public affairs for the airport.
"You see some of this coming back," Kulpin says. "We, as a region, have been very aggressive."
The seats available on flights leaving the airport dropped to approximately 4.16 million in 2014 but have increased 11.8 percent, to about 4.65 million, since. In 2015, passenger numbers grew for the first time since 2005, with Reno–Tahoe International serving 3,432,330 passengers, a 3.8 percent increase compared to 2014, according to information from the airport. The addition of new flights is driven by the work of airport staff and the Reno–Tahoe Air Service Corporation, a nonprofit organized to maintain and expand air service to the region.
Flights to and from Orange County, Los Angeles, Long Beach, Oakland and Boise, Idaho, are among the recent additions to the airport, as well as flights to New York City and Guadalajara, Mexico.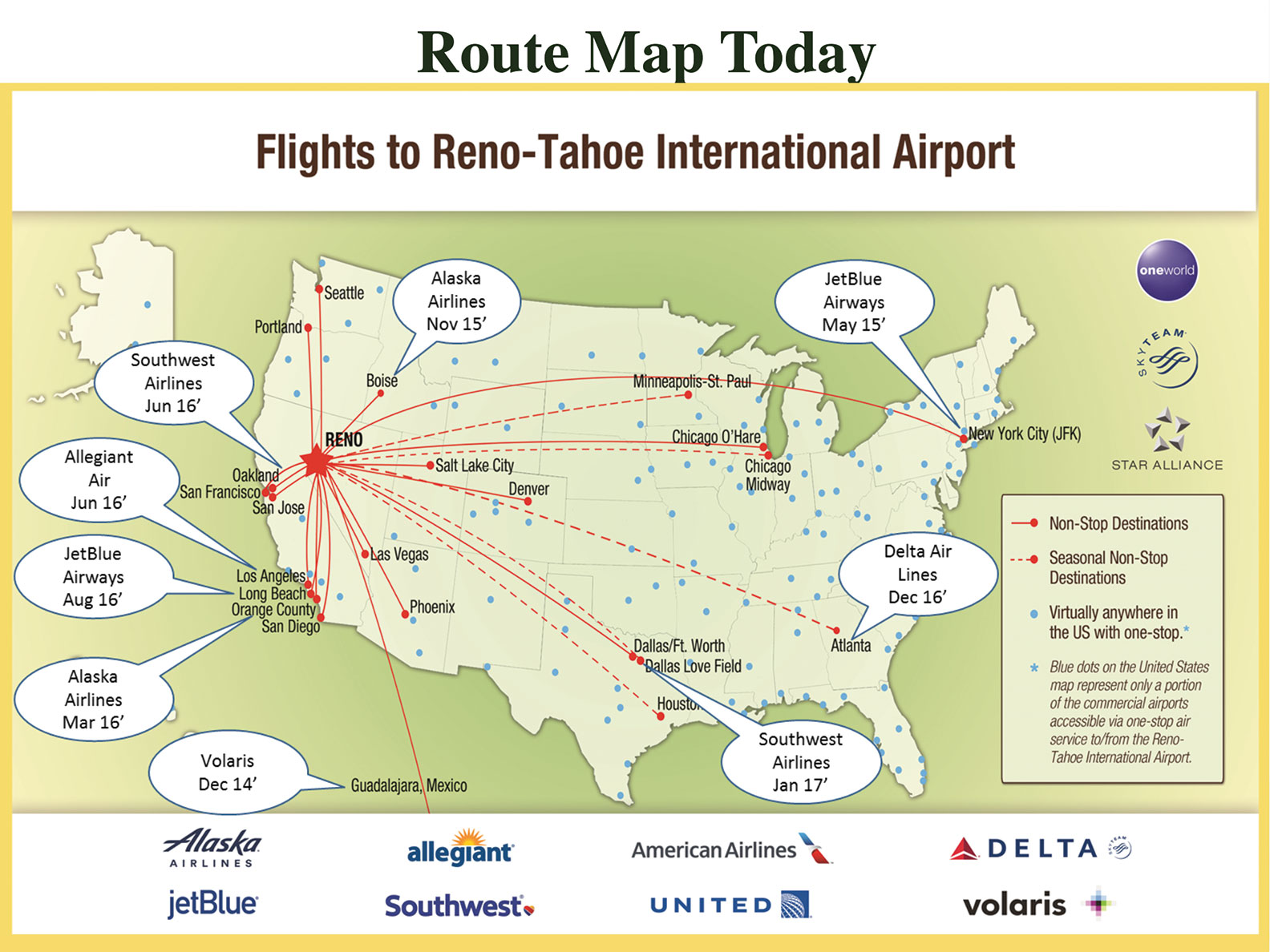 Positive Impacts
Regaining and expanding air service to Reno–Tahoe is "absolutely central" to those who live, work and own businesses in the region, says Andy Wirth, president and CEO of Squaw Valley Ski Holdings and chairman and president of the air service corporation. The new flights have the potential to positively impact all business segments, Wirth adds, not just the ski and gaming industries
"It's in play, and it's working very, very effectively," Wirth says of the coalition's goal to bring more air service to the region. "It's just fantastic."
Southwest Airlines will fly nonstop to Dallas Love Field once a week starting January 7, 2017, then twice a week starting March 12. American Airlines also offers three daily nonstop flights to Dallas/Fort Worth International Airport.
"Reno is very important for a variety of reasons, including the ski season," says Dan Landson, spokesman for Southwest Airlines, calling the new nonstop flight out of Dallas a "really big deal."
Delta Air Lines will fly nonstop between Reno–Tahoe and Hartsfield–Jackson Atlanta International Airport three times per week from December 19, 2016, to January 3, 2017. Between January 7 and March 26, 2017, the service will move to Saturdays only. Delta flew the route previously from 2004 to 2009 and saw an average of 83 percent of the seats filled, according to information from the airport.
"This flight not only creates great nonstop access out of Atlanta, one of the hot markets in skiing, but also one-stop easy connections on the Southeast's favorite carrier," Wirth says.
With the addition of several Southern California flights, Reno–Tahoe can compete—in terms of air access—with destinations like Utah and Colorado, Wirth says, calling the area the "traveling demographic gold mine of North America."
"Now we have an excellent suite of travel options for the Southern California customers," Wirth says.
Air service promoters have also welcomed Southwest Airlines' nonstop service to the Bay Area back into the fold with the June return of flights to Oakland. Southwest Airlines flew the Oakland–Reno route until June of 2013, and getting the service back has been a high priority for tourism and business officials.
"We previously offered the service before gas prices went skyrocketing, and we saw an opportunity there," Landson says.
The flight is important for Reno's big employers who want convenient access to the Bay Area, according to Wirth.
"These flights benefit Tesla and Panasonic as much as they benefit the casinos," he says.
Prime Locale
Reno–Tahoe International is an access point to Central California, and Nevada provides a more business-friendly environment than the Golden State, says Michael Boyd, airline consultant and president of Boyd Group International. Add national brands operating in the area and a high quality of life, and the attraction for airlines becomes clear.
"You are a very strong leisure destination with a much broader base than your friends down in Las Vegas," Boyd says. "There is very little downside on the horizon right now."
About 400 airline executives, aircraft manufacturers and aviation leaders from around the world received an up-close look at the region during the 21st Boyd Group International Aviation Forecast Summit at Squaw Valley from September 18–20. Promoters of the area hope giving a firsthand look to airline executives will dispel misconceptions about the Reno–Tahoe region and move it to the front of mind for airline decision-makers. The summit included predictions of emerging airline trends, forecasts for U.S. airports and fleet projections from aircraft manufacturers.
"Airlines aren't really growing and they're going to put equipment where they can make the most money," Boyd says. "They're making money in Reno, and that's all that matters."
Flights to such locales as Vancouver, Canada, and additional flights to East Coast destinations like Philadelphia, Pennsylvania, and North Carolina are among areas airport officials are looking to for additional service, Kulpin says.
Wirth says there are more flights for Reno–Tahoe on the horizon but declined to discuss details, citing airline confidentiality.
"We truly have momentum. We have a solid coalition," Wirth says. "We're on everybody's radar screen."
---
Michael Kilburg is a South Lake Tahoe–based writer and editor.