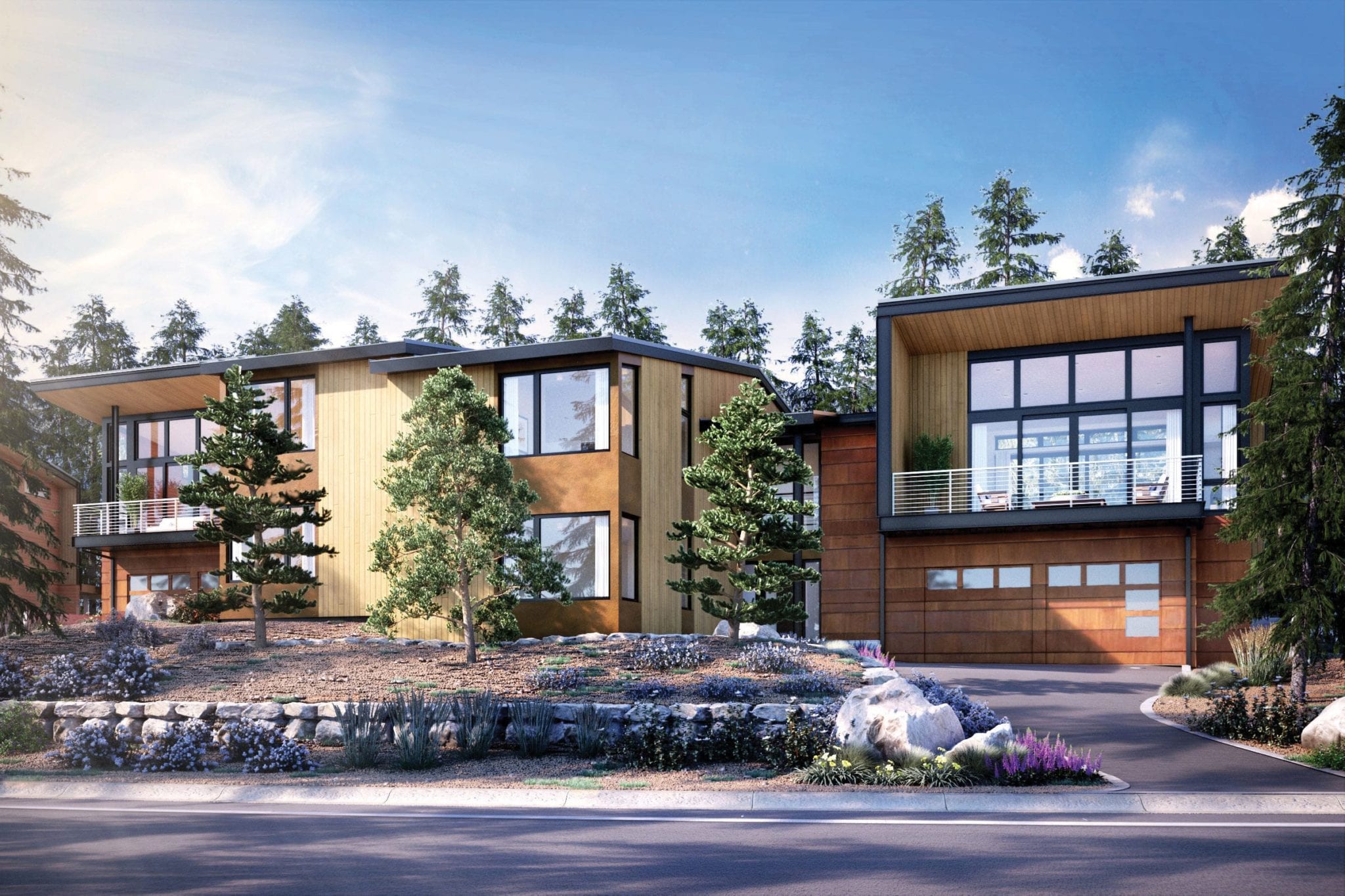 29 Sep

Mountainside's Newest Neighborhood to Open Mid Ski Season

Boulders, the newest neighborhood at the private Mountainside at Northstar community, broke ground this past summer and is scheduled to open to owners in February 2018.

"Boulders is kind of unusual because it's geologically interesting," says Ron Barnes, senior strategist with development company Mountainside Partners. Replete with large granite rocks, Boulders is situated on the edge of a hillside within Mountainside, which is nestled midmountain between the Ritz-Carlton, Lake Tahoe, and the Village at Northstar. "There are phenomenal views to the east and direct ski access to the west," Barnes says.

Mountainside Partners engaged San Francisco's BAR Architects to design residences that would take advantage of the site while also preserving the natural beauty of the surrounding forest.

BAR principal architect Jeff Goodwin says the design process took about a year. "The soaring pines and long vistas inspired the idea that we were going to try to connect the indoors and outdoors, both visually, though glass, and with big openings that would allow indoor/outdoor living," he says.

Bright and contemporary, the 19 residences consist of 2,900-square-foot townhouses called the Chutes, larger homes featuring panoramic views aptly known as the Vistas, a collection of 3,200-square-foot spaces with another 1,600 square feet of outdoor living space known as the Skiways, and one semi-custom single-family home.

Huge sheets of glass, steel, concrete and natural woods combine with shed roofs and big overhangs to create a mountain modern aesthetic. This extensive use of glass, to include foldaway doors, was one of the reasons Mountainside Partners was drawn to BAR Architects.

"It's like a treehouse living experience," says Barnes. "It's got these commanding views in a really intimate setting among the boulders and trees. It's so different from anything else that we've done, and also different from anything else I've seen in the Tahoe area."

Boulders was designed to LEED gold standards, using radiant flooring, passive night cooling and mechanical heat-recovery units, plus highly insulated walls and ceilings and double-pane glass.

"We're super excited by this type of development," says Goodwin. "It builds on traditions of mountain living, but in a contemporary way that talks about family and lifestyles of the future."

Mountainside is a 75-unit development comprised of different neighborhoods, to include a series of townhomes, the single-family Stellar Residences, and the custom-built Martis 25 homes. The latest in the still-growing community, Boulders is expected to open to owners mid ski season; home prices start at under $2.5 million.

"It's an intimate community," says Barnes. "We're starting to see our new owners really embrace this concept of Mountainside."

That concept, Barnes says, is a comprehensive family approach to enjoyment, relaxation and discovery. Amenities include a yoga studio and outdoor yoga platform, both of which are adjacent to the new Boulders development, as well as the Tree House, a well-appointed community center with pool and fitness area that also acts as the central hub for outdoor adventures. Other offerings include cabins where owners can "glamp," an interactive playground set on an acre of land and a trail system of more than 40 miles that connects to the Tahoe Rim Trail, the Ritz-Carlton and the Village at Northstar.

One of Mountainside's popular initiatives is the artist-in-residence program. In August, Luca Marziale, a London-based landscape photographer, completed his stay as the program's second visiting artist. Marziale hosted workshops and open studio hours, allowing Mountainside residents to learn from and examine his work.

"This was my first time visiting Tahoe and it definitely won't be my last time," Marziale says. "Tahoe is quite a unique destination; there are not many places in the world where you can go hiking on snowy mountains and then spend the rest of the day enjoying the sun at the beach."

He adds, "One of the highlights for me has been the wonderful sense of community here at Mountainside. Everyone has a role to play and everyone gets along and makes you feel welcome. Having the support of the people you live and work with has allowed me the time to explore and learn more about myself and my work."

And this—being able to learn, play and explore in Tahoe's unparalleled alpine setting—is what Mountainside is all about, according to Barnes.

"We're here to help people connect into themselves and their families, and give kids opportunities to experience things they can't in the city," he says. "Mountainside is about connectivity."

To learn more about Boulders and Mountainside at Northstar, visit www.mountainsidenorthstar.com.