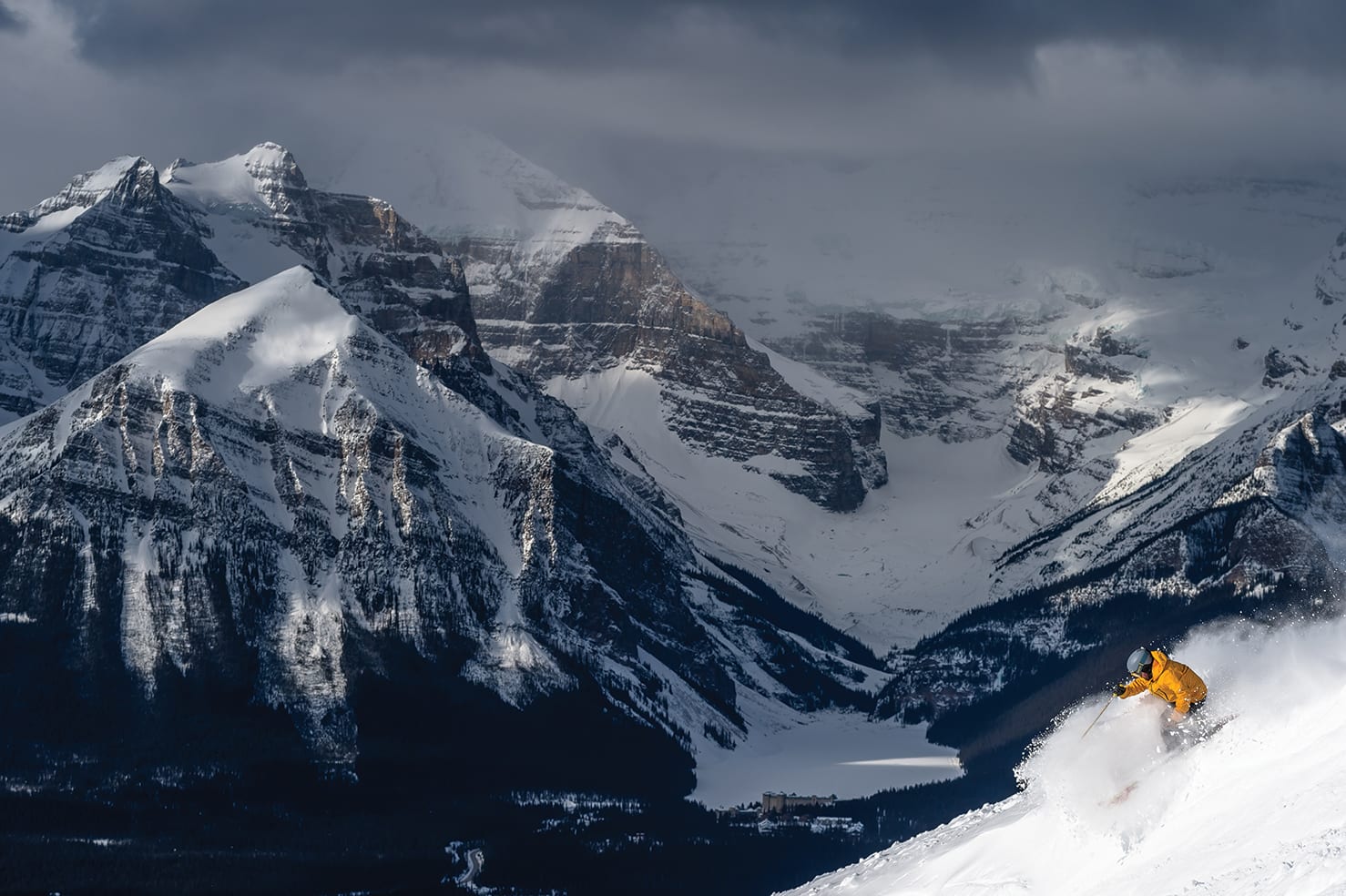 The view from Lake Louise Ski Resort, with the Victoria Glacier and Lake Louise in the background, photo by Reuben Krabbe, courtesy SkiBig3
03 Oct

Go Big in Banff
Ski Alberta's Banff, Lake Louise and Norquay on one cool Canadian Rockies trip
O Canada! Your natural charms are many, but perhaps none so staggeringly stunning as the steep, snow-covered summits belonging to Banff National Park. Established in 1885, not long after three Canadian Pacific Railway workers stumbled upon a series of natural hot springs, the 2,564-square-mile swath along Alberta's border with British Columbia was the country's first national park, and the third in the world.
Designated a UNESCO World Heritage site for its "exceptional natural beauty" and "striking mountain landscape," the frame-filling peaks here don't rise, they erupt on an IMAX-sized scale. The park's boundaries include a pair of fabled alpine destinations surrounded by spectacular scenery—the buzzy town of Banff and the little hamlet of Lake Louise—as well as a trio of legendary ski areas dating back to the 1920s: Banff Sunshine, Lake Louise Ski Resort and Mt. Norquay.
This roughly 8,000 acres of terrain collectively known and marketed as the SkiBig3 get up to 30 feet of fluffy white soft stuff every year, owing to a northern latitude and location along the Continental Divide. A happy geographic and meteorological intersection provides reliable snowfall and a season that stretches from early November until late May. Expansive and uncrowded, with lift lines a rarity, the three resorts offer terrain suitable for all levels of skiers and riders. And, since Canadians are nice by law, levels of service here are exceptional across the board.
All three resorts are on the IKON pass this year; the Mountain Collective includes just Banff and Lake Louise. Both come with exclusive lodging deals.
"You don't have to go far to feel a million miles away," beckon SkiBig3's brochures. Remarkably, this snowy Shangri-La is easily accessible via the big and modern Calgary International Airport, built out for the 1988 Winter Olympics, with connections from Reno and Sacramento and direct arrivals from the Bay Area. The town of Banff is an easy 90-minute rental car or airport bus ride along the four-lane Trans-Canada Highway, passing Olympic training facilities and increasingly larger peaks en route. Lake Louise is another scenic 45 minutes west beyond Banff.

Skiers on Bye Bye Bowl, off the Great Divide Express Quad at Banff Sunshine, with Mount Assiniboine in the distance, photo by Reuben Krabbe, courtesy SkiBig3
Town of Banff
Most visitors base themselves in the cool ski town of Banff, Canada's highest at 4,537 feet above sea level and regularly recognized as one of North America's best. Ringed by rugged peaks, it was laid out with sight lines leading to the looming, nearly 10,000-foot-high Cascade Mountain and the much-photographed, up-thrusted and angular Mount Rundle.
Compactly walkable, Banff boasts a wide variety of lodging, including the landmark castle-like Fairmont Banff Springs Hotel, one of the nineteenth century grand railway hotels. Restaurants range in size and flavor, from the epicurean Eden in the Rimrock Resort Hotel to eclectic global eats at Block Kitchen + Bar to the snug and humble Eddie Burger, and the après-ski scene is packed with pints from local producers like Banff Avenue Brewing Co. and Grizzly Paw. If the sporting planets align, and a curling match and accompanying commentary is in full sweep on a brewpub screen, a hefty portion of poutine may be in order.
There's plenty of shopping at swanky art galleries and boutiques, and the Whyte Museum offers a snapshot of regional history and culture. Banff Upper Hot Springs, the last of the local springs open to the public, can ease burning quads, and for Nordic skiers, Canmore's Olympic facilities include 65 kilometers of groomed Bow Valley trails just 15 minutes away.
Sporting goods stores abound as well. SkiBig3's Adventure Hub in the center of town reserves gear suited to local conditions, with free delivery. Some seasoned skiers opt to bring their boots and rent the rest locally, leaving the hassle and cost of lugging skis and boards at home. Need longer or fatter boards? Rentals are interchangeable here.
A fleet of comfortable complimentary shuttle buses running from multiple locations around town make it easy to actually get on the mountains.
Oh, and did we mention the really great exchange rate?

Skiers enjoy

 

fresh snow at Banff Sunshine, photo by Noel Hendrickson, courtesy SkiBig3
Banff Sunshine
Fifteen minutes from town, Banff Sunshine sits at a base elevation of 7,200 feet with 137 runs spread across three mountains; its vertical drop of 3,514 feet is the longest in the Canadian Rockies. The Continental Divide lift lets skiers and riders traverse two provinces—and watersheds—in one run; Delirium Dive, a freeride area accessed from the top of the chair, has been named one of the 10 top off-piste destinations in the world.
A gondola from the base area leads to Sunshine Village, the heart of the resort. The boutique 84-room Sunshine Mountain Lodge, Banff's only ski-in-ski-out hotel, is located here; its full service restaurant, Chimney Corner, boasts large bay windows, two fireplaces, an ice bar–outfitted terrace and specialties like lentil curry soup, short-rib poutine, elk pot pie and an Alberta steak sandwich. The historic artifact-filled Mad Trappers Smokehouse at Old Sunshine Lodge dates back to the resort's beginnings in 1928.

Base area in front of the Lodge of Ten Peaks at Lake Louise Ski Resort, photo by Noel Hendrickson, courtesy SkiBig3
Lake Louise Ski Resort
Often described in anatomy-rearranging superlatives (breath-taking, jaw-dropping, vigorous pinching of oneself), Lake Louise Ski Resort is the recipient of a seemingly endless and easily justifiable series of accolades and awards for its setting and skiability. Canada's third largest alpine resort offers 4,200 rideable acres, with 145 runs spread out over four mountain faces. Gentle slopes and long cruising runs, glades, chutes and wide open bowls combined with a unique layout of beginner, intermediate and advanced runs from every chair are a big bonus for groups of varying abilities.
Some ski race fans might want to tighten their boots and take some turns on the World Cup course where many an elite athlete, including several Tahoe Olympians, have experienced the thrill of victory and agony of defeat on the stretch dubbed the Men's Downhill. Truckee-raised Stacey Cook earned her first two trips to the podium here; look for Travis Ganong and Bryce Bennett to compete in this year's meet November 24–25.
"It is absolutely stunning in Lake Louise and the view from the top of the ski resort is one of the best in the world," says Cook, who retired from racing this year after her fourth Olympics. "It's also much colder than the Sierra, so the snow is different and you have to dress appropriately—no skin showing."
When it's time to wrap those hands around a bowl of something hot, slide into the Sawyer's Nook in the historic Temple Lodge for Euro-inspired raclette and stews. Or for a true dining treat, point for the Whitehorn Bistro's big window vistas and selections like seafood chowder, Rocky Mountain game platter and signature fondue made with smoked cheddar and gouda, emmental, Mill Street Cobblestone stout from Toronto and Quebéc maple syrup.
From here the sweeping panoramic views stretch all the way to the sleepy little town of Lake Louise and the fine Relais & Chateaux Post Hotel and restaurant, where owner Andre Schwartz may personally fill your water glass. And on to Lake Louise itself, its turquoise waters frozen solid, the stately century-old Fairmont Chateau Lake Louise standing like an ice queen along its frigid shores. Rent a pair of skates for a spin or impromptu hockey game, marvel at the magnificent ice sculptures or belly up to the bar—made from ice, of course. When suitably chilled, head inside for a warming drink in the Lakeview Lounge or Swiss-style dinner at the intimate Walliser Stube restaurant and wine bar.

Après-ski on the Kokanee Kabin deck at Lake Louise Ski Resort, photo by Noel Hendrickson, courtesy SkiBig3
Mt. Norquay
Ten minutes outside of Banff, Mt. Norquay is an off-the-radar, old-school locals' resort where many a Canadian champion has learned to ski and shred. Utterly uncrowded, especially weekdays, some 190 acres with 60 runs range from immaculately groomed greens and blues all the way up to double black. The option to ski by the hour makes it a great bonus day stop on the way in or out of town, even at night.
When hunger strikes here, head for the retro-chic Cliffhouse Bistro at the top of the North American lift. Originally a tea house where the likes of Marilyn Monroe have grabbed a cuppa, sip here on a Norquay 92, a cranberry and citrus saison specially created by Banff Avenue Brewing Co., and nosh on a modern fusion menu while soaking up stellar views of Banff below.

Skiers on Standish Face #49 with views toward Goat's Eye Mountain at Banff Sunshine Village, photo by Reuben Krabbe, courtesy SkiBig3
Go Big and Go Home
A mention of Banff and Lake Louise inevitably evokes an envious "I've always wanted to go there" response. In many ways, venturing north during the snowy season makes for a more inspirational experience than wading through the peak season summer crowds.
"Being located in Banff National Park provides the unique opportunity to ski and experience a destination that is wild, magnificent, and allows skiers to connect with something bigger than themselves," says Sarah Pearson, media and marketing manager for SkiBig3. "This is a place that will leave an indelible mark on your soul."
Hard to argue with that, eh? Lifts start spinning November 9.
---
Learn more at www.skibig3.com.
---
After two trips to Alberta this year, TQ Food & Wine Editor Susan D. Rock is still trying to understand the mysterious allure of poutine.