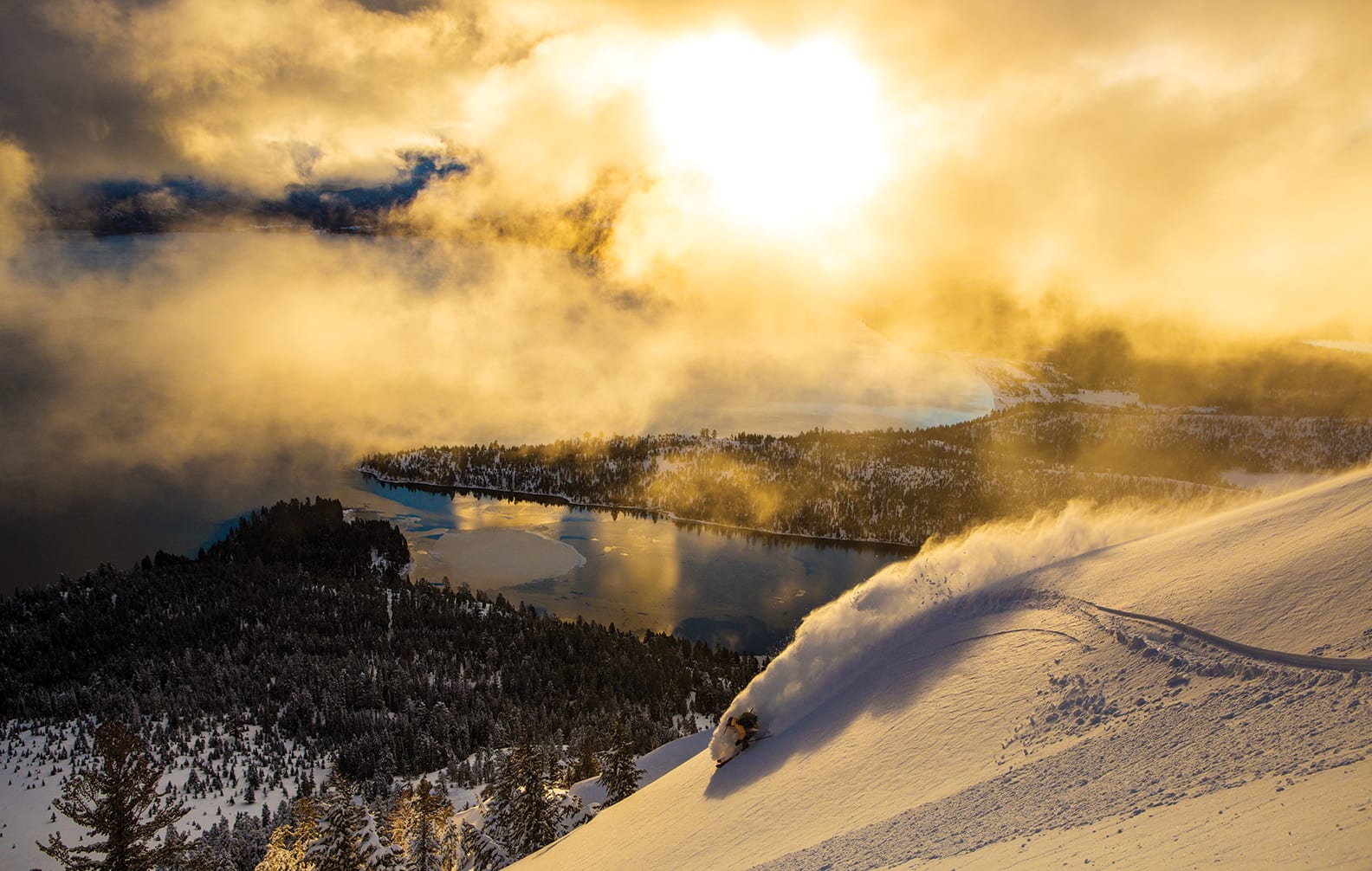 Brennan Lagasse skis under a picture-perfect sunrise on Tahoe's West Shore, photo by Ryan Salm
01 Oct

Through the Lens: The Beauty of Skiing

Few activities in life are as aesthetically soothing to the soul as skiing. Acknowledging bias, this is particularly true in Tahoe, where beauty prevails over a stunning landscape of snow, water, mountains and sky. It's one of the reasons skiers move to Tahoe and never leave.
---
Nick Russell and Danny Davis splitboard at sunrise in Ward Canyon during Tahoe's 2018 "Miracle March," photo by Ming T. Poon
---
Amie Engerbretson on the steeps of Alpine Meadows, photo by Tom Zikas
---
Tom Day drops into Chute 75 at Squaw Valley, photo by Court Leve
---
Rob McCormick scores fresh tracks above Donner Lake, photo by Grant Kaye
---
Photographer Bios
The intersection of an education in geography, communications and photography, and a seriously adventurous desire to understand faraway cultures and lands, has led Ryan Salm to document and photograph some of the world's most distant and awe-inspiring events. His photographic work ranges from fine art to commercial to editorial and can be seen anywhere beautiful imagery exists. He is currently immersed in the world of architecture and commercial photography and is available for assignments in Lake Tahoe or worldwide. Find more of his work at www.ryansalmphotography.com and follow him on Instagram, @ryansalmphotography.
Ming T. Poon is an adventure sports photographer and director of photography based in Tahoe. Passionate about outdoor pursuits, travel and making a difference, Poon is inspired by culture, nature, music, friends and family. His work has been featured by Teton Gravity Research and Matchstick Productions, and has appeared in a variety of publications as well as international commercial marketing campaigns for O'Neill, Jones Snowboards, POC Sports, NOW Bindings, Hestra Gloves, Intuition Liners, Leki Poles and more. www.mingpoonphotography.com
Tom Zikas is a commercial advertising and editorial photographer based out of Lake Tahoe. Zikas began his early career touring the world competing as a professional snowboarder. While casually photographing his travels and fellow competitors he developed a passion for photography.  His profession naturally transitioned from athlete to photographer. 
Court Leve is a well-known and respected photographer in Northern California. His work has been published in virtually all of the regional publications in the Lake Tahoe area in addition to national publications, which include National Geographic Adventure, Powder, Ski, Skiing, Freeskier, Parade Magazine, ForbesLife Mountain Time, Spirit Magazine, Southwest Art and The New York Post.
Truckee-based landscape and night photographer Grant Kaye was born on the Hawaiian island of Lana`i, and educated in Colorado, Oregon and New Zealand. Kaye worked as a cartographer and geologist for the governments of New Zealand and the USA, and then went on to become a full-time photographer and photography instructor. Today, his firm Grant Kaye Creative offers small-group and private photography classes and workshops in Truckee, Lake Tahoe, the American West and around the world. www.grantkaye.com