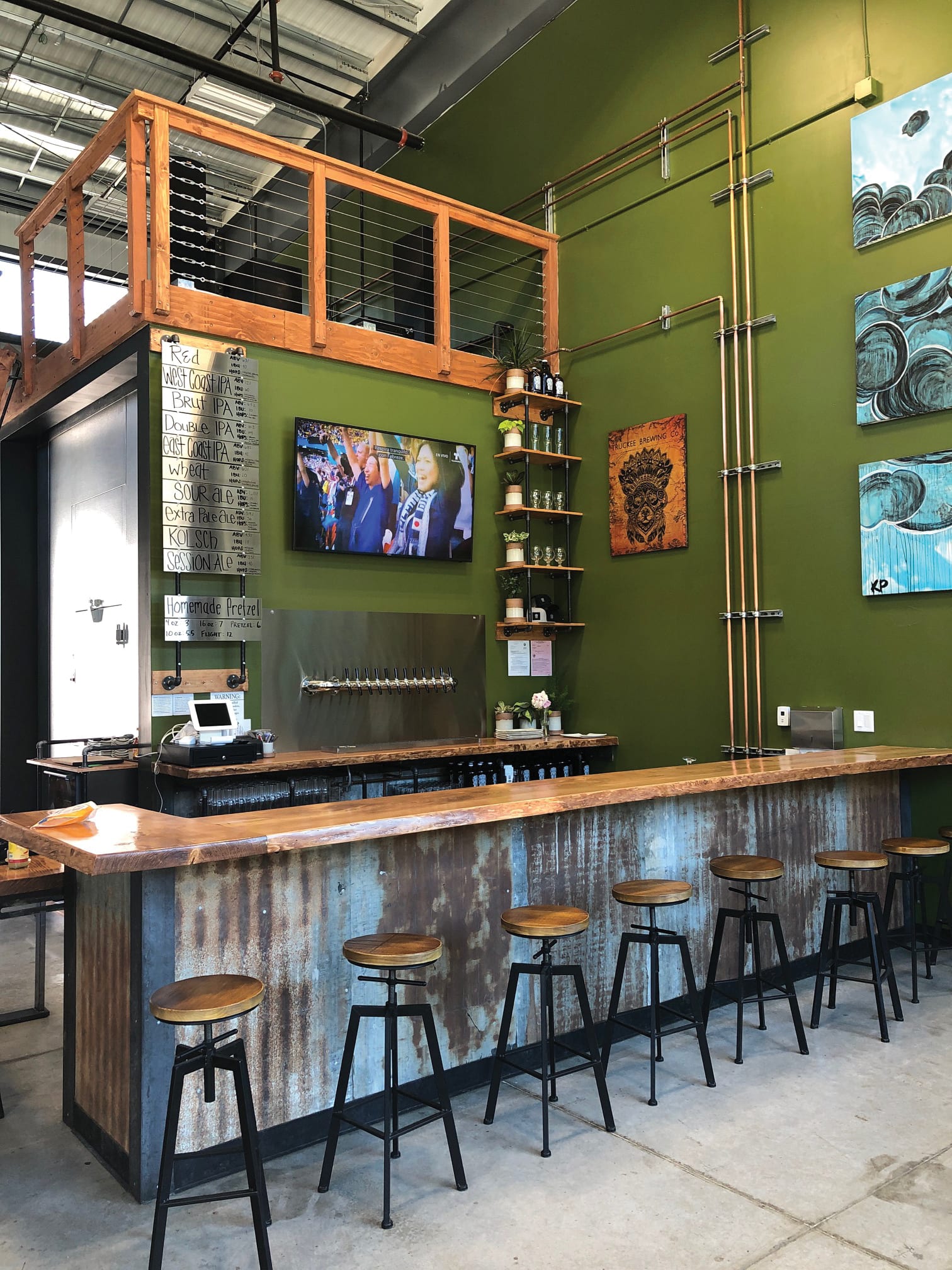 Truckee Brewing Company, courtesy photo
01 Oct

New Spots
North Shore
PIONEER COCKTAIL CLUB
521 North Lake Blvd., Tahoe City, CA
(530) 523-0402  |  www.pcctahoe.com
The old Zia Lina space is now a place to sip a cool cocktail—say, the Oaxacan old fashioned made with mescal, agave and chocolate bitters. Owners Savren Thompson and Brian Nelson, veterans of several San Francisco eateries, personally rehabbed the restaurant; chef Eric Anderson, ex-West Shore Cafe, serves up snacks such as popcorn with Vietnamese caramel and lime, wood-fired thin crust pizzas and entrees like za'atar chicken with escalivada (smoky Spanish-style veggies). Save room for the dark chocolate pudding with honey marshmallow and salted graham streusel. D; $16–$30
STEAMERS BEACHSIDE BAR & OVEN
8160 North Lake Blvd., Kings Beach, CA
(530) 546-2218
www.steamerskingsbeach.com
This longtime Kings Beach staple moved down the street to a completely renovated space that formerly housed various versions of Peluso's Apizza. Their familiar lineup of regular and thin crust pizzas and calzones are on the menu along with pesto strips, steamed clams with garlic bread and oven-baked sandwiches, including the signature hoagie piled with smoked ham, Canadian bacon, Italian salami and provolone. The streetside patio is open in warmer months. L, D; $11.95–$32.95
PHILOSOPHY
10412 Donner Pass Rd., Truckee, CA
(530) 536-5129
www.truckeephilosophy.com
Located in the former Sash and Door cabinetry shop, this spot sells charcuterie boards that can be upsized with sous-vide tri-tip and chicken served with sauces such as chimichurri, chipotle honey barbecue, spicy Peruvian green and Romesco. They also serve salads, grain bowls and hot pressed sandwiches such as the Cuban with pork, shaved Liberty Food & Wine Exchange ham, stone ground mustard, spicy pickles and gruyere. Pair with one of the many off-the-beaten path wines by the glass or one of the dozen local beers on tap. L, D; $13–$28
TRUCKEE BREWING COMPANY
10736 Pioneer Trail, Truckee, CA
(530) 545-2114
www.truckeebrewco.com
Dustin Hurley and Adam Lundy, who has produced beers for Virginia City Brewery & Taphouse, Great Basin Brewing, High Sierra Brewing and Buckbean Brewing Company, launched this industrial chic brewery and tasting room in the Pioneer Commerce Center. All-natural non-GMO ingredients go into the steam-heated five-barrel brewing system that turns out 240 kegs a month. A limited menu features Sierra Bakehouse stuffed pretzel rolls as well as vegan and sausage stromboli selections. L, D; $6–$9
South Shore
LAKE TAHOE ALEWORX
31 Highway 50, Stateline, NV
(775) 580-6163
www.laketahoealeworx.com
Hot on the heels of his first South Shore store, Luca Genasci has opened this second location, a family-friendly spot in the midst of the casino corridor. The wall of 30 rotating self-service taps boasts brews like the Bretted Belgian pale ale, a collaboration with North Lake Tahoe's Alibi Ale Works. Eats include chicken lettuce wraps, seared ahi salad, and wood-fired pizzas like the Zucca with butternut squash puree, provolone, mozzarella, ricotta, sage oil fennel and bacon. L,D; $11–$19
TASTE OF EUROPE
4125 Lake Tahoe Blvd.
South Lake Tahoe, CA
(530) 306-6670  |  www.tasteofeurope.cz
This spot specializing in Czech and German fare recently relocated from Placerville. Proprietor Richard Zellner, who is of Czech heritage, and his wife Lenka, a Prague native, cook up hearty Eastern European specialties such as potato pancakes with sausage, sauerkraut and gravy, chicken and pork schnitzel, goulash, chicken paprikash, roasted pork with dumplings, beef stroganoff with spaetzle and, of course, apple strudel with cinnamon and raisins. B, L, D; $16.95–$29.95
THE MORNING AFTER
3115 Harrison Ave., South Lake Tahoe, CA
(530) 600-1342
The folks who launched Pick 6 Sports Lounge opened this rustic modern cafe next door. Coffee drinks feature a custom blend from McLaughlin Coffee Company in Berkeley, and there are Mighty Leaf teas and vegan smoothies as well. For food, look for acai bowls, egg-cheese-bacon waffles, avocado toast, fruit salads, and a turkey and Swiss with pesto aioli. Lounge beneath the fun mountain-bear-lake mural; the cafe has USB ports and rooftop and garden seating for those who want to linger longer. B, L; $7–$12
THE HANGAR TAPROOM & BOTTLESHOP
2401 Lake Tahoe Blvd.
South Lake Tahoe, CA
(530) 578-0089
www.facebook.com/thehangarlaketahoe
Nate Riffle and Jerry Seagreaves launched this spot on four acres of land along the Upper Truckee that was formerly home to the Tahoe Amusement Park. The industrial mod space where the glass window-walls blend indoors and out offers a wide range of 30 craft beers on tap. Dog and kid friendly, there's a picnic area, patio, fire pits, lawn games and a fenced-in pooch park in the works. There's no meal service but look for the occasional food truck like Butcher's Kitchen from Placerville.
Reno
HOMEGROWN GASTROPUB
719 South Virginia St., Reno, NV
(775) 683-9989
www.homegrowngastropub.com
Third-generation Reno denizen Spencer Shea sold his food truck and renovated this old-school spot that formerly housed Midtown Eats, Sup and Midtown Tacos (his family owns adjacent Shea Tavern and sister Nickie is proprietor of La Famiglia). New copper ceilings, additional seating and lengthy breakfast, lunch and dinner menus feature locally sourced eclectic and organic comfort food like pulled pork Benedict, chicken and waffles, vegan kimchi burger, jackfruit tacos, plus mac and cheese, Brussels sprouts and pizzas (including a breakfast pie) from the brick oven in the basement. B, L, D; $13–$42
SKYLINE KITCHEN & VINE
2995 Skyline Blvd., Reno, NV
(775) 507-7377  |  www.skylinevine.com
Brett Rosselli opened this sleek dining space and retail wine shop in the former Skyline Market across the street from La Vecchia. The offerings here include a long list of shareable plates, many familiar from Sierra St. Kitchen & Cocktails, which Roselli also owns. They include flank skewers marinated in soy, cumin, cilantro and pepper, as well as prime filet medallions, lamb chops veal demi and mushroom risotto. Naturally, there's an interesting wine list, along with clever cocktails and over a dozen beers on tap. D; $7.75–$16
THE PIZZA COLLECTIVE
148 West St., Reno, NV
(775) 686-6774
www.thepizzacollectivereno.com
Owned by a group of locals deeply into dough, this pizza counter in the West Street Market produces chewy, charred, Neapolitan-style pies in 90 seconds in a 900-degree Italian blue-tiled wood-fired oven. The crust, made with 00 flour and sourdough starter, gets topped with regionally sourced ingredients, whose provenance is listed on a chalkboard. Try one with oyster mushrooms, truffled goat cheese, fontina, caramelized onion and thyme. L, D; $14–$17
BAB CAFE
13967 South Virginia St. #910, Reno, NV
(775) 409-3520  |  www.bab-cafe.com
This counter-service spot next to the theater in the Summit is the second location for the popular Korean restaurant from UNR alum Jay Ryu, who also owns similar spots in Seoul. A Korean cuisine mainstay, here bibimbab is served in a bowl layered with rice, veggies, raw or cooked egg and sliced chicken, beef, pork or tofu. Also on the menu: Korean-style wings and japchae, a glass noodle stir fry. Look for the next cafe to open soon in Sparks. L, D; $5.99–$11.99
CAFE DE THAI
760 South Virginia St., Reno, NV
(775) 829-8424
www.cafedethaireno.net
This South Reno modern Thai restaurant recently moved north to Midtown, into the old Mustard Seed space in the Sticks development. Find non-Westernized dishes like spicy sliced beef and tripe salad tossed with mint, roasted rice powder, lime juice, chili peppers and onions served warm with sticky rice and cabbage, and a charcoal-roasted Cornish game hen with coconut milk, lemongrass, garlic, black pepper and cilantro. Look for a buffet at lunchtime; delivery is also available. L, D; $12.95–$21
EL TACO SHOP
811 South Center St., Reno, NV
(775) 507-7515
www.facebook.com/tacoshopreno
Ivan and Sadie Fontana, owners of Midtown Eats and Death & Taxes, who dabbled a bit in tacos at their former South Virginia Street space, have set up a tiny taco stand with pretty pink doors in a renovated garage behind their establishments on Cheney Street. Taco types include brisket, chicken, fish, carnitas and even cheeseburger. There's also a veggie version with fried cauliflower along with guacamole, chips and Jarritos soda. L, D; $6–$8
JALAPEÑOS 2 MEXICAN FOOD
6255 Sharlands Ave., Reno, NV
In the Saint Mary's center in Northwest Reno, the second location for this cheery, family-run, south-of-the-border eatery (the first is in Sparks) serves the same Tex Mex menu—burritos, enchiladas, tamales, carne asada, tacos and mole. Breakfast, from huevos rancheros to chilaquiles, is served with rice and beans and available all day. B, L, D; $3.50–$9.50
ESOTERIC WINE BAR
148 West St., Reno, NV
www.facebook.com/EsotericWineBar
Replacing the West Street Wine Bar, this sipping spot and retail shop is owned by Serge Johal, proprietor of neighboring Thali restaurant. Find here an ever-changing list of over 40 wines by the glass from around the world that appeal to novice and cork dork alike. Pourings can be paired with foods from the surrounding West Street Market eateries, and there's wine tasting events to let you try before you buy.