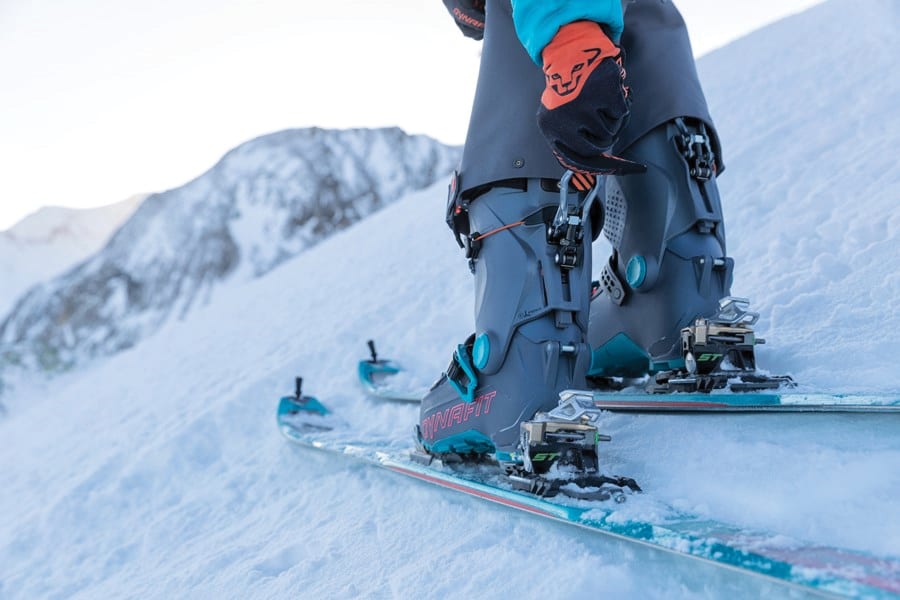 Dynafit Hoji Pro Tour boot
01 Oct

TQ Market: Treat Your Feet

Granted, new boots will never be as sexy as a pair of skis or a snowboard straight off the rack—with vibrant artwork splayed across an unblemished top sheet, edges factory sharp. But that's not to say your boots, or boot accessories, should be overlooked. Feet should be pampered for maximum enjoyment on the mountain. From boots to boot dryers to boot packs, we've got you covered for the coming ski and ride season.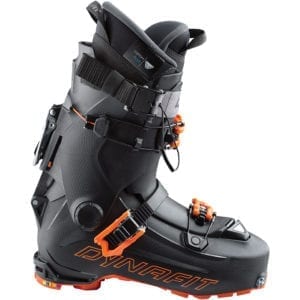 DYNAFIT HOJI PRO TOUR
$799.95
The experts at Alpenglow Sports in Tahoe City know backcountry ski gear. So if they recommend the new Dynafit Hoji Pro Tour boot—and they do—the boot is a sure bet to perform. This award-winning freeride/touring boot, designed by pro freeride skier Eric "Hoji" Hjorleifson and Dynafit binding inventor Fritz Barthel, combines the best of both worlds in the backcountry. While most ski touring boots favor flexibility for the climb or rigidity for the descent, the Hoji excels on both fronts thanks to its Hoji-Lock System. The closure system locks into place with a swipe of the hand, eliminating flex between the upper and the shell. With 11 degrees of forward lean, the locked-in boot delivers superior downhill performance after a flexible ascent. The Hoji Pro Tour is available in women's and men's models.      
Find at: www.alpenglowsports.com
415 N Lake Blvd., Tahoe City, CA 96145
---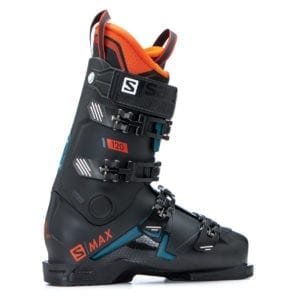 SALOMON S/MAX 120 MEN'S SKI BOOT
$599
For years the Salomon X Max 120 reigned as the top-selling narrow expert men's ski boot at Tahoe Sports Ltd. The popular model has been replaced by a worthy successor. The Salomon S/Max 120 boasts all the attractive features of its predecessor and then some, with the same comfortably snug fit right out of the box, but with more precise control and significantly reduced weight. The new S/Max 120 uses Core-Frame reinforcement under the mid-foot to provide a stiffer boot where needed while reducing mass elsewhere. In addition, a new Sense Amplifier cuff provides quicker response and a better feel when skiing, while the Custom Shell HD plastics heat-mold quicker and more effectively than the old model. It's a powerful alpine boot that does not skimp on comfort.    
Find at: www.tahoesportsltd.com
Tahoe Sports Ltd, 4000 Lake Tahoe Blvd., South Lake Tahoe, CA 96150
---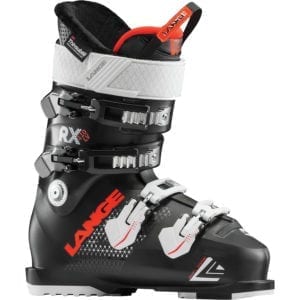 LANGE RX 110 LV WOMEN'S SKI BOOT
$599.95
At the Start Haus in Truckee, they like to say that no single ski boot among their fleet stands out above the rest. It's all about the meticulous fitting process by their skilled staff. That said, the new women's RX 110 LV by Lange is certainly of standout quality. This boot combines Lange's Dual Core shell technology with new women-specific fit and features, including a new Shin Control thermo-formable liner that adapts to the lower leg for increased support while alleviating common pressure points and shin sensitivity. For its user, this means longer, more comfortable days on the hill. What's more, the boot's Dual Core construction ensures superior rebound and flex control for optimum skiing performance.     
Find At: www.starthaus.com
10990 Donner Pass Road,
Truckee, CA 96161
---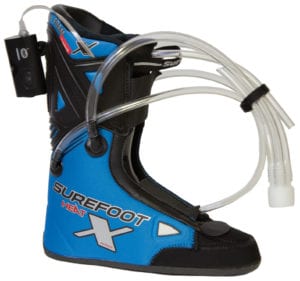 SUREFOOT X HEAT BOOT LINER
NA
Surefoot, with a convenient location in the Village at Squaw Valley, takes much pride in its ultra-comfy high-performance ski boot liners made of memory foam. And for good reason. Now, however, skiers can enjoy the added pleasantness of a heated custom liner. The liner is built exactly the same as Surefoot's Contoura X Series, but with an internally wired heat element that can be operated by an app on your phone. It's like a cushy, snugly, tailored suit for your feet—with a heater.    
Find at: www.surefoot.com
1850 Village South Road, Olympic Valley, CA 96146
---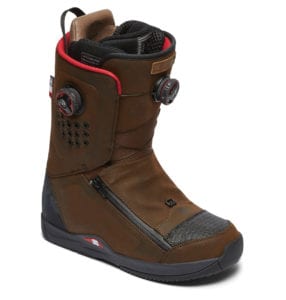 TRAVIS RICE BOA

SNOWBOARD BOOTS
$399.95
DC's Travis Rice Boas were designed for arguably the best all-around snowboarder on the planet. In accordance, it is arguably the best, most advanced boot on the market, built for expert riders seeking big mountain terrain. But while the boots are touted for their rigid construction, with a 9 out of 10 flex rating, that rating is likely exaggerated. And that's the beauty. The Boa is a high-end boot that aggressive riders find comfortable and forgiving, but still stiff enough to provide power and control at high speeds. The boot is also guaranteed to endure the elements with its SuperFabric exterior, a military-grade textile designed for extreme wear and tear.     
Find At: www.tahoesportsltd.com
Tahoe Sports Ltd, 4000 Lake Tahoe Blvd., South Lake Tahoe, CA 96150
---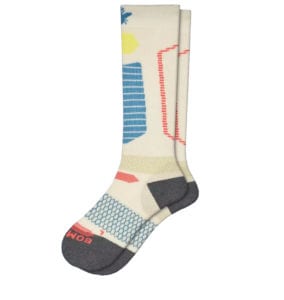 BOMBAS PERFORMANCE SKI & SNOWBOARD SOCKS
$24
There is no good reason not to own a pair of Bombas socks. Not only are these socks fashionable and comfortable, the company donates a pair of socks to the homeless for every pair purchased. In fact, the Bombas website features a running count of the number of socks donated, which at this writing had reached 9,323,783. While Bombas come in a variety of designs, the Bombas Performance Ski & Snowboard Socks were designed by South Lake Tahoe Olympic snowboarder Hannah Teter. The socks are made from high-grade merino wool and include features such as airflow venting, achilles cushioning, a honeycomb arch support system, left-right contouring, and Invisitoe and Stay-up technology. They are available in women's and men's models.    
Find at: www.bombas.com
---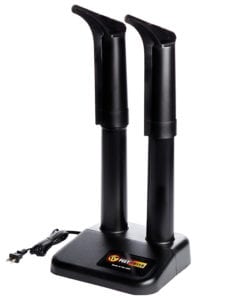 PEET ORIGINAL BOOT DRYER
$49.99
Those who have spent significant time in snow country know about the dreaded damp boot the morning after a big day. And it's never pleasant. With this annoyance in mind, Idaho resident Gene Peet invented a footwear dryer in 1968 that has since evolved into an entire line of models, all designed to efficiently and safely remove water, sweat and odor from boots (gloves and other gear, too). At just over a foot tall, with a secure base capable of supporting heavy ski boots, the Peet Original Boot Dryer uses convection technology to send slightly warmed air through dual chambers up to the boots. The original model includes a 25-year warranty.    
Find at: www.peetdryer.com
---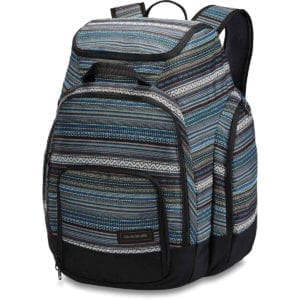 DAKINE DLX BOOT PACK
$52.50–75
Dakine had neat and orderly skiers and snowboarders in mind when it created the DLX Boot Pack. Rather than rifling through a carload of gear, owners of these packs arrive at their mountain destinations with essentials conveniently consolidated, just a few zippers away. The DLX Boot Pack—a more compact version of Dakine's Boot Locker—features a dedicated helmet and goggle pocket, a front-zip cargo pocket and separate tarp-lined boot compartment with a rear entry. The zippered side pockets, meanwhile, can be used for anything from tuning kits to gloves, while an insulated cooler pocket keeps food and drinks properly chilled.    
Find at: www.dakine.com