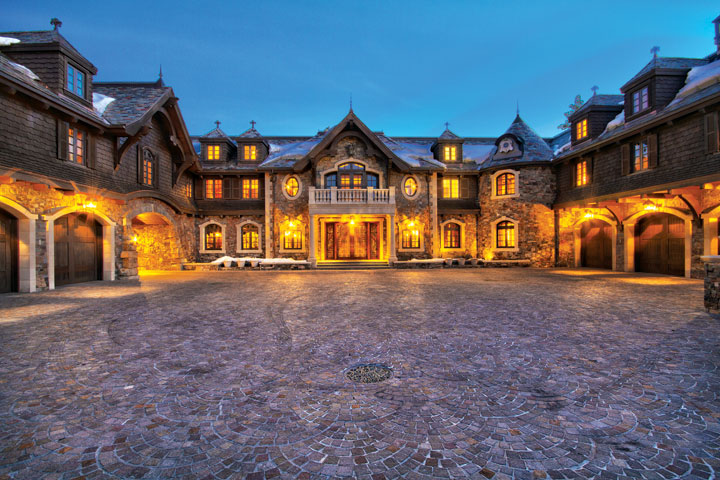 Tranquility exterior, photo by Rocky Maloney, courtesy Sierra Sotheby's
28 Jan

"Tranquility" for the Low, Low Price of $75 Million

Once called, in the pages of this magazine, "the $100 million home," Zephyr Cove's Tranquility, a stunning nod to opulence and mountain living, is back on the market at $75 million.

The property consists of 210 acres, making it one of the largest private holdings in the Lake Tahoe Basin. It once belonged to the Bourne family, of the Singer Sewing Company fortune, and was later owned by longtime Las Vegas act Wayne Newton.

South Shore developer Falcon Capital bought the land in a bankruptcy deal from Newton for $2.51 million, and Joel Horowitz, a co-founder of the Tommy Hilfiger fashion line, purchased the land for $4.5 million in December 1996 and completed the home in 2000.

Its $100 million price tag in 2007 rivaled homes belonging to Donald Trump and Saudi Prince Bandar Bin Sultan as the most expensive single family residences in U.S. history. It sits on a private lake—also named Tranquility—in addition to its waterfront bearing on Lake Tahoe

Tranquility, perhaps needless to say, is well-heeled.

"The Tranquility estate is filled with a vast array of noteworthy features," says Scott Webber, a representative of Sotheby's Realty, which has the property listing. "It is the only property in Lake Tahoe with trails connecting to the Tahoe Rim Trail. It also has an incredible 100-foot glass mosaic pool and a retractable ceiling on the conservatory, horse stables and a 3,200-bottle wine cellar whose door is from the Hearst Castle."

The more than 20,000 square foot main house was designed by Reno architect Jeff Lundhal and is home to artwork that includes original Rembrandts, collectibles such as an 1879 Steinway grand piano and eccentricities such as a bathroom made of gold. Other top-shelf features include a replica of the Titanic's grand staircase, marble floors built to evoke those in the New York Public Library and a cigar lounge that jocks the style of New York City's St. Regis Hotel. A 19-seat private movie theater is complemented by popcorn and milkshake machines.

Beyond the gilded walls of Tranquility are seven outbuildings, among them, the conservatory, Adirondack-style guest accommodations, caretakers quarters, a log art studio on the shores of Lake Tranquility and a wood-framed and steel-trussed basketball gym.

Outside, golfers are treated to a 3,500 square foot golf green with two par-3 holes.

A $25 million markdown would zero out most other high-end Tahoe properties, but with Tranquility it's a simple reflection of the recent real estate market, Webber says.
---
To learn more about the marked-down estate, contact Sierra Sotheby's at (775) 832-4900.