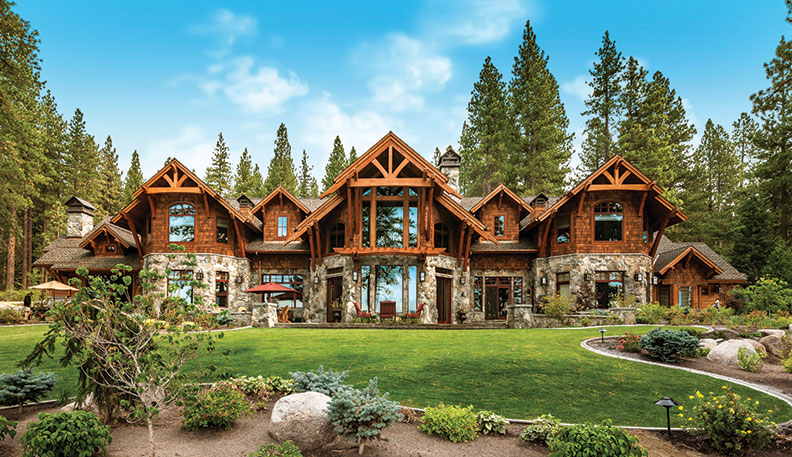 17 Dec

Grand Incline Village Lodge, Grand View

Visitors to Sean and Jennifer O'Neal's Incline Village lakefront home could almost miss a spectacular view of Tahoe when looking at the intricately etched glass on the double-door entry.

Almost.

The doors on the lodge, called Nagi Tanka (which roughly translates to Great Spirit in the Lakota language), open into the house and onto a spectacular living room view south over Lake Tahoe. Sean purchased the two-parcel, five-acre lot with 300 feet of lakefront with the idea of building a grand lodge, he says.

"Fortunately, we had a wide enough lot that we could design the floor plan of the home with the majority of the rooms having a view," Sean says of the 13,000-plus square foot house. With an exterior constructed out of cedar and granite quarried in the Sierra, the home certainly evokes grand lodges, including Yosemite's famed Ahwanee Hotel, which was used as an inspiration.

To make their dream a reality, the O'Neals enlisted the help of Reno-based architect Gail Richie; the husband-wife duo Chris and Stacey Michael, who own Reno's White Sierra Construction to build the home in conjunction with Timeless Interiors to work on construction details, provide specialty furnishings and  window shading; and Reno's Juniper Hill, which provided specialty furnishings, draperies and accessories.

"Not too many people go through a build like this, let alone a remodel, and end up being friends with their contractor," Sean says. "Chris is incredibly meticulous in his work."

"Sean kind of had an idea of what he wanted it to be," says Richie, who, through his work with White Sierra, in the past was introduced to the O'Neals. "I tried to do what I was hearing they wanted—the heavy-timber look."

The project began in 2011 and wrapped up in 2013.

Upon entering the home, a sweeping walnut staircase draws a visitor's eyes upward, as do the custom iron railings with the look of leather-tied balusters accented with aspen leaves, fabricated by Erwin Antonitsch of Reno's European Design Iron. The living room enjoys the home's largest lake view, with 39-foot alder ceilings and an artfully-covered sprinkler system using intermittent small beams among the true hand-hewn and distressed trusses. Hidden light fixtures illuminate the high ceiling; custom hanging fixtures were designed by Stacey Michael.

"There were many sleepless nights planning and drawing the intricate details of this home's lighting and construction design," says Stacey.

"While Stacey was awake planning and drawing, I was awake figuring out the logistics and engineering to make Stacey's visions a reality," adds Chris.

Immediately off the living room is a lake-view bar—Sean's favorite feature, he says—accentuated by a ten-foot section of a claro walnut tree. Stacey found the tree laying on the ground in Northern California while on her search for a similar piece of walnut that serves as the living room's fireplace mantel, legs and slabs.

The kitchen and dining room both contain Tuscan-inspired touches appealing to Jennifer O'Neal's sensibilities; Stacey jokingly calls the blend "Tuscahoe." In the barrel ceiling above the dining room table, five coats of Venetian plaster meant to look like copper serve to lighten the room. The kitchen features similar barrel ceilings with a red brick veneer.

Also on the ground floor is the master suite—which, again, opens to views of Lake Tahoe. The large bedroom has a granite fireplace highlighted by a mantel finished in a warm stain and creamy glaze. Cream-colored carpeting and sheer Hunter Douglas shades bring the colors of sand and water indoors.

The master bath includes his and her toilet rooms with textured glass insets to allow in natural light. A free-standing tub sits atop a niche pebble floor, which is continued into a glass door shower with an invisible drain. Guest suites anchor either side of the home's top floor, which also includes a generous workout room.

Twelve-foot-by-twelve-foot pocket glass doors open from the family room onto the family's 4,000 square foot paver terrace, which was built with the O'Neals' growing family in mind (three children plus their spouses and two young grandchildren). Sean and Jennifer entertain around a rustic stone-ringed fireplace that was inspired by a set piece used at a Shania Twain concert they attended.

As with everything, the terrace provides exceptional views of Lake Tahoe.

"I still pinch myself that I get to live here," Sean says.