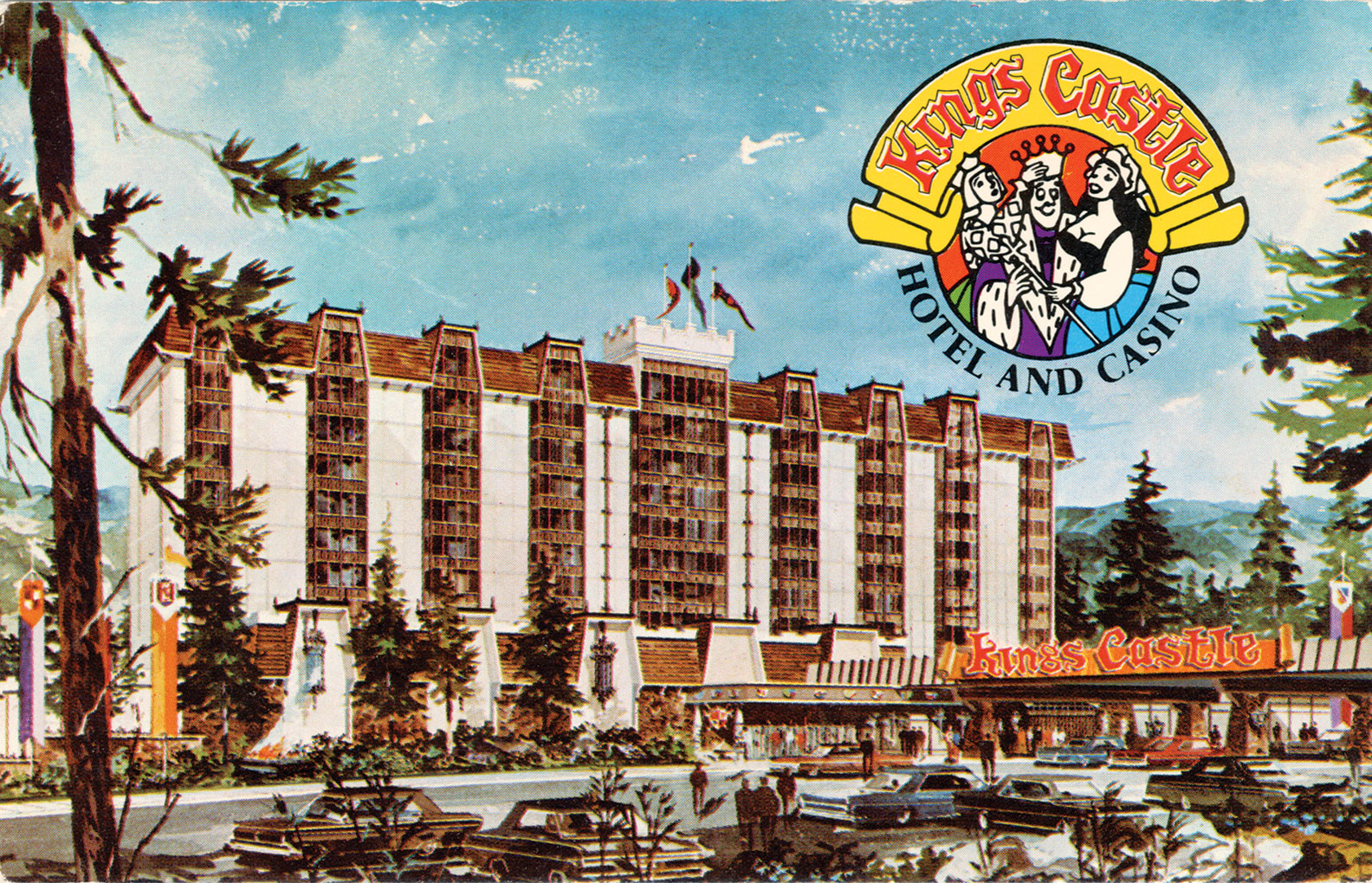 Kings Castle Hotel and Casino postcard, 1975, courtesy Special Collections Department, University of Nevada, Reno Library
10 Aug

A Castle in the Pines
Incline Village's main hotel has a long, dark history
Incline Village, on Lake Tahoe's northeast shore, was relatively slow to develop. While visitors flocked to Lucky Baldwin's 100-room hotel and casino in South Lake Tahoe in 1899 or the Bliss family's renowned Tahoe Tavern in Tahoe City in 1901, Incline Village was still mostly a timber and milling town at the end of the nineteenth century, its timber sent via flume to Nevada's Comstock mines.
Even by the late 1930s, few people lived in Incline Village full time. Most of the land was owned by George Whittell Jr., of Thunderbird Lodge fame, who bought more than 40,000 acres and 20 miles of shoreline from lumber companies and other shareholders that had done poorly in the stock market crash.
In the late 1950s, the Crystal Bay Development Company, spearheaded by president Art Wood, paid Whittell $5.3 million for 9,000 acres, establishing what today is Incline Village. In the 1960s, development finally took off in this corner of Lake Tahoe.

Aerial photograph of Incline Village, Nevada, ca. 1950s, photo courtesy Special Collections Department, University of Nevada, Reno Library
Sierra Tahoe Hotel
Incline Village's first hotel, located where the Hyatt Lake Tahoe stands today, was the 100-room Sierra Tahoe Hotel, which opened in 1964 and played host to tourists or people looking to spend six weeks in a more scenic location than Reno while waiting out their divorce. The hotel was built by the Pacific Bridge Company, the main builder for San Francisco's Golden Gate Bridge.
In 1966, after an addition of 100 rooms and a casino, the hotel was sold to Miami Beach builder Calvin Kovens. Kovens had previously been convicted of a $25 million union pension fraud with the notorious Jimmy Hoffa; he purchased the Sierra Tahoe Hotel using Teamster union pension funds.
The Nevada Gaming Commission was uneasy with Kovens' connections (a March 1966 Reno Evening Gazette article says commissioners cited Kovens' "unsuitable background") and denied Sierra Tahoe's gaming license.
Wood took over the hotel and renamed it the Incline Village Casino and Lake Tahoe Hotel. Kovens stayed on as manager, though not long after, in 1967, the Nevada State Gaming Control Board temporarily revoked Wood's gaming license, according to information from the Incline Village & Crystal Bay Historical Society, after charges that a casino croupier used loaded dice.
Kings Castle
The property switched hands again in 1969, when it was purchased by Nathan Jacobson, a Baltimore insurance executive who was a partner at Caesar's in Las Vegas when it opened in 1966.
At Jacobson's wife's request, he invested some $20 million into the building, revamping it into a Camelot-themed hotel and casino. It reopened in July 1970 as the 470-room Kings Castle Hotel and Casino.
A Chicago Tribune article from August 2, 1970, describes the building as such: "The new Kings Castle has to be seen to be believed, and even then you'll have problems. It's an 11-story neo-Tudor structure crowned by a battlemented parapet from which medieval pennants wave in the mountain breezes.
"[Jacobson] predicted that it would become a hotel and entertainment complex to rival Las Vegas, a forecast that very well might please the boomsters but will drive conservationists even closer to suicide."
A large model of Lady Godiva—naked astride her horse—stood near the entrance, as did figures of lancers and varlets. Nearby was a sign reading "Thy kingdom come."
The same article continues, "Similar figures—probably of papier-mâché—of a king, queen and lady-in-waiting occupying the Royal Box of the 900-seat Camelot Theater helps create the strong impression that the décor is by Mme. Tussaud."
Doormen in medieval, velveteen garb welcomed guests, where inside, the staff wore similarly inspired outfits—table captains in jesters' tunics and bartenders in Robin Hood–style jerkins. When the staff addressed a guest, it was as sir or lady. Jacobson, for example, was known as Sir Nathan of Jacobson.
The casino floor included five craps tables, a roulette wheel, 15 blackjack tables, a 35-seat Keno lounge, slot machines and a baccarat table; hotel room rates ran from $24 to $32, or $45 to $110 for a suite.
Kings Castle held its grand opening in 1970, where celebrities such as Groucho Marx, Lana Turner, Barbara Stanwyck, Bob Hope and Chuck Connors were in attendance. Buddy Hackett gave a provocative performance, about which the Chicago Tribune, on July 6, 1970, in a piece titled "Buddy's Bomb," wrote "Sir Nathan of Jacobson, founder of Caesar's Palace, has built a castle to put all other palaces in their place… A 16th century pleasure kingdom in the Tahoe woods that Sir Nathan says [in his eye-catching brochure] is the world's most opulent hotel, casino and vacation resort. Kings Castle does indeed have quite a bit going for it, in spite of part-owner, Sir Buddy of Hackett, who bombed out on opening night with a new low in verbal orgy-lams and a nude scene that no one found funny. Sir Buddy of the billowing belly romped onstage clad only in a G-string and a couple of souvenir ersatz-gold medallions. So who needs a refresher course in human anatomy, especially his?"
Of Kings Castle's very brief run, not many accounts remain. There are secondhand stories, rumors of mob ties and of unsuspecting bellhops used to ferry bags of money that higher-ups skimmed from the casino, or tidbits about the ceilings being extra high as to accommodate showgirl headpieces. But these rumors are minor compared to the trouble the casino was about to hit.
Casino Kidnapping
Ray Landucci worked as a keno manager at the Kings Castle casino. According to court records from 1973, the casino had been open less than two years when Landucci decided to test the honesty of an employee, James Martin, before promoting him. "With this purpose," records state, "he told Martin of a fraudulent keno plan, solicited his cooperation to carry it through, and advised Martin that he would telephone him later that evening to explain the plan in further detail." That plan, Landucci later admitted, was to rig a machine. Martin was going to "blow his nose and comb his hair to signal OK," then a third man, identified only as "Norm," was going to take $4,500 on a fraudulent keno card.
Martin was—rightly—suspect of this plan. Landucci's role was not to test an employee and, in fact, if he suspected dishonesty, his role was to report it to Forrest Paull, then–vice president of Kings Castle. As it was, Martin reported the conversation to Paull, who monitored the telephone conversation between Martin and Landucci that night. Paull reported to Jacobson. Though others in the know wanted to let Landucci attempt to carry out his plan, Jacobson wanted to confront the keno manager immediately.
Jacobson got his way. At about midnight on September 1, 1970, Paull called Landucci into his upstairs office, where he interrogated him, allegedly saying at one point to give him the right answers or "Nate [Jacobson] would get them his way." Landucci stuck to his story, however, that he was testing an employee's honesty and didn't intend to commit any actual fraud. Finally, after about 40 minutes, Paull left the room while Jacobson entered with his bodyguard, Thomas Bruno.
Jacobson was furious with Landucci and began calling him obscenities, but Landucci insisted he hadn't planned to defraud the casino. According to court records, Jacobson and Bruno both struck Landucci several times in the head. Then the bodyguard took a revolver from a desk drawer and threw it at Landucci's feet while also drawing out his own pistol. Bruno loaded and cocked the pistol and told Landucci to pick up the revolver. Landucci refused. Bruno pointed the pistol at the keno manager and told Jacobson to call an ambulance.
Landucci began pleading. He told the two men he'd give them whatever they wanted. Jacobson called Paull back to the office, and had him write a confession for Landucci to sign. Landucci signed at about 3:10 a.m. on September 2, then Jacobson had him taken to another room, where he remained under guard until about 4 p.m. that day. Jacobson waited to see if the unidentified man, "Norm," would enter the casino, but no one came. Landucci's wife was called and told that Landucci was working an extra shift.
After Landucci was released, law officials eventually became aware of the events. "Landucci was never a willing complainant," then–chief criminal deputy district attorney Larry R. Hicks told the Reno Evening Gazette in a December 1, 1971, story. "The information of this case came from a leak in Incline Village, which I do not know myself."
It would appear that Landucci himself would have preferred to stay in Kings Castle's good graces. On several occasions, he met with Paull at a gas station away from the casino in an attempt to have the vice president put in a favorable report so Landucci could receive unemployment benefits. His efforts were consistently denied.
Jacobson and Bruno were charged with kidnapping, coercion and false imprisonment. Jacobson, in a 1973 interview, denied ever striking Landucci or seeing any display of guns. "I didn't believe the days of witch-burning would still exist," Jacobson said. In another report, Jacobson called Bruno "an innocent bystander."
The trial lasted five weeks, though after eight hours of deliberations, the jury acquitted both men.
Despite beating the charges, the casino was bankrupt. Jacobson announced he was retiring and in 1972 sold Kings Castle to two Californians for $23 million.
The hotel reopened briefly (with the caveat that Jacobson stay off the premises), but failed again; the property was forfeited back to the Teamsters union pension fund.
Success at Last
The Hyatt Corporation bought Kings Castle in 1975. In the subsequent remodel, the banners and flags were removed, the velveteen costumes and jester's tunics hung up, and Lady Godiva and the other medieval figures discarded. For the past five decades, the hotel has remained within the Hyatt, the property undertaking the occasional remodel and adding restaurants, a spa and various programs. While today's Hyatt Regency Lake Tahoe Resort, Spa and Casino may not be the castle it was in the early 1970s, guests can still stay in the luxurious rooms or sit on the pristine beach, Lake Tahoe lapping at their feet, and feel like royalty.
---
Writer and editor Alison Bender shall hereforth be known as Lady Alison of Bender.