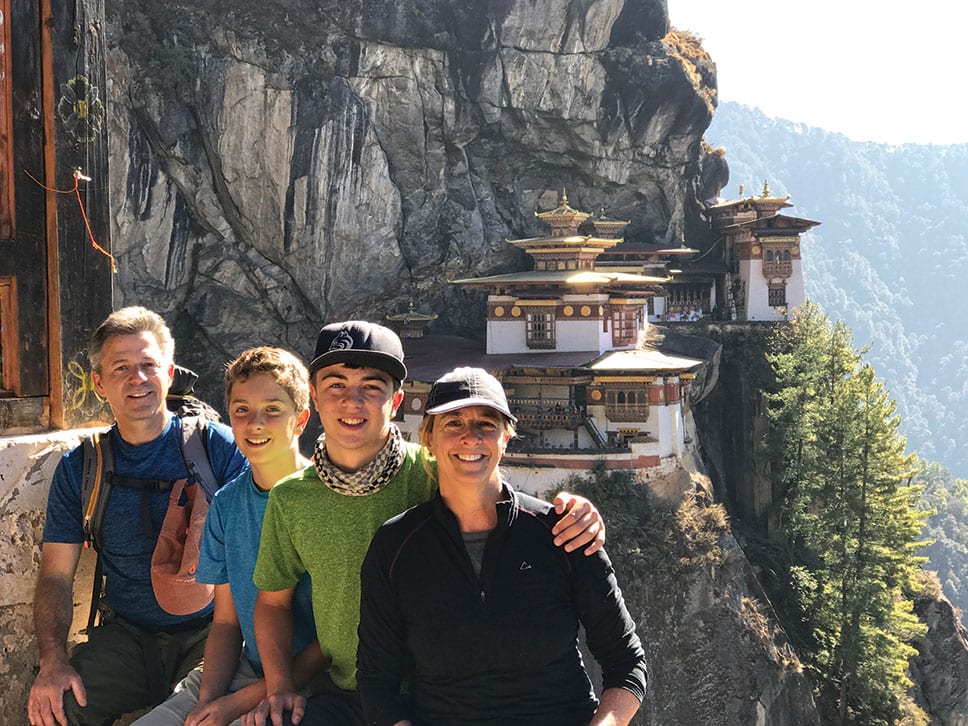 Family photo on hike to cliff-clinging Tiger's Nest Monastery in Bhutan. From left, Tom, Ben, Max and Sue
22 Jun

Adventures in Eating Abroad
World travels—from Asia to Africa to South America—reveal a wide array of culinary concoctions
When my husband, Tom, and I started planning our family gap year of global travel, the first thing I thought about, naturally, was food.
Even before investing in a raft of plane tickets, visas, shots and enough meds to take down a rhino, I contemplated what culinary adventures I could get my hands on, perhaps not total Anthony Bourdain, but at least far enough removed from an Americanized version of ethnic foods served up on our shores. And, what I could cajole my kids—one an open-minded eater (Max, 14), the other not so much (Ben, 13)—to try.
Here are a few of the foodie highlights as we recently ate our way around parts of Asia, Southern Africa and South America.

Singapore
Fledgling foodie son Max suggested we seek out a particular Michelin-guide-mentioned "hawker" stall in Singapore's popular Maxwell Food Centre, where some years earlier, the city in its sanitation sweep had redirected its street food sellers. Tian Tian Hainanese Chicken Rice is both the name of the sought-after vendor and a recipe that originates in Hainan province in Southern China. Rubbed with soy and sesame oil, the whole chicken is poached, then plunged into an ice bath and hung to dry, with the leftover stock used to make the accompanying fragrant rice. OK, so maybe Bourdain ate here, as did Gordon Ramsay, making it easy to find by just looking for the line. Stepping up to the window, we watched as a weary, slight man and his cleaver made quick work of a glistening pale piece of meat and piled it artfully atop rice on a plastic plate with a side of chili garlic sauce, which we carted away with a couple of cold drinks on a cafeteria tray. Retreating to a table beneath a whirling fan, we joined the legions of those who have oohed and ahhed over the simplicity and succulence of this inexpensive ($3.50 Singapore dollars or about $2.50 USD) and iconic dish in one of the priciest cities in the world.


A cinnamon roll from Everest Bakery in Namche Bazaar, Nepal, is a ritual for most Himalayan trekkers
Nepal
Dal bhat, the lentil soup and rice combo, might well be Nepal's national dish, and we enjoyed the ways of the momo, the steamed or pan-fried Tibetan dumpling. But for us sang the cinnamon rolls at Everest Bakery in Namche Bazaar, a Himalayan market town of about 1,500 people perched in a natural bowl at 11,482 feet above sea level that is also en route to Everest Base Camp. I had visited this same spot some 25 years earlier in the pre-Wi-Fi, nouveau Internet and microwave oven era, not long after the hip San Francisco–travelled owner's father had started the café. While admittedly not the best Cinnabon-inspired treat ever, the sticky pastries that cost a princely 350 Nepalese rupees ($3.50 USD) hit the sweet spot after a half-mile of seemingly straight uphill trekking along a portion of the trail known as the Namche Wall, past heavily laden yaks, donkeys and porters bearing all manner of burden from propane tanks to Snickers bars. It also served up some sugary solace after an upside-down U.S. Election Day's news found us feeling funky a half a world away.
Bhutan
On our first night in Bhutan, our guide Phuntsho "Fin" Norbu took us to dinner at his aunt and uncle's sturdy home/guesthouse on the outskirts of the capital city of Thimpu. We shared a meal and convivial conversation with his welcoming extended family around a long wooden table, the men dressed in the traditional crisply folded goh, the ladies in their kira. Here we first tried the country's ubiquitous dish called ema datshi, sliced green chili peppers in a creamy cheese sauce made from yak or cow milk, which, from afar, somewhat resembles a Thanksgiving-style green bean casserole. It can be eaten alone but more commonly is served as a side dish accompaniment, a deceptively hot dish that acted as a fitting introduction to the warm people of this luminous Himalayan kingdom.

Crispy tempura-style vegetables with sweet chili sauce was but one of the amazing Burmese dishes we ate on the Katha Pandaw
Myanmar
Cruising the coffee-colored waters of the 1,350-mile Irrawaddy River, along the stretch between Mandalay and Bagan, we watched the verdant hillsides and gleaming golden spires of Buddhist stupas slip by from the comfort of wicker chairs aboard the RV Katha Pandaw. Designed after the colonial steamers that plied these waters in the 1880s and mentioned in Rudyard Kipling's poem Mandalay, the double-decker, 180-foot-long teak and brass vessel's postage stamp galley turned out an amazing array of Burmese cuisine, such as buu thee kyaw, crispy tempura-style gourd vegetables with sweet chili sauce, and sautéed butterfish with greens and black bean sauce. The busy chef also demonstrated how to make a traditional umami-packed spicy ginger salad with ingredients from roasted chickpea powder and deep-fried garlic to peanuts and sesame seed. It happened to be Thanksgiving Day in the United States, and just then we were feeling especially grateful.
Boarding the RV Katha Pandaw moored on the banks of the Irrawaddy River in Mandalay, Myanmar
We dug deeper into Burmese culinary culture along the shores of Myanmar's mountain-ringed Inle Lake by signing up for Mr. Min's Cooking Class, owned by a kind, young and entrepreneurial-minded couple. Min's wife, May, collected us at our Nyaung Shwe hotel, led us through the local market to shop for our list of ingredients—from just-picked green onions to just-plucked chickens—which we dutifully stuffed into straw baskets as we made our way through the gauntlet of vendors whose wares covered the ground in a colorful canvas. We loaded ourselves and our purchases into a brakeless trishaw (the villagers came to my rescue before we landed in the lake) and then to a waiting longtail boat, one of the many noisy motorized vessels that do a lion's share of moving people and goods in this part of the world. A 20-minute slice through ever-narrowing channels brought us to a quiet village tucked among the reeds where stilt houses stand above the waterline. In a modest kitchen hut (no fancy immersion blenders here; in fact, power is very jury-rigged), amid Min's family's floating tomato farm, we all chopped, sliced, stirred and sautéed our way through several typical Shan and Intha recipes, including tea leaf salad, veggie tempura, stir-fried tofu, curried chicken with basil, lemongrass fish curry steamed whole, and green tomato salad with fried garlic, roasted peanuts, onions and lime juice. After we enjoyed the fruits of our labors beneath bright red umbrellas on the little structure's back deck, we went for a wobbly paddle around the village waters in a low-slung, carved-out canoe silently propelled by the one-legged technique for which local boatmen are renowned.


After whipping up a handful of authentic recipes along the Inle Lake, we took a paddle around the over-water village where Mr. Min's Cooking Class is located
Laos
With an abundance of exotic tropical fruit that could make even a Whole Foods shopper weep, I am embarrassed to say that rather than the luscious pink dragon fruit or multi-hued mangos, Luang Prabang, a UNESCO World Heritage Site, had us all at buttery, flaky croissants. And melty pain au chocolat. And crusty baguettes. And all other pastries and bready things from Le Banneton Cafe, located on the historic peninsula bound by the Mekong and Nam Khan rivers. Across the street stood a quiet monastery-temple complex from which the lithe, orange-robed monks could be seen coming and going. Of all the colonial legacies the French left in lovely Luang Prabang, I know which the boys will remember most.

Colorful mangoes and dragon fruit are served at many Laotian meals
Vietnam
If you did a quick scan of the streets of Hanoi's densely populated Old Quarter, it would seem all folks do is eat, enthusiastically downing everything from baguetted banh mi to barbecued chicken skewers sold from carts and bikes, stalls and storefronts. Proprietors set up kid-sized plastic chairs and equally Lilliputian tables on already crowded sidewalks (apparently quicker to clear when police raid these unofficial eateries). The enthusiastic Ellie from Vietnam Best Tours guided us through this bewildering culinary maze—and potential minefield of complete GI distress—by assuring us, "The dirtier the floor with napkins, the fresher the food. Means they got a lot of business."
We started with bánh xèo, a savory rice pancake named for the sizzling sound the batter makes when it hits the hot pan, which contains pork, shrimp and sprouts and is garnished with greens. Next stop was for bánh cuốn, a thin, delicate sheet of steamed fermented rice formed on a cloth stretched over a pot of boiling water and stuffed with seasoned ground pork, wood ear mushroom and fried shallots served with fish sauce for dipping. Pho ga, the Vietnamese version of my bubbe's chicken soup, was served with rice noodles and a squeeze of lime, and cost, like the other dishes we tried, around 25,000 Vietnamese Dong, or close to one U.S. dollar. Perhaps the biggest surprise of the evening—besides Ben braving with chopsticks the tiniest taste of nearly every stop's offerings—was the cafe trung, or egg coffee, made with whisked egg yolk, sweetened condensed milk and black coffee. Cafe Giang, tucked down a small lane, with its narrow staircase leading to a dimly lit loft packed with low-slung wooden tables and chairs, may be the most notable spot to sample the drink. The current proprietor's father is said to have come up with the recipe in 1946 when he worked at Hanoi's Legend Metropole hotel and milk was in short supply. It's a creamy, smooth concoction—a fantastic finish, literally and figuratively.

We sampled pho ga—chicken soup—during our Hanoi street food tour
Cambodia
If you asked my boys, their favorite food stop was Jungle Burger, a Kiwi-owned spot in Siem Reap near Angkor Wat so good that we went twice. But the real national dish might be amok, the Khmer version of a complex mélange of ingredients including lemongrass, galangal, kaffir lime, chili, shrimp paste and thick coconut milk curry steamed to a custard-like consistency and served in a half of a banana leaf or small coconut shell. On an adults-only night out, I dined on the fish version, both pretty to look at and a pleasure to eat.
Hong Kong
During a rainy 24-hour layover in this delightfully chaotic city and dim sum on the brain, we hopped off the Star Ferry in Kowloon's Tsim Sha Tsui and landed at the long-running Jade Garden, which has been serving both locals and tourists classic Cantonese cuisine with equal amounts of brusque service in the sprawling white table-clothed dining room overlooking Victoria Harbor and the Hong Kong city skyline for some 46 years.
South Africa
Sometimes a home-cooked meal with longtime friends after many years of scheming a way to gather our families is the most memorable. On Christmas Day we dined in the Durban garden of a Brit named Karen Woolmer, whom I met at a Fiji island guesthouse some 32 years earlier when we were both traveling solo in the South Pacific, and her Kenyan-born husband, Naftaly, with whom I later summited Mt. Kilimanjaro. Their South African son, Nathan, promised to teach the boys cricket in exchange for some instruction on the mysteries of baseball. And, as we travelled together hiking the Drakensburg—the country's steep mountains formed by the Great Escarpment—and on safari in Kruger National Park, we enjoyed many a braai, the Afrikaans noun and verb for barbecue. The menfolk grilled boervorst, herbed and spiced farmer's sausage, while I stuffed myself with avocados, mangos and papayas the size of melons that seem to drip from every tree, and devoted many hours to discerning the subtle differences among the many bottles of reasonably priced (100 Rand, about $7.50 USD) pinotage, South Africa's signature varietal.
Zimbabwe
With views of the Victoria Falls Bridge and the spray from the falls below, as well as the Batoka Gorge and the Zambezi River, Stanley's Terrace at the historic Victoria Falls Hotel is a magical setting perhaps best known for its high tea. But after a soggy encounter with the forces of the walls of water, the three boys needed man food. They passed on the ostrich bolognese and crocodile masala for a less exotic burger and fries, which they wolfed while watching warthogs cavort on the manicured lawn surrounding the genteel colonial hotel built by the British for the workers on the Capetown–to–Cairo Railway, some 50 years after David Livingstone laid eyes on the "smoke that thunders."

Dubai's traditional and aromatic spice souq is packed with key aromatics to Mideast cuisine: cinnamon, cardamom, cumin and cloves
United Arab Emirates
A short stop in Dubai provided just enough time to catch a glimpse of this wealthy Mideast enclave boasting the world's tallest skyscraper, million-dollar sports cars and galabiya– and keffiyah-wearing spice sellers at the souq still searching for a spirited haggle. We paid too many dirham for fragrant cumin and turmeric-laced "special blends," then worked our way along twisting alleys to the Arabian Tea House, where we dined in a fabric-swaddled garden on creamy pomegranate-topped hummus that tastes nothing like the store-bought variety. Deliciously spiced chicken shawarma, falafel and enormous rounds of pita hot from the oven delivered by turbaned waiters indeed left us all feeling as though we were on the set of Lawrence of Arabia.
Mexico
We spent two weeks in central Mexico's colorful colonial town of Guanajuato, where the boys quickly established a morning ritual on their walk to Escuela Falcon language school. On Plaza Baratillo, where the same senora's basket brimmed daily with pan dulce, they selected sweet things like sugar-dusted donuts and cream-filled pastries, costing the equivalent of about five cents apiece. I was partial to the ladies in the alleyway selling gorditas, the masa slapped into fat tortillas that were griddled and sliced then filled with sautéed mushrooms, queso fresco and salsa. At the school's cooking class, we learned how to make regional specialties such as spicy sopa de jaiba (crab), hand-pressed tortillas and fresh salsa in a molcajete, a volcanic stone bowl and pestle.
Employees serve and sell churros hot out of the fryer day and night at Mexico City's El Moro, in business since 1935
Mexico City's sophisticated dining scene presented a clear case of too many restaurants and not enough time, so we went with simple and traditional. For breakfast we tried chilaquiles—torn corn tortillas fried, cooked in red or green salsa and topped with queso fresco—at the renowned Restaurante El Cardenal in the centro historico. The boys gulped down bottomless cups of cinnamon-spiced chocolate caliente, Mexican hot chocolate. At the blue-and-white-tiled El Moro Churreria, coils of freshly fried hot churros are cut into pieces 24 hours a day, dusted with cinnamon sugar and served with an optional thick chocolate or dulce de leche dip. At nearby Pasteleria Ideal, a high-ceilinged, cavernous bakery resembling a department store, we watched and learned from the well-schooled masses, who vigorously set upon dozens of types of pastries as soon as employees rolled the racks onto the sales floor, then lined up for a three-step payment process and exited with enormous boxes tied up with string.

Ben (left) and Max (right) pick coffee beans on Jaime Marin's hillside farm in Jardin de los Andes, Colombia
Colombia
Cartagena, the steamy Caribbean port that was our entry to a country where friends and relatives were certain we would meet some sort of untimely demise, was blessed with an abundance of bars that mixed at all hours the perfect refreshing mojito, its rum, sugar, lime, soda and mint ingredients local bumper crops.
Medellin, a gritty city maybe most notable for its infamous ex-resident Pablo Escobar, should be better known for arepas de queso—an artery-clogging glob of griddled melted cheese sold at many a stand throughout the city. An equally ubiquitous and inexpensive snack is the buñuelo, a crispy golden brown ball of fried dough and a bit of cheese curd.
Having grown up on the "Juan Valdez grows the richest coffee on the earth" ads on television, I was surprised to find that Colombia's mythical man (after Pablo Escobar) has some 300 cafes throughout the country named in his honor. And that the poncho-sporting farmer who portrayed the character had indeed lived just a verdant ridgetop away in Jardin de Los Andes. Here, in one of the country's prime coffee-producing areas, we picked beans with organic coffee grower and caballero Jaime Marin. Marin provided hands-on instruction about cultivating, harvesting, drying and shelling beans, then escorted us on horseback to a nearby finca, where we learned how to brew the perfect cup—from beans that were harvested just paces away. After a full day out in the fresh air, the boys watched slack-jawed as I uncharacteristically (I usually skip their seemingly daily ice cream outings) devoured an affogato—a shot of hot espresso poured over a scoop of vanilla ice cream. From the balcony of Cafe de Los Andes above the town's main plaza, we watched local farmer folk gather to jaw over yet more joe, some arriving to town on elegant, high-stepping horses.


Colombian coffee grower and caballero Jaime Marin with a handful of his ripe organic beans
Ecuador
In the land of potatoes—some 4,000 varieties are grown in the Andean Highlands—our favorite dish came not from the mountains, but the sea. Tucked away in Quito's mercado central, chock-full of vendors selling comestibles of all sorts, Don Jimmy dished up heaping plates of fried sea bass, dredged in flour, herbs and spices. Served atop rice or roasted potatoes, the fish comes with an equally tasty side dish of shrimp ceviche and a bowl of giant kerneled popcorn (corn is the other ubiquitous staple here), a bowl of limes and hot sauce all for $5 USD. We licked the plates clean and wished aloud that we had time for a return trip.
An hour north of Quito—near what's known as "Mitad del Mundo," where the equatorial line rings round the earth—is an area called Cayambe, famed for its bizcochos, or biscuits. Brought over by the Spaniards, the simple recipe calls for flour, yeast, sugar, butter and salt. We watched workers at one bakery—there are many—knead, roll, stretch and cut at lightning speed an enormous mound of dough heaped upon a metal table. The bizcochos are loaded into a wood-burning brick oven to bake until golden brown and are sold by the bag or served warm with queso de hoja (string cheese) or arequipe, their version of dulce de leche, and a cup of coffee, all for a few dollars. One bite and I understood the buttery, flaky fuss.


We uncovered the tasty secrets of cocoa beans from Choqchao Chocolates in Arequipa, Peru
Peru
Arequipa, Peru's mile-and-a-half-high colonial city built of white volcanic stone, sounds strangely similar to the aforementioned treat, and indeed became a culinary haven of sorts for us. Here the boys ate alpaca grilled on a hot stone (even if I ate red meat I could not for a second consider consuming something that cute), which they described as "beef-like but leaner." They also discovered alfajores, a flavored, caramel-filled, bite-sized soft cookie sandwich originating with the Moors in Andalucia, Spain, that are sold on every street corner. Popular flavors include lucuma, a subtropical fruit native to the Andes with a maple-like taste, papaya, fig, elderberry, chestnut and even coca leaf. The boys and I gobbled down containers of the chocolate and cinnamon-spice varieties, which cost about 10 Peruvian soles, or $3 USD, as though each were a single serving.
On a final sweet note, we took some time to learn about the mysteries of chocolate from bean to bar with a workshop at Choqchao Chocolates, which makes organic, fair-trade chocolates exclusively from Peruvian beans ground in-house. Enthusiastic chef-chocolatier Adrian educated us about where cacao beans are grown and what they look like fresh from the pod (sticky white). We sorted, toasted and selected beans whose nibs we hand-crushed and ground into a paste that the Mayans mixed with water and drank as xocolatil, "food of the gods," and the Spaniards brought back to the Old World. And we learned about cacao butter and cacao mass, taste-tested the differences between "real" and "fake" chocolate, and finally, made our own hand-poured treats with add-ins from quinoa to coca. The boys still love their Reese's Cups, but now down them all the wiser.
---
TQ Food & Wine editor Susan D. Rock is currently sampling tapas in Spain, on the last leg of her extended travels with her family this year. Read more about their explorations abroad, culinary and otherwise, here.