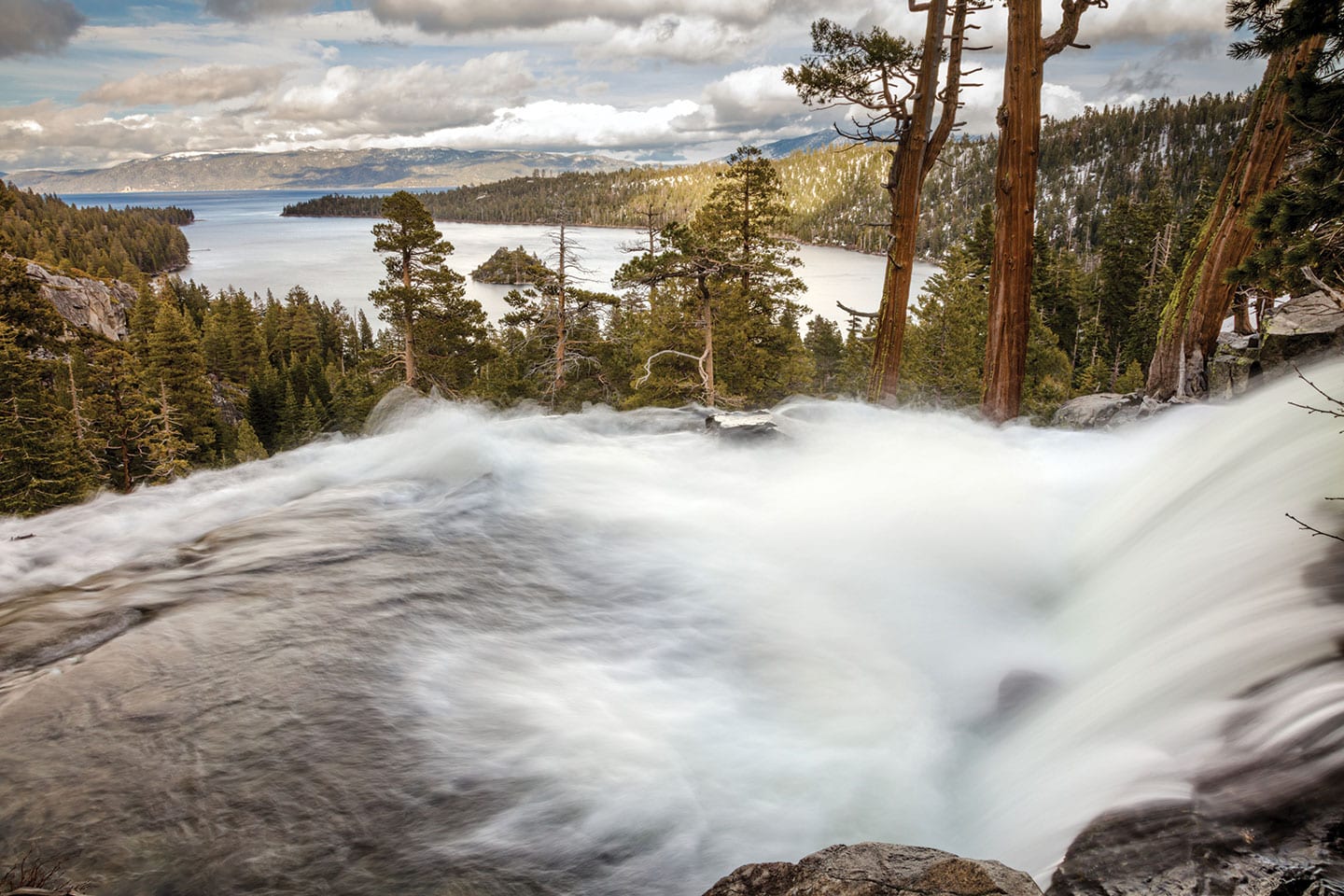 Eagle Falls view, photo by Scott Thompson
22 Jun

Falling into Summer

Among the more popular destinations around Lake Tahoe is Eagle Falls. And for good reason. Located on the southwest shore, a short hike from a bustling stretch of Highway 89, this cascading waterfall is not only easy to reach, it also affords dramatic views overlooking Emerald Bay and beyond. The waterfall takes on many different forms, from a narrow band spilling over slabs of granite in the fall to a sprawling torrent smashing down the mountainside in the spring. Regardless of the season, it's a photographer's dream. The following images are visual proof.

Eagle Falls torrent, photo by
Brian Walker
Eagle Falls cascade, photo by
Mike Herron
Frozen willow in Eagle Falls, photo by
David Braun
Photographer Bios
Scott Thompson, of www.ScottShotsPhoto.com, has been living and photographing in the Tahoe area since 2002.  He specializes in large landscape prints in his Truckee studio and currently exhibits photographs at the Vista Gallery in Kings Beach and Word After Word Bookstore in downtown Truckee.
Brian Walker  is a 26-year-old photographer, videographer and drone pilot born and raised in South Lake Tahoe. Action/adventure have been a passion since he was little; he now showcases that lifestyle through his images.
South Lake Tahoe native Mike Herron Jr. was raised with a love of nature and the concept that all life is sacred. He draws major inspiration from being exposed to the arts, and thrives by sharing adventure and inspiring people through visual connections. Herron is currently studying at Lake Tahoe Community College to achieve an Art New Media degree in Photography.
Exploring and documenting our natural world and how we interact with different environments is what motivates David Braun as a photographer and an adventurer. The recurring themes of Braun's photography and videography work involve adventure, sports and environment. Being a transplant from the Northeast, he is endlessly fascinated by the diverse Western landscape: its mountains, rainforests, deserts and rugged coastline. Braun has a wide range of photography and videography experience.