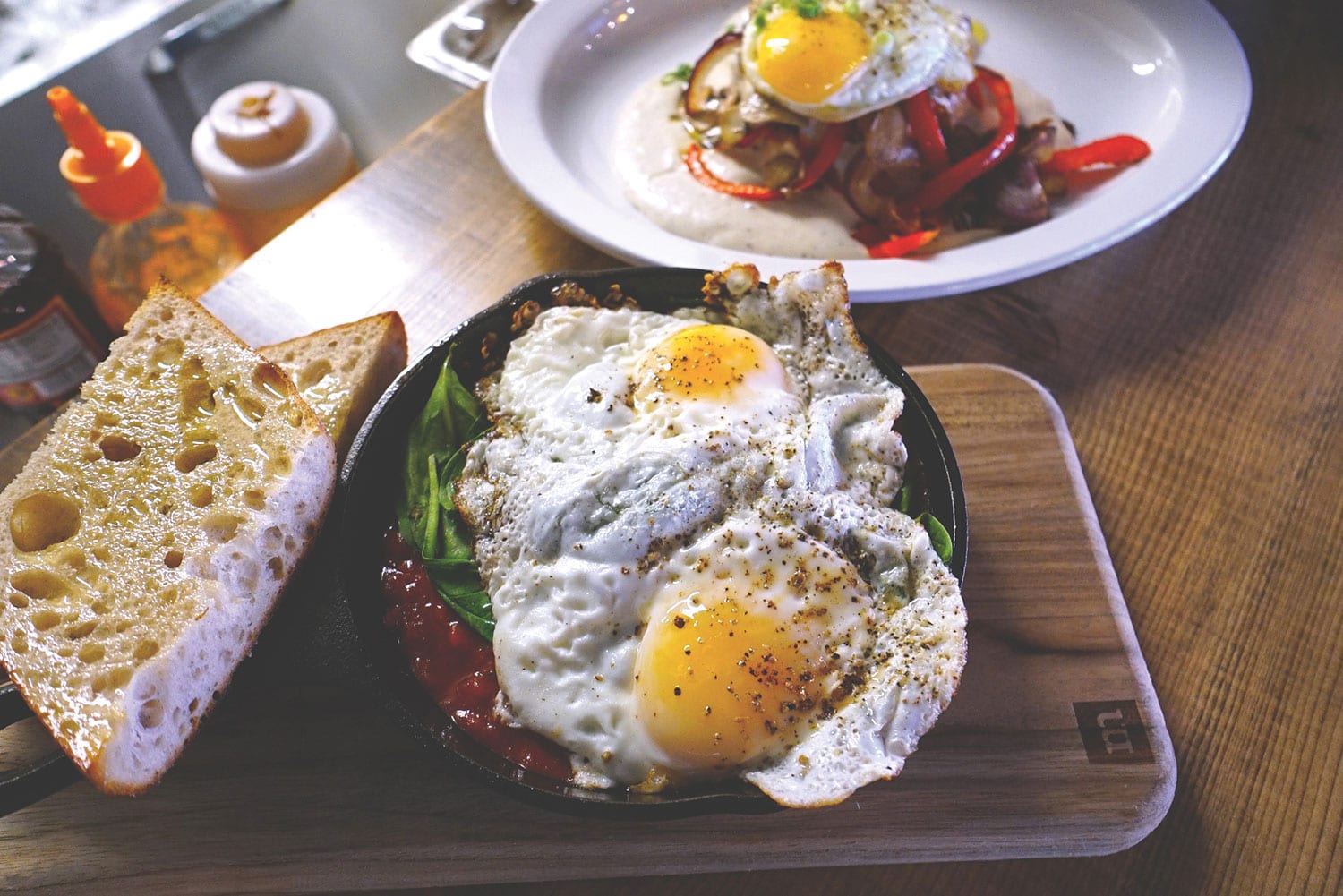 Breakfast dish, shakshuka, from Cafe Zenon, photo courtesy Alpen Creative
22 Jun

New Spots

North Shore

CLAY OVEN

868 Tahoe Blvd., Suite 18–19 | Incline Village, NV | (775) 831-8317 | www.clayovntahoenv.com

Like the space's previous iteration as Indu's Asian Noodles, Clay Oven serves a selection of Indian family recipes. Samosas, bhaji and pakora are among the appetizers here, while mains include chicken, lamb and prawn vindaloo, curry and masala, plus goat. Biriyanis and veggie dishes from chana masala to aloo ghobi are on the menu, and a tandoori sends out oven-baked entrees and fresh naan. The new owners have retained Indu's menu of Chinese and Vietnamese options as well. L, D; $10.99–$13.99

CHOPSTICKS

120 Country Club Dr. | Incline Village, NV | (775) 833-3663

The long-running China Wok has been totally gutted and remodeled with a clean modern look and remains an Asian eatery, serving the usual lineup of egg rolls, pot stickers and lettuce wraps, hot and sour and wonton soups, kung pao chicken, beef broccoli, and sweet and sour pork. There are also Korean options, including galbi (short ribs) and beef bulgogi along with black bean noodles, spicy seafood noodle soup and hot stone bibimbop—a veggie and beef bowl on mixed rice. L, D; $11–$19

GLASSES WINE BAR

760 Mays Blvd., Suite 8  |  Incline Village, NV | (775) 298-7472  |  www.glasseswinebar.com

Kathleen Martens, a retired elementary school educator, and her husband Rob are serving some 25 wines by the glass in the former Bar Bar Bar Pizza space, which has been completely remodeled with comfy couches and chairs plus books and games. A high-tech Italian wine machine dispenses two-, four- and six-ounce pours tallied by a chip-embedded card. No food is served, though a few packaged snacks are on hand for purchase. Delivery is also available from local restaurants. Open 3–9 p.m.

Barjay's Gourmet Diner

901 Tahoe Blvd.  |  Incline Village, NV | (775) 298-7225  |  www.barjays.com

Oscar Jenkins, a classically trained French chef from Australia who has worked kitchens from London to the Alps, has launched this spot he describes as a family-friendly and funky gourmet diner. There are classic egg dishes, coffee drinks and smoothies to start the day, plus soups such as pumpkin-cinnamon and bleu cheese–broccoli, and a range of entrees including chicken fricassee, rack of lamb, pulled pork, seafood, pasta and burgers. A full bar includes craft beers on tap. B, L, D; $8–$22

PEP'S PLACE

6883 North Lake Blvd.  |  Tahoe Vista, CA | (530) 553-1607

Tahoe Vista residents Kristen and Darin Pepin opened this nicely remodeled six-seat eatery across from Sandy Beach in the former Jiffy's Pizza with the mission of selling wholesome food made with natural, organic and locally produced ingredients for those on the go. That means a veggie burrito stuffed with eggs, quinoa, kale, black beans, cheddar and salsa, soups like chilled carrot ginger, and sandwiches such as barbecued roasted veggie, as well as kale, lentil and chicken curry salads. B, L; $6–$12

COFFEEBAR

1750 Village East Rd., Suite 61 | Squaw Valley, CA | (530) 580-4200  |  www.coffeebar.com

Greg Buchheister launched his fourth Coffeebar location in the Village at Squaw Valley following on a pair of stores in Truckee and another in Reno. Finished with wood and steel, skis and snowboards, find here the café's usual lineup of coffee drinks, fresh-baked pastries, breakfast burritos and bowls, and Euro-inspired panini and salads, plus après-ski snacks like raclette. There's also a professional coffee program, happy hour, beer and wine, plus outdoor seating. B, L, D; $5.50–$19.95

CAFE ZENON

251 North Lake Blvd.  |  Tahoe City, CA | (530) 583-1517  |  www.cafezenon.com

Suzanne Nguyen, owner of the recently closed Zia Lina, moved on with this eatery at the Tahoe City Golf Course clubhouse. An eclectic menu starts the day with options like shakshuka, the Mideast dish made with egg, tomato, spinach and bell pepper, as well as chicken fried steak and eggs, then moves on to dishes like Vietnamese French dip, a kim chi hot dog and poutine. Chicken and vegan pho with all the fixins is available all day. B, L, D; $4–$19

ALIBI ALE HOUSE TAP ROOM

10069 Bridge St.  |  Truckee, CA | www.alibialeworks.com

Kevin Drake and Rich Romo have expanded their craft brewery with the opening of a second location in an 80-plus seat space formerly occupied by Bank of the West. The 24 taps will dispense Alibi's ales as well as cider, red and white wines, and kombucha. This taproom serves food using top-quality, locally sourced ingredients. A large stage is set for live music three nights a week; look for outdoor patio seating next spring.  L, D; $8–$15

FLAME OF INDIA

11421 Deerfield Dr.  |  Truckee, CA | (530) 563-5078  |  www.flameofindia.com

Punjabi-style cuisine is what's cooking at this spot in the former Cafe Spice. Tandoori and tikka dishes, kebabs, curries, vindaloos, biryanis, dals, masalas and paneer are all on this sophisticated menu, as are a yummy list of breads: naan, kulcha and parantha. Also find a dessert called rasmali—sweet cheese patties in a cool and sweet cream, flavored with rose, cardamom and crushed pistachios. L, D; $9.99–$17.99

South Shore

TEN CROWS RESTAURANT

4011 Lake Tahoe Blvd. | South Lake Tahoe, CA | www.jdvhotels.com

Located in the new Hotel Becket across from Heavenly Village is a Southern barbecue spot inspired by chef Trent Bissell's upbringing around Alabama fire pit cooking and its signature mayonnaise-based white sauce. Low Country, Carolina, Creole and Cajun flavors find their way into his recipes for standards like pulled pork, St. Louis–style ribs, barbecued wings, deviled eggs, cornbread and banana pudding. An indoor-outdoor bar connects the restaurant to a terrace with games and fire pits. B, L, D; $12–$15

THE LAKE HOUSE

1181 Emerald Bay Rd. | South Lake Tahoe, CA | (530) 541-3433 | www.thelakehousetahoe.com

At this completely renovated upscale spot that was formerly Passaretti's Italian Restaurant, chef Jimi Nakamatsu, a veteran of Kalani's, brings his fresh and stylish takes on classics to the sophisticated menu. Look for starters such as hamachi ceviche, and main courses like pan-roasted steelhead trout with sun-dried and basil pesto and pan-roasted duck breast in a black fig honey port wine sauce. Save room for the Death by Chocolate dessert. D; $21–$43

ACE HIGH SALOON & SMOKEHOUSE

4125 Lake Tahoe Blvd., Suite K | South Lake Tahoe, CA | (530) 600-4060 | www.acehighsaloon-smokehouse.com

Southern soul food is the winner at this spot in the Chateau at the Village, starting with breakfast picks like the chicken fried brisket: hand-dipped 12-hour smoked brisket with eggs and country gravy. Ribs, pulled pork, smoked sausage, chicken wings, mac and cheese bowls, collard greens with bacon, and cheesy grits are all on the menu along with sweet potato maple layered cheesecake and pecan pie. There's free parking and outdoor seating with fire pits. B, L, D; $7.95–$33.95

LAKE TAHOE ALE WORX

2050 Lake Tahoe Blvd. | South Lake Tahoe, CA | (530) 600-0442 | www.laketahoealeworx.com

Young Tahoe local Luca Genasci wrote the business plan for this spot at the new Crossing at the Y while a student at UCLA. His concept: Patrons wear a chip-enabled wristband that they can scan for a pour at some 30 taps, including beers brewed on the premise and a selection from existing breweries around The Lake. A woodfire pizza menu offers specialty or custom pie options. L, D; $10–$29

SLICE OF SIERRA PIZZA

3051 Harrison Ave., Suite 103 | South Lake Tahoe, CA  | (530) 541-0401  |  www.sliceofsierra.com

Non-GMO and offbeat pizzas are still getting the toss at this pizzeria's new location: The P, B, G & J is layered with Thai peanut sauce, bacon, garlic, jalapeños and tomatoes, and the Butter Veggie is made with butter coconut curry sauce, potatoes, onions, carrots and celery. Baked wings with a selection of nearly a dozen sauces, mountain-sized calzones and organic salads are also on the menu, as is the S'more pizza made with melted chocolate, marshmallow and graham cracker crumbs. The restaurant also features live entertainment. D; $10–$35

SOUTH LAKE BREWING COMPANY

1920 Lake Tahoe Blvd.  | South Lake Tahoe, CA | (530) 578-0087  |  www.southlakebeer.com

Chris and Nicole Smith launched this brewery and tasting room just west of the "Y,"  producing hoppy beers with Tahoe-centric names like Angora IPA, Marlette Blonde, Barrett Brown and Emigrant Saison. Food is not served here, but eateries such as Artemis Grill do pop-up eats. The beer garden is both pet and kid friendly, and proceeds from the company's Trailbuilder Ale benefit the Tahoe Area Mountain Biking Association.

Reno

MORGAN'S LOBSTER SHACK

1401 South Virginia St.  |  (775) 683-9300 | www.reno.morganslobstershack.com

On the tail of their successful Truckee store, East Coasters Shawn and Heather Whitney opened another shack serving seafood fresh from the Atlantic. At this rustic and chic Midtown spot, choose your fish—haddock, sea bass, salmon, scallops, lobster—then preparation, seasoning and delivery vessel via sandwich, wrap or salad. You can also steer point for the lobster pot for a roll, Reuben or mac and cheese, or choose a classic like the oyster po' boy or fried Ipswich clams. L, D; $13–$24

WASHOE PUBLIC HOUSE

275 Hill St.  |  (775) 322-2710 | www.washoepublichouse.com

Incline Village native and former executive chef at Martis Camp Brett Moseley opened this eatery in the SoDo spot, which owner Joel Giandalia sold after a five-year run. Starters include poke bibb lettuce wraps and pork belly spring rolls, and a duck confit salad tossed with feta, candied orange zest, pea shoots and pomegranate vinaigrette. Lunch offerings like a unagi noodle bowl and local sausages yield to more classic steak and seafood dishes at dinner. Enjoy also craft cocktails and outdoor seating. L, D; $14–$28

UCHI RAMEN NOODLE SHOP

400 West Fifth St.  |  (775) 800-1975 | www.facebook.com/pg/UchiRamen

Ramen—the carefully composed Japanese dish made with Chinese wheat noodles and broth—is the real deal here. The various varieties, including soy sauce, sea salt and miso styles, start with a tonkotsu pork broth simmered for 20 hours. Pork belly, soft-boiled egg, marinated bamboo shoots, seaweed, scallions and wood ear mushrooms are but a few artful additions. There's also a rice bowl option and appetizers from grilled chicken or pork belly skewers to whole fried smelt. L, D; $10–$14

THE DELUXE

148 West St.  |  (775) 686-6773 | www.facebook.com/pg/cafedeluxereno

Cafe DeLuxe owners Rich Selden and Katie Librero overhauled the old Niko's Greek Kitchen spot in the West Street Market and relocated there as The DeLuxe. Sporting a bunny skull and carrots logo, the pair have expanded on their original organic vegetarian fare to satisfy every umami itch with bowls, burritos and burgers of all manner, plus items like kimchi tacos made with garlic tamari chicken, ginger beef, tempura tofu or curried eggplant, hand salads and vegan pho. B, L, D; $6–$13

SABRINA'S WEST STREET KITCHEN

138 West St.  |  (775) 683-9378

Inhabiting the peaceful, wood-toned space that was the short-lived Gaman Ramen, this West Street Market spot serves an eclectic array of internationally influenced items. Try Mexican gazpacho shrimp cocktail, Santa Fe chopped salad, Thai noodle salad, tinga tacos and sandwiches ranging from Tuscan veggie panini to Southern-style pulled pork, Hawaiian kalua pork, Cuban roasted pork and chicken fajita melt. L, D; $7.95–$11.95

MIDTOWN TACOS

719 South Virginia St.  |  (775) 327-0975 | www.facebook.com/midtowntacos

Sadie Bonnette and Ivan Fontana have moved their Midtown Eats around the corner, and in its stead have created a casual counter service taco joint. On the menu find tacos filled with gourmet ingredients like duck confit, chicken, house-made chorizo, pork belly carnitas, beer-battered fish, chili-braised chuck and a cheeseburger variety that combines ground beef, cheddar, lettuce and Thousand Island dressing. A full bar is well stocked with mezcal and tequila, draft Pacifico and Mexican Coke. L, D; $6–$8

BAJA BAKERY & DELI

271 Wonder St.  |   (775) 378-6566 | www.bajabakeryreno.com

This sunny South of the Border tinged spot off Midtown's Wells Avenue specializes in freshly baked breads and pastries along with a simple menu of soups like chicken posole and albondigas, tortas piled with carnitas, ham and cheese, or pastrami and portobello. There are also flautas, quesadillas, tacos, wraps and tamale specials, plus wine, beer, Jarritos, hot Mexican cocoa and a welcome mat for furry four-legged friends. B, L, D; $2.50–$11

BAB CAFE

303 West Third St.  |  (775) 502-3018 | www.bab-cafe.com

University of Nevada, Reno, grad and Korean native Jay Ryu opened this casual Korean comfort food café in the newly converted Third Street Flats downtown after launching five locations in Seoul. Bab, which translates as "rice" or "rice in a cup," comes in a classic version with raw or cooked spinach, carrot, cucumber, radish, egg, zucchini and choice of meat—marinated beef, spicy pork, teriyaki-style chicken or tofu. Bokkum bab, or fried rice, comes with spicy cabbage and pork; there's also a version with shrimp. L, D; $9.99–$11.99

HIDDEN PIZZA

345 North Virginia St.  |  (775) 348-3792 | www.eldoradoreno.com

Located inside the Eldorado Resort Casino, this New York–style pizzeria turns out thin crust pies with toppings like roasted tomatoes, shaved garlic, ricotta, sliced sausage and meatballs. Ivano Centemeri, executive chef of the property's flagship restaurant, La Strada, put together the menu and recipes, which start with Italian 00 flour. Guests can choose from a dozen bar-top seats to enjoy pizza by the slice or a whole pie. D; $18–$24

KANPAI SUSHI & EL JEFE'S CANTINA

500 North Sierra St.  |  (775) 329-0711 | www.circusreno.com

Replacing Kokopelli's and Gecko's inside Circus Circus after a 15-year run, these similarly co-mingled restaurants continue their Asian-Mexican dance. Kanpai serves maki-like ceviche with cilantro and lime, while a basil salmon roll employs jalapeño and crema. El Jefe's offerings cross culinary boundaries with flavors like teriyaki pork tostadas, a ceviche mixed with yellowtail, Asian pear granita, Thai chilis and cilantro, as well as a ginger meatball dish in a tomato ancho chile sauce with charred broccolini. El Jefe's converts over to a nightclub in the evenings. Kanpai: L, D; $4–$13.95. El Jefe's: L, D; $9–$14

WALDEN'S COFFEEHOUSE

1170 South Wells Ave.  |  (775) 322-6100 | www.waldenscoffeehouse.com

Launching a second location (the first is on Mayberry Drive in Caughlin Ranch) in the space that was the Dandelion Deli & Cafe, this eatery serves an array of coffee drinks made from organic and locally roasted beans. But folks keep coming back for the all-day breakfast and lunch menu stocked with frittatas, scrambles and wraps, salads, deli sandwiches and bombolone—house-made fried dough stuffed with Italian sausage, ricotta cheese, parmesan, tomato sauce and fresh basil. B, L; $8.25–$11.95

POKE KING

10490 North McCarran Blvd., Suite 103 | (775) 502-3422  |  www.pokekingreno.com

Poke, the raw fish salad that hails from Hawaii, is the star at this sleek spot in the space in Northwest Reno's Canyon Center. Pick a base of rice, greens or wonton chips, then select seafood—octopus, salmon, scallops, shrimp, yellowtail (or tofu)—sauce it with sesame shoyu, spicy mayo, truffle ponzu or creamy miso, and finish with more than a dozen toppings including masago, tobiko, seaweed or "crab" salad. For dessert, check out the freezer stacked with colorful macaroon ice cream cookies. L, D; $8.95–$11.95

HABANEROS TACO GRILL

2870 Northtowne Ln., Suite 101 | (775) 502-3331 | www.habanerostacogrill.com

This Las Vegas–based eatery, which opened in the space that was formerly Fatburger, is mucho more than just tacos. All-day breakfast options include chilaquiles, huevos rancheros and egg-stuffed burritos. An authentic lineup of tortas, huaraches, sopes, enchiladas, nachos and menudo are all on the menu, with fresh, serve-yourself salsas. The carne asada fries come loaded with meat, cheese, beans, guac and crema, and there are Jarritos sodas to wash it all down. B, L, D; $3.25–$11.75

TEXAS MELTZ

2870 Northtowne Ln.  |  (775) 525-2047  | www.facebook.com/pg/TexasMeltz

This simple sandwich shop that shares space with U-Swirl turns out its signature hot gooey sandwiches on Texas toast or seven-inch subs with Lone Star State selections such as the Dallas, with brisket, grilled onions, barbecue sauce and cheese; the Austin, with pastrami, roast beef, grilled onions, barbecue sauce and cheese; and the San Antonio, with turkey, ham and bacon. There's also a half-pound burger with pulled pork, coleslaw, provolone and barbecue sauce. L, D; $7.25–$9.25

PEG'S GLORIFIED HAM N EGGS

198 Lemmon Dr.  |  (775) 677-2500  |  www.eatatpegs.com

Local favorite and family-owned Peg's Glorified Ham N Eggs launched a seventh location to join those in Reno, Sparks, Carson City and Roseville, California. Customer favorites include Monterey skillet breakfasts, served with hash browns, pico de gallo, cabbage slaw, fresh pinto beans and warm tortillas, Benedicts like steak, crab cake and salmon, plus omelets, scrambles, pancakes, waffles, salads, sandwiches and burgers. B, L; $6.99–$13.99

CASA GRANDE MEXICAN RESTAURANT & CANTINA

4796 Caughlin Ranch Pkwy. | (775) 828-7777  |  www.casagranderestaurant.com

Joining its sister store on Robb Drive, this Northwest location informally known as Casa Grande II also serves a menu of Tex-Mex favorites from gooey carne asada fries to menudo made with tripe and hominy. House specialties include camarones culichi made from shrimp and mushrooms sautéed with garlic and butter smothered with a creamy Sinaloa-style sauce. Another favorite is the mole poblano grilled chicken breast, prepared puebla-style with peppers, chocolate, nuts and spices. L, D; $7–$17

999 PHO

2309 Kietzke Ln.  |  (775) 686-6599

This former pizza joint in Franktown Corners is now serving several authentic varieties of the classic Vietnamese rice noodle and broth-based dish topped with sprouts, limes, jalapeño, basil and Sriracha. Non-meat eaters will be happy to find full-on vegetarian options. Fresh spring rolls, chicken wings, rice bowls and stir-fried noodles are on the menu, as well as bahn mi and bahn xeo, the thin crispy egg pancake filled with pork and greens and dipped into fish sauce. L, D; $4–$9

BAZAAR EUROPEAN DELI & CAFE

3652 South Virginia St.  |  (775) 870-9095  |  www.bazaardeli.com

Borscht is on the menu here, as are other classic Eastern European dishes perhaps less familiar than the brightly hued chilled beet soup. The house specialty is pelmeni, Siberian-style pork- and beef-stuffed dumplings in broth. There's also blinchiki, buckwheat flour crepes filled with farmer's cheese, smoked salmon or red caviar. Potato salad and shuba—beets with herring—are on the menu, along with more straightforward sandwiches and coffee drinks. B, L, D; $2.99–$7.99

BAWARCHI INDIAN CUISINE

9333 Double R Blvd.  |  (775) 800-6363 | www.renobawarchi.com

Yellow walls and hardwood floors grace this South Reno spot located in the former Un Caffe Italian Bistro. Serving a long and complex list of dishes from across India, find here snacks and quick bites, curries and biryanis (chicken, seafood, goat and lamb), naans and dosas. There's also a section of Chinese-style battered dishes, plus rice and noodle-based stir-fries. Wash it all down with a lassi or rose or buttermilk, or stick with wine and beer. L, D; $7.99–$13

MY PIE PIZZA

9333 Double Diamond Pkwy. | (775) 470-5470 | www.pizzayourway.com

Thin-crust Neapolitan–style pizzas are hot here in two minutes from an 800-degree oven. Choose from classic red- and white-sauce pizzas, specialty pies like the Pear-Fect (made with gorgonzola, parmesan, chicken, pears, caramelized onions, balsamic glaze and cracked black pepper) or the Very Vegan with marinara, daiya vegan cheese, spinach, white mushrooms, red onions and black olives on a whole-wheat crust. Other options include calzones, panini and salads. L, D; $7.95–$8.95

BURGER ME

13963 South Virginia St. | (775) 851-2002 | www.realfreshburger.com

Occupying the former Fatburger space in the Sierra Summit, this hip burger joint concept launched by Mark Estee joins Truckee and Northwest Reno locations in serving all-natural, sustainably raised, "old fashioned big burgers." Beef, bison, chicken, turkey, lamb, ahi, cod and veggie options sit pretty on a Truckee Sourdough bun served in the signature red-and-white checkered wrapper. Sweet potato fries, garlic fries, onion rings, malts and shakes all go nicely with the burgers. L, D; $7.95–$10.95

LEAD DOG BREWING

415 East Second Street  |  (775) 391-5110 | www.facebook.com/pg/leaddogbrewing

This 15-barrel brewery and taproom in the heart of Reno's unofficial brewery district is the effort of a barely 20-something Ryan Gaumer, who learned how to make beer because he was too young to buy it. So far his efforts have included a chocolate and vanilla Choconilla Stout, 50 Shades of RED IPA, Peachy Blonde and Ron Burgundy IPA. The dog-friendly setting sports shuffleboard, cornhole and popcorn, plus food truck service for eats.

SIU KOREAN BBQ

754 North McCarran Blvd.  |  Sparks, NV | (775) 502-3333 | www.facebook.com/SiukoreanBBQ

From the folks who brought Reno Jazmine and Crawfish Asian Cuisine, this modern and spacious Korean-style barbecue spot lets diners choose from an all-you-can-eat menu of meats, seafood and vegetables to cook on tabletop grills. Options include the popular bulgogi—thinly sliced meats marinated in a soy-based sauce—spicy pork belly and lemongrass chicken; those feeling adventurous can opt for beef intestine or tongue. Traditional starters and side dishes are included. L $17.99, D $26.99

SIU ASIAN EXPRESS

754 North McCarran Blvd.  |  Sparks, NV | (775) 502-3333 | www.facebook.com/SiukoreanBBQ

Sharing the space and ownership with Siu Korean BBQ (see above), this casual counter-service eatery serves a menu of Chinese-American standards from pot stickers and wontons to kung pao shrimp and beef and broccoli, plus fried rice and noodle dishes. The big draws are the boba or bubble teas, tea mixed with fruit or milk, fruit jellies and chewy tapioca balls. There's also a special machine that dispenses a Taiwanese dessert called Snowflake, a mash-up between shaved ice and ice cream. L, D; $7.99–$11.99

REVISION BREWING

380 South Rock Blvd.  |  Sparks, NV | (775) 331-2739  | www.revisionbrewing.com

Jeremy Warren, former brewmaster of Auburn-based Knee Deep Brewing, together with Jeb Taylor, specialize in producing IPAs with malt barley grown in Fallon, Nevada. The rotating list of beers includes experimental not-for-everyone brews plus guest beers like Big Sky Moose Drool. The street-art-decorated, dog-friendly warehouse has a stage for live entertainment, and while no food is served, Brothers BBQ, Bam Dogs and Kenji's food trucks are on hand.