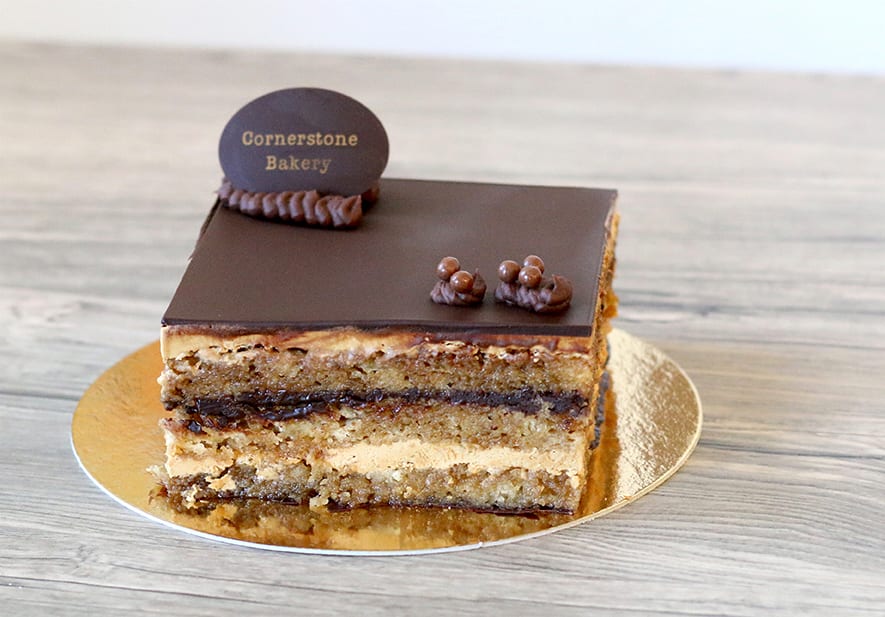 Cornerstone Bakery, photo by Sylas Wright
24 Jun

New Spots
North Shore
GOOSE & CHEY'S
877 North Lake Blvd.  |  Tahoe City, CA
(530) 807-1003
www.facebook.com/gooseandcheys
Located in the former Doma Sushi spot across from Safeway, Greg and Cheyenne Goosen post a chalkboard menu of homemade comfort food dishes like cheese-stuffed bacon-wrapped prawns, crispy pork chops, pan-roasted salmon, smokey beans with kale on sourdough, a portobello mushroom sandwich, tacos, pulled pork and organic beef burgers. There's a stage for live music and open-mic nights; look for performances by singer-guitarist Cheyenne. BR, L,D; $8–$15
TAHOE TAP HAUS
475 North Lake Blvd.  |  Tahoe City, CA
(530) 584-2886
www.tahoetaphaus.com
The Tahoe Art Haus & Cinema folks transformed the Tahoe Mountain Brewery space in the Cobblestone Center, serving 16 rotating beers and cider on tap and a great selection of wines by the glass. Chef Chris Taylor, veteran of Homewood Mountain Resort and West Shore Cafe, built a menu with dishes like loaded sweet potato tots with cotija and sage crema, a harvest kale salad with Brussels sprouts, spiced pecans, apples and a cinnamon shallot vinaigrette, plus burgers and naan sandwiches, one with a stout-marinated flank steak. BR, L,D; $12–16
JIFFYS PIZZA TAHOE VISTA
7019 North Lake Blvd.  |  Tahoe Vista, CA
(530) 583-3303
www.jiffyspizzatahoevista.com
Jiffys Tahoe Vista (not affiliated with Jiffy's Incline) is back with new ownership and management in the old Global Cafe location next to the post office. In addition to specialty pizza such as Silver's pie with garlic oil, red pepper flakes, mozzarella, ricotta, pistachios and a honey drizzle, there's also wings, pesto chips, calzones, meatball subs, penne pasta and lasagna, plus cannoli for dessert as well as a rotating list of beer and wine, plus delivery. L (summer), D; $12–$25
CILANTRO + BARLEY CANTINA
14 Highway 28  |  Crystal Bay, NV
(775) 833-6333
www.crystalbaycasino.com
Located inside the Crystal Bay Casino, this all-day casual Mexican spot replaces Bistro Elise next to the Crown Room. Start the day with breakfast burritos, chilaquiles or huevos rancheros and at lunchtime move on to tacos, tostadas, fajitas and burgers. Salsas and tortilla chips are made fresh in-house, and drinks include draft and bottled beer, tequilas and a selection of frozen margaritas. B, L, D; $2–$12
CORNERSTONE BAKERY
10087 West River St.  |  Truckee, CA
(530) 563-5322
www.facebook.com/pg/
truckeecornerstonebakery
Jennifer Smart, a pastry chef at Martis Camp for several years, opened her own bright and lovely bakery where she turns out a tempting array of sweet and savory pies, cheesecakes, tarts, croissants, cupcakes, cookies and bars. Look for the croissant sandwich of the day like turkey and smoked provolone with arugula-pepita-pesto; gluten-free options are available and special orders are welcome. Coffee and loose leaf teas come from Sacramento-based Temple Coffee Roasters. B, L; $2–$6
Reno
THE LODGE COFFEE & WINE BAR
17025 Mount Rose Hwy  |  Reno, NV
(775) 507-7049
After a six-year hiatus, this space at the bottom of Mount Rose Highway has been remodeled in a modern industrial chic theme and reopened. Managed by Debby Bullentini, of the former L'uva Bella Wine Gallery, the bar features drinks by Staub Coffee, Davidson's Organic Teas, kombucha on tap, juices and smoothies from Rawbry (formerly located in the Basement Shops below West Elm and owned by Bulletini's daughter Brianna). Also find seasonal cocktails, wines by the glass and flight, and light bites including Liege waffles from Reno's Waffle Envy, baked goods from Rounds Bakery, plus two large decks and big mountain views B,L,D; $3–$19
TERIYAKI MADNESS
13963 South Virginia St. Suite 904 
Reno, NV
(775) 851-6051
www.teriyakimadness.com
This fast-growing casual eatery with high-protein teriyaki bowls has opened at the Summit next to the movie theater. Stir-fried dishes made with chicken, beef, salmon or tofu and veggies are layered atop a bed of Calrose white, brown or fried rice or yakisoba noodles. There are also potstickers, egg rolls and crab rangoon, and online ordering. L,D; $8.49–$11.49
LÁ MINT VIETNAMESE KITCHEN
770 South Meadows Pkwy.  |  Reno, NV
(775) 470-8400
www.la-mint.com
"Lá," which means "leaf" in Vietnamese, is located in the former CaiE's Oriental Café space redecorated with colorful paper umbrellas hanging from the ceiling. Billing itself as serving fast casual Vietnamese fare, the menu features classic dishes including pho, chicken and beef noodle soups, noodle bowls, rice platters, curry, crispy noodles, and an array of chicken, beef and seafood options. L, D; $9–$14
ZEPPELIN
1445 South Meadows Pkwy  |  Reno, NV
(775) 387-4937
www.zeppelinreno.com
This 21-and-over clubby destination complete with airships suspended overhead is part of the $30 million South Reno Loop entertainment complex. Executive chef Jakon Tolhurst, veteran of Eldorado's Roxy and Lulous, has created an ambitious menu boasting a raw bar, flatbreads, hot and cold sandwiches, burgers, street tacos and sliders, and, at dinner, Roman-style artichoke, balsamic barbecued rack of lamb, potato-rolled Alaskan cod, scallops and Bently Ranch filet mignon. Create your own charcuterie, cheese or snack platter to pair with clever cocktails and over 40 wines by the glass. L, D; $16–$37
AN-ASIAN KITCHEN & BAR
7499 Longley Lane  |  Reno, NV
(775) 852-6320
www.an-asiankitchen.com
In Vietnamese, "an" means "eat," and in this space formerly occupied by Cafe de Thai, the dining meanders about Southeast Asia. Tony Tran and Ken Huynh, who own a pair of Vietnamese restaurants in South Lake Tahoe and Pho Chopstix in Gardnerville, created a lengthy menu with classics like bahn mi, soups, noodle dishes, pho, clay pots, sizzling rice platters and Vietnamese coffee. Also find cocktails, beer, wine and a tasty happy hour. L,D; $9–$18
CIRIA'S COCINA
6135 Lakeside St. #138  |  Reno, NV
(775) 440-1098
www.facebook.com/pg/CiriasCocina
Billing itself as fine Mexican dining, this spot that housed Taste of Thai at Bartley Ranch starts the day with omelettes filled with carnitas, chicken tinga and chorizo, as well as grilled nopales topped with cheese, chorizo and pico de gallo. The rest of the menu features favorites like tacos, tortas, tamales, tostados, taquitos, chile relleno, mole and fajitas. The restaurant also serves albondigas, as well as menudo and posole on weekends. To wash it all down: margaritas, micheladas and horchata. B, L, D; $8.49–$15.99
A TASTE OF THAI
915 West Moana Ln.  |  Reno, NV
(775) 828-6400
www.atasteofthaireno.com
Relocated from its Lakeside location to the former Kyoto space near Josef's Vienna Bakery, the menu of Thai favorites remains the same: modern stir-fries, traditional curries, classic noodle dishes, teriyaki chicken or salmon, spicy roast duck with eggplant and Thai chili paste, claypot seafood, tom yum and tom kha, and Andaman sea soup—a spicy, sour soup with assorted seafood, onion, mushrooms, lemongrass, galangal, lime juice and Thai chili pepper. L, D; $12–$18
Rattlesnake Club
606 West Plumb Ln.  |  Reno, NV
(775) 384-2470
www.rattlesnakeclubreno.com
Following an extensive renovation, this wood- and granite-accented space that was formerly the long-running Country Garden Restaurant inside the Arlington Gardens Mall now sports a coffee bar (with its own roastery), cafe and greenhouse that supplies the kitchen with fresh produce. Inspired by an eatery of the same name in Detroit where owner Jeff Bacon attended med school, the menu by Atlantis Steakhouse alum Drew Gruber includes items like mini poke tacos, wood-fired pizza with local honey, vadouvan curried halibut and zinfandel-braised short ribs. B, L, D; $15-$35
KENJI'S
3940 Spring Dr. Suite 6  |  Reno, NV
(775) 384-9022
www.kenjisfoodtruck.com
Among Reno's first food truckers, Keliana Saffery and Joe Najera have set up a small space with a stand-up counter, a few tables and patio seating one block north of McCarran and Longley, behind the airport. Repurposing part of an old white food truck as decor, this weekday lunch spot features their Asian-Hawaiian-Latin fusion faves like Hawaiian barbecue beef and chicken, kalua pork tacos, Hawaiian plate lunch, pan-fried udon noodles, chicken pot stickers and meat-stuffed quesadillas. L; $2–$10
ZAGOL ETHIOPIAN CUISINE
3314 South McCarran Blvd.  |  Reno, NV
(775) 786-9020  |  www.zagolofreno.com
Reno's first and only Ethiopian restaurant has relocated to the Raley's center up at the corner of Mira Loma Drive. Shita Yenenh uses recipes from her native Ethiopia to produce fragrant dishes such as zilzil tibs—marinated strips of tender beef sautéed lightly in purified herbal butter, seasoned with onions and rosemary, which arrives at the table still sizzling. Lamb, poultry and vegetable dishes like mesir wat are made from split lentils cooked with onion, ginger, garlic and chili powder. It's all scooped up with injera, a traditional Ethiopian bread made from teff flour. D; $9.50–$15
FAT CAT BAR & GRILL
1401 South Virginia St.  |  Reno, NV
(775) 453-2223  |  www.renofatcat.com
Replacing Morgan's Lobster Shack downstairs from Rue Bourbon, this Midtown spot is the second store for the Tahoe City–based eatery. Find the same menu with items like crawdaddy fries covered with cheese, crawfish tails and roasted red pepper aioli, plus blackened ahi salad, southern fried chicken sandwich, steak frites and the Fat Cat Burger—a pound and a half of Bently Ranch beef, with melted cheddar cheese, onion rings, avocado and cherrywood-smoked bacon. Sweet tooth? Go for the weekend-only glazed donut burger. L, D; $10.50–$32
WHISPERING VINE WINE CO. BAR
722 South Virginia St.  |  Reno, NV
(775) 451-7681
www.whisperingvinewine.com
This modern glass-walled space at the entrance to Midtown's Sticks development is Curtis Worrall's fourth Whispering Vine Co. store. In addition to retail wine and spirit sales and tasting space, there's a sleek cork-filled, U-shaped bar with wines by the glass and flight, seasonal cocktails and a dozen craft beers on tap. Garage-style doors open to a terrace and firepit and although no food is sold here, nearby restaurants including Cafe de Thai, Mari Chuy's (which does a special charcuterie plate just for Whispering Vine) and Noble Pie deliver. L, D.
PERENN BAKERY
20 Saint Lawrence Ave.  |  Reno, NV
(775) 451-7722
www.perennbakery.com
The folks from catering company Butter & Salt opened this ode to butter, flour and sugar in a minimalist Midtown space next door to Crème. Inhale here croissants including a baklava sort with spiced nuts, rose water and honey, as well as banana bread, Danish and Kouign Amann ("queen amahn"), a round multi-layered Breton pastry deemed Europe's fattiest. Tartines on toasted sourdough bread are layered with lox or egg, labneh, pickled cucumber, za'atar and pea shoots. Open Thursday to Sunday and for special dining events; B, L; $3.50–$9
SEVEN TROUGHS SPEAKEASY
50 South Virginia St.  |  Reno, NV
(775) 451-7517
www.facebook.com/7troughsspeakeasy
Located in the Basement Shops beneath West Elm in the old U.S. Post Office building, this bar features spirits from Sparks' Seven Troughs Distilling, the Great Basin's first distilery since 1877. Craft cocktails featuring their gin, rum and whisky pair well with bites such as a charcuterie board or pear gorgonzola salad with candied walnuts and prosciutto. Weekend brunch brings waffles with bourbon barrel syrup, frittatas, eggs Benedict and Monte Cristo sliders. BR, L, D; $8–$24
SIZZLE PIE
190 South Center St.  |  Reno, NV
(775) 525-7437  |  www.sizzlepie.com
This darkly irreverent, metal-loving Portland export next to Patagonia sports a long list of cleverly named pies and many vegetarian and vegan offerings: The White Walker is made with spinach, roasted garlic, feta and olive oil, and the Vegan Angel Of Doom layers vegan "mozzarella," jalapeños, pineapple, almonds and cilantro. You can add a drizzle of vegan ranch, barbecue, Parmesan peppercorn or Portland's spicy Aardvark hot sauce to any order. There are also seasonal pies, a gluten-free crust option, pizza by the slice, online ordering, delivery, an outdoor patio and late hours. L, D; $16–$29
CODE COFFEE
300 South Wells Ave.  |  Reno, NV
(775) 453-1338
www.codecoffeereno.com
Destinee Sanford comes from a long line of first responders, so she designed, named and dedicates a portion of proceeds from this coffee shop to those who keep our communities safe. In addition to freshly baked croissants from Doughboy, a changing menu might include chili, cheese or shredded beef and hash brown breakfast burritos, a jalapeño and cheddar egg sandwich, and grab-and-go meals like barbecue pork on sweet potatoes. Of course, there are coffee drinks of all sorts. Discounts are offered for first responders and military personnel. B, L
SMEE'S ALASKAN FISH BAR & MARKETPLACE
50 North Sierra St.  |  Reno, NV
(775) 622-8829
www.facebook.com/
SmeesAlaskanFishBar
Former Alaskan fisherman Jon Smee, who first hawked his popular fish and chips from a Reno food truck, then a stall at the Meadowood Mall food court, has aptly found safe harbor in the upmarket former Reef sushi spot next to Campo overlooking the Truckee River. Lunchtime favorites include chowder, shrimp tempura, skewers and scampi, seared ahi salad, fish tacos, scallop sliders and, for the landlubbers, cheeseburgers. At dinner, look for mussels, oysters, roasted halibut, cioppino, Thai-glazed salmon and crab-stuffed prawns. L, D; $28–$33.
GOOD HOPS
250 Evans Ave.  |  Reno, NV
(775) 334-4700
www.greaternevadafield.com/restaurants/good-hops
Replacing Duffy's Ale House at Greater Nevada Field's Freight House District, this spot open only during Reno Aces and Reno 1868 FC home games retains the same concept—a big horseshoe bar, plenty of beer on tap, nine TV screens, a shuffleboard table, and a game-ready menu of smoked chicken wings and bambino fries, which loads fries with pulled pork, smoked chicken, mac and cheese, and coleslaw, plus flatbreads, sliders and brick-oven sandwiches. L, D; $8.95–$10.95
SQUARE ONE EATERY
1771 Valley Road  |  Reno, NV
(775) 453-1447
www.facebook.com/pg/Square1Eatery
Brent Andriese, a 20-year veteran in the gaming industry, opened this stand-alone bright and modern eatery near the Livestock Center that was the Silver State Eatery. Comfort food is on the menu: Egg dishes, biscuits and gravy, pancakes, waffles, breakfast burritos and chicken fried steak with chorizo gravy, burgers pattied from brisket and short rib (the Magambo comes with avocado, bacon and pepper jack cheese) and customized sandos with gluten-free buns available. B,L,D; $7–$14
Sparks
LOS ALTOS
5015 Pyramid Way #107  |  Sparks, Nevada
(775) 425-8010
www.facebook.com/LosAltosBLD
Located in the former Water Springs Mexican Food & Bar space above Pyramid Way, this cheery spot serves a huge diner-style menu starting with big breakfast waffles, pancakes, crêpes, Benedicts, omelettes, skillets and scrambles, and lunchtime offerings such as salads, hot and cold sandwiches, wraps and burgers. Dinner brings more substantial dishes from blackened snapper and New York steak to deep-fried ice cream for dessert. B, L, D; $8.95–$13.95
GOLDEN ROTISSERIE
1240 Avenue of the Oaks, #100 
Sparks, NV
(775) 470-5454
www.golden-rotisserie.com
This casual Truckee-based counter-service eatery has launched a second location in Victorian Square. Tri-tip and pork are marinated in a honey-soy-lime mix and the chicken in soy sauce, lime juice, white wine, garlic, herbs and spices. The meats are put on the rotisserie and then into burritos, tacos, tostadas, quesadillas and sandwiches with housemade salsas, guacamole and side dishes such as marinated cucumber salad and black beans. Dine in or get it to go. L, D; $2.75–$11.50
ENGINE 8 URBAN WINERY
1260 Avenue of the Oaks Suite 150
Sparks, NV
(775) 996-3648
www.engine8urbanwinery.com
Another addition to Victorian Square, this sipping spot comes courtesy of Sparks natives Mike and Wendi Rawson, who went with the Rail City theme. Juice from Central California vineyards is fermented in 15 tanks, four of which are oak barrels for chardonnay, cabernet and special blends including a summery strawberry white zin. Wines are for sale by the glass, flight and bottle and can be paired with a charcuterie plate ($25–$40), dessert or truffles, or from nearby Golden Rotisserie (they deliver). Outdoor seating plus blending parties and tours are available; Saturday tours include the actual Engine 8 locomotive located on Victorian Avenue. L, D
Carson City
SQUEEZE IN
308 North Curry St.  |  Carson City, NV
(775) 461-3250
www.squeezein.com/carson-nv
This is the sixth store for the Young and Morris families, who started this fun-loving eatery in Truckee in 1974 (they own five others across Reno, Sparks and Northern California, and have franchised locations in Las Vegas and Central and Southern California). "Throwdown with Bobby Flay" on the Food Network featured the Racy Tracy with sautéed mushrooms, Monterey Jack cheese, bacon and avocado; the meandering menu boasts every breakfast dream come true, including chocolate covered bacon, plus lunchtime burgers, burritos, soups, salads and sandwiches.
B, L; $6.79–$20.99
THE BUSBOY MOBILE CUISINE
Carson City, NV
www.thebusboymobile.com
Queens-born Billy Lavelle spent three years converting a double-decker British bus into this mobile restaurant, parking it at Carson City locations such as the Grocery Outlet, Shoe Tree Brewing, the Brewery Arts Center and Michael Hohl. Upstairs, find the upper-crust menu of beef Wellington and cowboy steak from Bently Ranch, grilled wild Alaskan king salmon and Jidori chicken with white wine lemon sauce. Downstairs, look for more casual fare like fish and chips, grilled Italian sausage and sliders such as lamb with tzatziki and pickled onions. L, D; $7–$36.
Minden
KHRISTOPHER'S RISTORANTE & BAR
1599 Esmeralda Ave.  |  Minden, NV
(775) 450-6030
www.khristophersristorante.com
This longtime Carson Valley staple embracing all things Italian moved from Indiana Hills into the former Minden Food Co. Breakfast is served til mid-afternoon and includes items such as an egg scramble with basil, meatballs, garlic, marinara and Parmesan. The huge menu also boasts hearty sandwiches such as the spicy Italian sausage with mushrooms, garlic, onions, roasted peppers, marinara and Romano cheese, plus pizza, pasta, and specialties such as chicken stuffed with portabella mushrooms, prosciutto, roasted peppers and feta. B, L, D; $10.95–$29.95