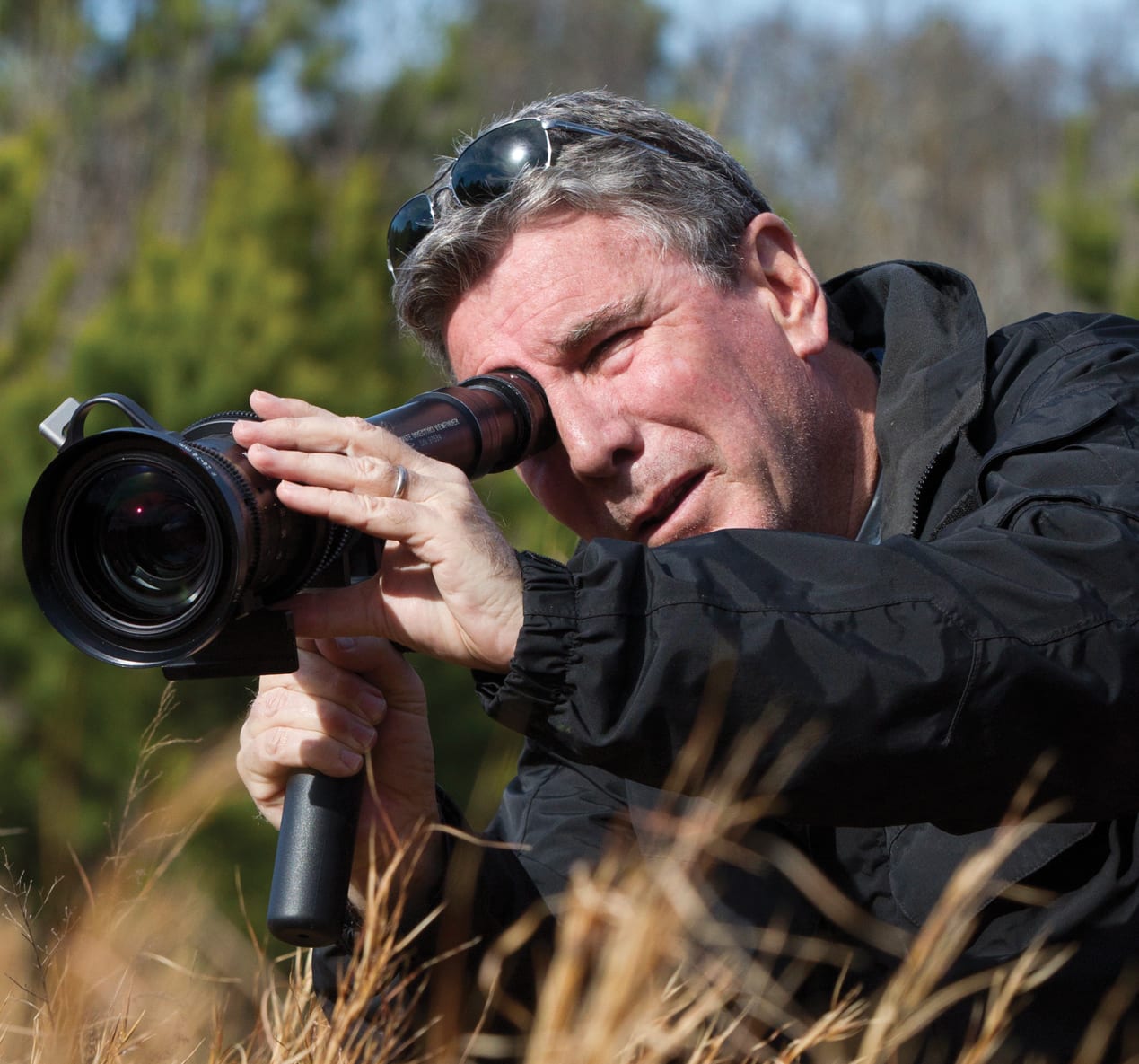 Tahoe-based cinematographer Peter Menzies Jr. lines up a shot on Shooter, on location in Vancouver, British Columbia, courtesy photo
24 Jun

Tahoe's Hollywood Talent
Australian cinematographer and Incline Village resident remains humble despite high-profile movie career
In 1995 a young Peter Menzies Jr., the Australian cinematographer on the Bruce Willis–led blockbuster Die Hard: With A Vengeance, had to blow up a building in Manhattan. The movie crew had 14 blocks of 6th Avenue completely sealed off, and flipped the signs and stoplights around to make it look like 5th Avenue.
Peter had worked his way up to some major films and knew a lot hung in the balance of nailing the shot.
"There's no second chances on something like that. It's one shot. I was a little sleepless the night before," Peter says over a cup of coffee near his Incline Village home.
The crew removed the windows, lit up the explosives inside the building and let 'er rip. The shot went swimmingly, and served as another step in a successful film career that carries on today. His résumé now includes cinematography work for more than 30 movies, as well as numerous commercials, TV movies and pilots. 
On this day, for example, Peter is preparing for a trip to Florida to start work on a mini-series based on The Right Stuff with Game of Thrones director David Nutter.
A Vacation Destination Becomes Home
Although Hollywood has a reputation for larger-than-life egos and vanity, Denise Menzies credits her husband's success in part to humility and a strong work ethic. Peter says the stereotype is a misconception and that he has a deep empathy for actors being judged in that way.
Soft-spoken and mellow, one would never guess that Peter is friends with some of the biggest names in Hollywood. He describes working in Paris as a camera assistant fresh out of high school as "pretty cool."
That pretty cool, fast-paced global life is now shared with his wife and three daughters—ages 25, 22 and 17. The youngest, Chloe, is entering her senior year at Incline High School, the middle sister, Gretal, is a recent graduate from Willamette University, and the oldest, Emma, is a writer/director living in Los Angeles and a graduate of the University of Southern California Film School.
They have lived in Tahoe full time since 2015 and also still own a house in Sydney. They find Tahoe to be the perfect location for their professional lives, enjoying the area's small-town vibes and like-minded people. 
"We can live anywhere in the world, and we love Tahoe," says Denise, who is a former film producer herself. Now, she works as Peter's business partner and manager, and is involved locally as the president of the Incline Village nonprofit Cymbal Foundation. She's also part of the local Rotary Club.
When in Tahoe, Peter spends much of his time on the lake, whether on a paddleboard, in a boat or simply relaxing on the shore, echoing his lifelong connection to the water that began when he was a kid in Australia. "I work around the world, so vacation time for me is spending time at home… in Tahoe."
Like Father, Like Son
Born in Sydney, Australia, he entered the film world word via his father, Peter Menzies Sr., a well-known cinematographer in the 1970s and '80s who owned a film production company.
Elder Peter put younger Peter to work. His first job was a film loader, the person who physically loads the film into the camera and takes it out (described by Peter as the lowest paid, most important job), for a TV commercial in Sydney.
After gaining initial experience in commercials, he moved into feature films under the wing of Australian cinematographer Russell Boyd. In Australia, he worked on films like the legendary Crocodile Dundee, released in 1986, before moving on to an international career. His first American film, in the early '90s, was White Sands starring Willem Dafoe, Mickey Rourke and Samuel L. Jackson.
Peter and Denise met in New York in 1989 while working on a commercial. Denise, who is from Kansas City, was a freelance commercial film producer and Peter had been flown in from Australia to work on the project. They first visited Tahoe on a snowy day in 1994, when Emma was a year old. They bought a house a few years later.
While enjoying their time in Tahoe, they simultaneously ping-ponged around the globe as Peter's career began to take off. He traveled for work up to six months at a time, and the growing family often joined him in locales around the world. The kids had unique experiences as a result, such as the time they spent a Halloween in London during the filming of Lara Croft: Tomb Raider and celebrated the holiday on the fantasyland-esque set.
While the daughters got to see inside the cloaked world of the movie businesses, it wasn't all celebrity hangouts. They traveled a ton and had to make new friends regularly, with Peter inevitably missing out on some of their life events—and conversely having to turn down jobs due to family obligations. But Denise and Peter feel that, overall, it provided a fantastic way to see and learn from the world.
"The traveling has sparked a lot of curiosity and confidence in the girls," Denise says. "They see both the differences and the commonalities in the world."
Gretal and Chloe are pursuing lives outside the film world, but Emma caught the film bug at 10 years old and always wanted to work with her dad. She never looked back and is now a director, bringing three generations of careers in the entertainment business full circle.
Hustle and Bustle
Peter sums up his job as "bringing the director's vision to life using creativity and technical elements." Even more succinctly, he considers himself a storyteller. "A goal of filmmaking is realism," he says.
He also says he acts as something of a facilitator between the producers and the director, and deals with a movie staff of up to 200 people who report to him.
"The relationship between the director and the DP (cinematographer) is sort of like a marriage. Despite best intentions, sometimes it works and sometimes it doesn't," he says with a chuckle, noting that, by and large, he has deep respect for the directors he has worked with, especially John Singleton, who passed away in April.
While he decries the stereotypes that label actors and actresses as self-consumed, he does admit the perception of working absurdly long days on a movie to be generally true. He works 12- to 14-hour days, six days a week, for months at a time. The industry has a mandated "turnaround" time of at least 10 hours between finishing a day and starting the next one, but Peter says that is commonly broken as well.
His work has taken him and his family from minus-20-degree temperatures in Toronto to the struggles of working with translators in the jargon-heavy industry in China, to traveling with armed bodyguards in Bulgaria. But Peter had an early jump on hostile conditions thanks to his homeland. Filming in the deserts, jungles and beaches of Australia early in his career, where he spent more time outdoors and less time in studios than his American counterparts, helped acclimate him to some of the rigors of the business.
But mostly what keeps him going at this pace year in and year out is a deep passion for the work.
"I have the greatest job in the world," he says. "I hate public speaking. But I love storytelling."
---
"Peter's Picks"
Favorite movie: Apocalypse Now
Favorite Australian movie: Crocodile Dundee
Favorite actor: Mark Wahlberg ("Giving, down to earth, knows his lines and other actor's lines.")
Favorite actress: Angelina Jolie ("Incredibly fit and committed to role. Could do stunts her stunt doubles couldn't do.")
Favorite Tahoe restaurant: Big Water Grill in Incline Village
---
As a youth, Dave Zook was somehow permitted to watch Die Hard: With a Vengeance by his parents. He's now thrilled to know the man behind the legendary action shots.