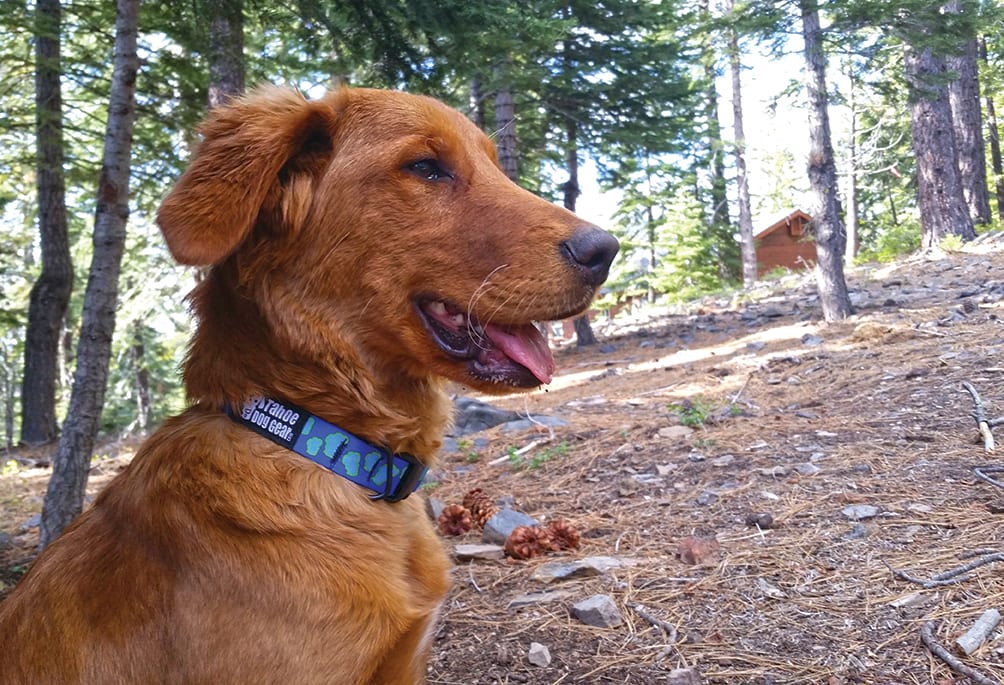 Collar by Tahoe Dog Gear, courtesy photo
24 Jun

TQ Market: Mountain Dog Essentials

Tahoe dogs, in a word, are awesome, and they should be pampered accordingly. It's why we assembled a list of our favorite dog gear on the market. While appropriate for any dog, the following items are designed specifically for active pups who like to get out and charge by their owners' side in the great outdoors—then recharge and repeat.
SWAMP COOLER VEST
$59.95
In the Tahoe region, any midday summer adventure outside of, say, swimming is bound to be a hot endeavor. Now, imagine embarking on that adventure while wearing a fur coat and excitedly sprinting from smell to smell. This is the reality for our ever-game canine friends. With this in mind, the folks at Ruffwear created the Swamp Cooler, a sleek dog-cooling vest that provides protection from the sun and prevents overheating through evaporation. Just soak it in water, wring out and strap it on your dog. The vest's light-colored and wicking outer layer reflects heat, while the absorbent middle layer stores water and the comfy inner layer transfers its cooling effect to the dog. The vest comes in six sizes ranging from "xxsmall" (13–17 inches around the widest part of the rib cage) to "xlarge" (36–42 inches).
Find at: Ruffwear
TAHOE DOG GEAR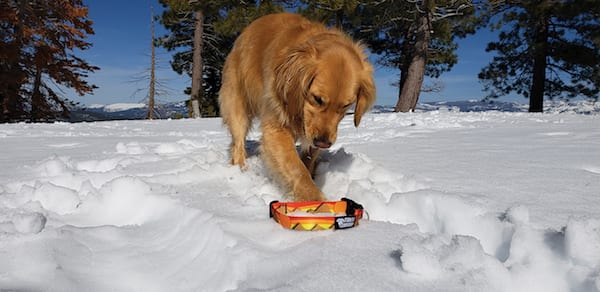 $23
Founded in 2015, Tahoe Dog Gear is a Truckee-based father-daughter business that creates stylish dog collars and leashes made of polyester, as opposed to nylon. The difference in materials: Polyester is hydrophobic, which, unlike nylon, does not absorb water, bacteria and other "nasties" that will quickly stink up your active dog's collar or leash. In addition, polyester webbing is soft but strong, non-abrasive and non-matting to the fur. The company features numerous models with Tahoe-centric designs created in-house, from pine trees to lake scenes to mountain sunsets and bears.
Find at: Mountain Hardware and Sports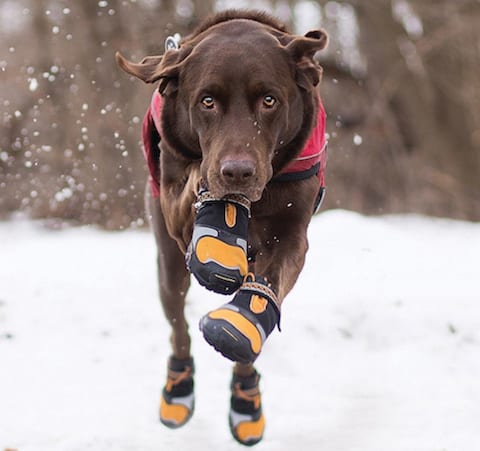 STEP-N-STROBE DOG BOOTS
$63.99
Granted, at first use, dog boots may have your four-legged friend flipping his feet in comically awkward fashion, trying to shake the strange rubber shackles from his paws—perhaps successfully. And that's OK. He will adapt, and his feet will be better off for it. Kurgo's Step-n-Strobe Dog Boots not only protect paws from anything hot, cold or abrasive, they illuminate with red and green lights—green on the right side, red on the left (like a boat)—to indicate your dog's orientation in the dark. The boots also feature a breathable mesh design for ventilation and an ankle cord lock for simple adjustability.      
Find at: Kurgo
RICHMOND DAY PACK HARNESS
$100
When venturing into the outdoors, active Tahoe dogs should be able to carry their own weight. Although not literally, of course. The Richmond Day Pack Harness is just the right size to load up your dog with some key essentials, yet not large enough to lure you into overpacking. The pack brings casual sophistication with reflective trim and thoughtful design details, rugged durability with a water-resistant and ripstop fabric, and comfort with a Neoprene-padded chest and waist panels. Two removable saddle bags include multiple zipper compartments and a conveniently integrated waste bag dispenser, while five points of adjustment enable a fully customizable fit.      
Find at: Mission Pets
FLOAT COAT
$79.95
In all likelihood, your dog is a far better swimmer than you. Nevertheless, your water-floating companion should adhere to the same rules of safety when out paddleboarding, kayaking, rafting or boating by your side—particularly on a large, cold, often choppy body of water such as Lake Tahoe. The Float Coat by Ruffwear is just what they need. The life jacket is designed for all shapes and sizes and includes clever details like a strong handle positioned for lifting dogs out of the water, reflective trim for enhanced visibility in or out of the water, easy-to-clip buckles, water-compatible webbing that remains stable when wet, and a telescoping neck closure that adjusts for a range of sizes. A fitting guide on the website (the same as Ruffwear's Swamp Cooler vest) helps select the correct size for a snug fit. The Float Coat comes in red, blue or orange and is washable in cold water.
Find at: Ruffwear
HEYDAY BED
$109
The average Tahoe dog is content with napping on a heap of sticks and pine needles. But at the end of a hard day at play, your tuckered-out pal would much prefer the cozy confines of a plush doggie bed. The Heyday Bed by West Paw, a B Corp company out of Bozeman, Montana, is designed with canine comfort in mind, using an ultra silky top fabric and double-stuffed base of recycled IntelliLoft fill to provide superior, eco-friendly softness. Handmade and covered under the company's "Love it Guarantee," these luxurious dog beds are made with tough micro suede fabric that resists collecting dirt, while an easily removable outer layer is machine washable and dryer safe. The beds come in four sizes and include three colors: oatmeal, boulder and midnight.       
Find at: West Paw