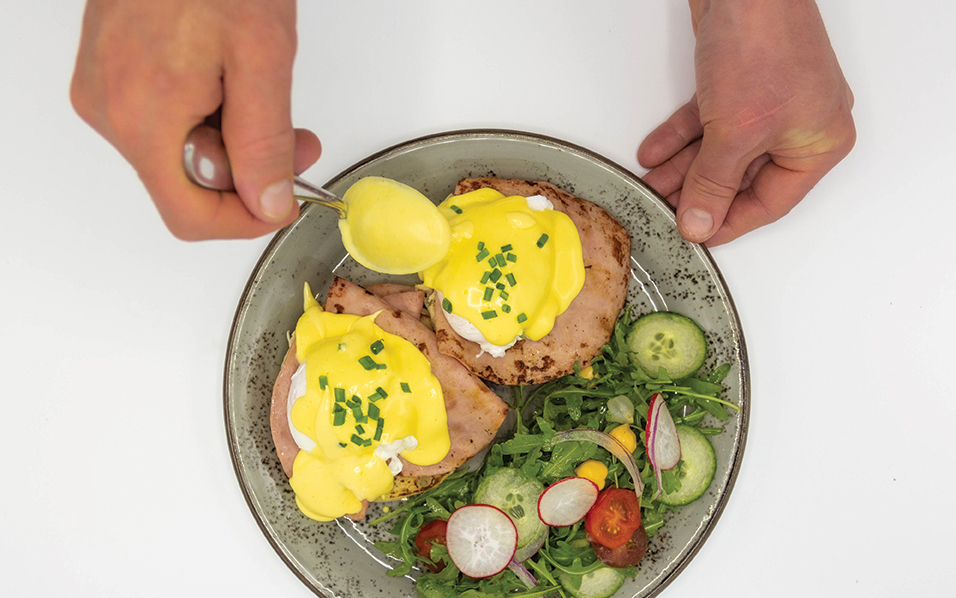 Sage Leaf's eggs Benedict, photo by Ian Von Herbulis
25 Jun

New Spots

Editor's note: Covid-19 has impacted these businesses, many of which are offering limited seating and/or revised menus for curbside and home delivery. Check directly with establishment for hours and availability.
North Shore
SAGE LEAF
893 Tahoe Blvd. Suite 600 | Incline Village, NV | (775) 413-5005
Shane Hammett, former chef de cuisine at the Hyatt's Lone Eagle Grille, a California Culinary Academy alum and veteran of several Napa Valley and Bay Area restaurants, launched this bistro-style eatery in the former Jack Rabbit Moon location. Breakfast brings braised bacon tacos and sourdough mascarpone French toast, and for lunch, look for roasted pork banh mi, grilled chicken thighs with chimichurri and Santa Maria–style flat iron steak and eggs with romesco sauce. Also find snacks and sides such sage-cheddar biscuits and king salmon bites, along with a full bar. B, L; $14-$21
BERTIE'S HOT CHICKEN
930 Tahoe Blvd.  |  Incline Village, NV | (775) 413-5050
Rick Boyd, owner of Incline-based Brewforia Cafe & Market, opened this Nashville-style hot chicken shop focused on sweet and heat that recalls his Southern roots. A flock of grilled and fried birds are served on buns and in baskets, atop Belgian waffles and in family boxes, with heat ranging from honey butter to Cluckin' Nuts. Also on the menu: burgers, catfish and vegan po'boys, a couple of salads, plus sides such as mac and cheese, waffle fries, black-eyed peas and, for dessert, banana pudding. L, D; $8-$11
THANIA'S JUICE BAR
868 Tahoe Blvd. Suite 7 | Incline Village, NV  | (775) 298-2858
www.facebook.com/thaniasjuicebar
This clean, bright space in the Christmas Tree shopping center squeezes and presses organic juices daily, including Mexican-inspired options made with cactus, aloe and garlic, as well as fruit and protein smoothies, turmeric wellness shots and agua fresca, plus matcha and coffee drinks. Food items include yogurt parfaits, avocado and salmon toasts, beef and ham tortas, bagels, tamales by the piece or dozen, and many gluten-free items including granola. B, L: $7-$10
BEAR BELLY BREWING COMPANY
8428 Trout Ave.  |  Kings Beach, CA | (530) 553-1776
A longtime local and bartender at Jason's Beachside Grille, Adam Latham poured his homebrewing hobby and experience at Tahoe Mountain Brewing and Mellow Fellow into this nano-brewery, where he turns out beers from a chocolatey oatmeal Sticky Paw stout to the hazy blueberry-tinged Boys to the Yard IPA. The production facility doubles as a taproom with a wood slab bar, cornhole and foosball; Tahoe Fuller's food truck serves sandwiches, salads, wraps and fries; growler curbside pickup and delivery to Kings Beach addresses are available.
MARINA BREAKFAST COMPANY
700 North Lake Blvd. | Tahoe City, CA 96145 | (530) 807-1023
Sharing space with Moe's Original BBQ, this breakfast-only operation serves a variety of waffles and pancakes plus eggs Benedict on homemade biscuits, chicken fried steak, shrimp and grits, huevos rancheros and a salmon scramble. French toast gets dipped in cornflakes and oats or is served cornbread style topped with honey and custard; or, go big with the French toast tower—a cinnamon roll dipped in egg, griddled, stuffed with custard and topped with berries. B; $9-$20
GOOD WOLF BREWING COMPANY
10990 Industrial Wy. Suite B103  |  Truckee, CA  |  (530) 580-8775 
Matt Petyo, veteran of Sierra Nevada Brewing Co. in Chico and Elysian Brewing in Seattle, together with his wife Heidi, took over Tahoe Mountain Brewing Co.'s location and equipment to open this spot. The brewery features hop-forward and "forest-inspired" beers, such as Dirty Candy which tastes of foraged mushrooms and campfire smoke, and a spacious tasting room that is also an ode to things earthy and green.
South Shore
SHANGRILA HIMALAYAN KITCHEN
1142 Ski Run Blvd.  |  South Lake Tahoe, CA  |  (530) 600-3177 
Tej Budha, who owned an eatery in Oakland before moving to Tahoe, brings his native Nepalese cuisine and colorful decor to the former Chimayo space, where he oversees a halal menu based on traditional family recipes such as dal bhat and momos—the Nepalese dumpling—as well as familiar regional dishes like curries, vindaloos and biriyani. A clay oven turns out tandoori chicken, lamb and shrimp, along with freshly baked naan, and, for the uninitiated, traditional salt-based Tibetan tea. L, D; $9.99-$15.99
BLUE LAKE TAVERN
611 U.S. Highway 50  |  Glenbrook, NV  |  (775) 588-9999
With hardwood floors, a sturdy stone hearth and pleasant backyard seating, this casual spot specializes in pub grub, from "exploded" fries topped with cheese, bacon, alfredo and green onions to pizzas and pinsas—an oblong sort of Roman pizza made from wheat, soy and rice flours fermented for 72 hours. Chicken wings, Bently Ranch burgers, hot and cold sandwiches, tacos, and fish and chips are also on the menu; save some space for beignets with caramel or chocolate sauce for dessert. D; $11.50-$16.50
THAI ON SKI RUN
1169 Ski Run Blvd. Suite 6 | South Lake Tahoe, CA  |  (530) 420-8424
After a year-long renovation of the four-decades-old former Nepheles space, this eatery owned by Oliver and Thanya Starr now boasts modern, clean walls and wood flooring, plus a firepit and seating on the front patio. Thai native Thanya cooks up family recipes, including familiar standards such as stir fries, curries and pad thai, along with specialties such as Thai-style barbecued chicken with sweet and sour sauce, fried pork belly with basil, house-roasted duck and spicy pad khee mao—aka drunken noodles. L, D; $10.95-$15.95
Reno
NOM EATS
148 West St.  |  Reno, NV  |  (775) 237-3667 
Following a fire that destroyed their much-loved food truck last summer, Ian McIntosh, along with siblings Robyn and Carly Gurinskas, launched this small eatery inside the West Street market formerly occupied by DeLuxe. They serve the same healthy vegan menu here using local and organic ingredients to create street-style selections such as a "steak" burrito made with grilled seitan, buffalo "chicken" sandwich from soy curls and "carnitas" tacos from jackfruit. D; $8-$10
BLACK RABBIT MEAD COMPANY
401 East Fourth St.  |  Reno, NV
New neighbor to the Brewery District's Lead Dog, Depot and Record Street Brewing, Nevada Sunset Winery and Basin and Range, this taproom and production facility founded by two local high school teachers is devoted to mead, the world's oldest alcohol. The state's first meadery, beverages such as the pineapple, jalapeño and hint-of-spice Hawaiian Ember, are made in styles from cider to beer, all using honey sourced from the Sierra Nevada. Twenty-two-ounce bottles are available for curbside pickup.
PIG SHACK EATERY AT PIGNIC PUB
235 Flint St.  |  Reno, NV  |  (775) 376-1948
Pignic Pub & Patio and Revision Brewing Company teamed up to open this bright yellow permanent kitchen trailer, using wood smokers, ceramic charcoal and gas grills, along with herbs, vegetables and fruits grown in its garden for a meaty Creole and Southern regional menu. Find here omelettes and scrambles, sandwiches, plate lunches with brisket, Cajun shrimp, barbecued chicken and Cuban-fried pork, with sides from ham hocked peas to cheese grit cakes. Burgers boast a pair of quarter-pound smashed patties made with smoked tri-tip, short rib, bottom round and pork fat. BR, L, D; $8-$15
MEXCAL
516 South Virginia St.  |  Reno, NV  |  (775) 433-1080 
Occupying the former Fin & Filet exposed brick space in Midtown, this mod Mexican spot serves a simple but tasty line-up of snacks and tacos with a twist. Ahi ceviche, posole rojo, fried tacos dorados with lamb, chicken and house specialty, the cheesy, beef broth–soaked quesabirria are all on the menu, while carnitas, charred octopus, lengua (beef tongue), carne asada, short rib, duck confit and grilled mushrooms are served in tacos, tostadas and enchiladas. Choose from a wide variety of fresh hand-crafted margaritas to go with. L, D; $4-$12
FULL BELLY DELI
517 Forest St.  |  Reno, NV  |  (775) 657-8448
This renovated Midtown space long occupied by El Salvador restaurant is the third location (the others are in Truckee and on Mill Street in Reno) for this counter-service deli. The day here starts with selections such as the Gnar Burrito stuffed with tri-tip, pepper jack cheese, green chile, hash browns, Southwest sauce and fried egg, along with the Green Eggs and Ham with eggs, pesto, smoked ham and Swiss. Lunch brings hot and cold faves like the drippy cheesesteak, Cuban and signature Dirka Dirka—corned beef, pastrami, pickles, mustard, Swiss and jalapeño slaw, as well as subs and wraps like falafel with tzatziki. B, L; $7.95-$14.95
FOOD + DRINK
18 Saint Lawrence Ave.  |  Reno, NV
Aaron Foster, whose two favorite foods are pizza and tacos, studied the art of both in San Francisco and Mexico. He ran a restaurant by the same name in Graeagle and, after many detours and delays, relocated to the former Creme Cafe space next to Perenn Bakery in Midtown. Pies such as The Fig + Pig are tossed from dough that's 72 hours in the making and charred in a Neapolitan-style oven while pork and veggie tacos are topped with mango avocado salsa. Decor is hip, furnished with images of Wild Bill Hickok, John Wayne and Albert Einstein that Foster created from license plates. Takeout only at the moment. D; $9-$25
SHANGHAI BISTRO
2303 South Virginia St.  |  Reno, NV  |  (775) 622-3098
Reno restaurateur Ellen Woo returns to her former 168 Café space that was most recently occupied by 2-D Wok, teaming up again with chef Hong Li to offer Chinese-American standards, plus selections from Shanghai and Sichuan. Li, who once cooked for Deng Xiaoping, turns out specialty dishes like lion's head meatballs—oversized pork meatballs framed with bok choy—as well as lesser known offerings like chilled jellyfish salad and tripe with peppers. There are also broth-filled hot pots (revived from 168 Café) for tabletop poaching of meat, seafood, vegetables and noodles. L, D; $10.95-$28.95
LOLO'S FILIPINO RESTAURANT & LOUNGE
2740 South Virginia St.  |  Reno, NV  |  (775) 825-3113
Nicknamed Lolo, Lorry Lopez—who immigrated with her family to South Lake Tahoe and then ran a restaurant and food truck in Las Vegas—has returned to Northern Nevada with this eatery in the former Naan & Kabab, focused on the foods of her native Philippines. Find standards like lumpia—the ground pork-filled and deep-fried spring roll—along with noodle dishes known as pancit, plus favorites such as chicken and pork adobo cooked in vinegar, garlic and soy sauce. For breakfast try the sweet marinated pork with garlic fried rice and egg. B, L, D; $8-$16
PAISAN'S OLD WORLD DELI & CATERING
6550 Longley Ln. Suite 110  |  Reno, NV  |  (775) 826-9444
Mike and Angie Angelis moved their 25-year-old business nearby to this new $1.5 million, 95-seat space boasting brick arches, high ceilings and walls lined with murals of the family's property in Italy and maps of Reno's founding ranches. Serving signature sandwiches such as grilled garlic chicken or tri-tip with pesto and Italian roast beef with smoky cheddar, they added a Mexican menu featuring familiar fare along with more unique offerings like the pambazo—bread soaked with guajillo salsa and stuffed with potatoes and chorizo. B, L, D; $2.99-$9.99
PANGOLIN CAFé
955 South Virginia St.  |  Reno, NV  |  (775) 800-1403 
This lofty Midtown spot specializes in Carl Staub custom-roasted coffee and loose-leaf tea drinks like a red lavender latte, a coconut oolong tea steeped in agave-sweetened macadamia milk and tea shot lattes, along with a small selection of bagels, Liege waffles, scones and coffee cake. The café doubles as a confectionary turning out Turkish delight in traditional flavors like pistachio, rose and lemon, as well as grapefruit, matcha and ginger-lime, plus English toffee topped with Belgian chocolate and Jacobsen sea salt flakes hand harvested off the Oregon coast. B, L; $2.50-$4.50
COFFEE N' COMICS
940 West Moana Ln.  |  Reno, NV  |  (775) 453-1354 
Sparks natives Kevin Wilfon and Alex Farside took their childhood love of comics and coffee and opened this spacious and fun family-friendly spot devoted to both. Shelves are stocked with DC and Marvel comics and collectibles, and there's a long list of coffee drinks brewed with San Francisco's Counter Culture roast, plus teas from Reno's Davidson's Organics. Food from Rounds Bakery includes bagels and schmear, breakfast sandwiches, and turkey chorizo burritos and bowls. B, L; $3.25-$6.80
DEL REAL PUB & GRILL
6148 Mae Anne Ave.  |  Reno, NV  |  (775) 470-8201 
Longtime local restaurateur Abel Del Real launched this sports bar in the former Baba's Eats space in Northwest Reno with his signature all-day Mexican-American menu. Huevos rancheros and carne asada with eggs yield to the trusty lineup of tacos, tostadas, tamales, tortas, burritos and enchiladas. There are also chicken wings, crispy Brussels sprouts, burgers, a BLT and fish and chips, plus fried ice cream for dessert. B, L, D; $9.95-$16.95
BAB X CHICKEN
13967 South Virginia St. Suite 910  |  Reno, NV  |  (775) 409-3520
UNR alum Jay Ryu, who launched his second counter-service casual store at the Summit in 2018, has changed up the branding and menu at this location, moving from rice bowls to Korean-style fried chicken sold by the pound and served with three sauces: soy-based, garlic butter and sweet-spicy. The menu also includes bento box options, a couple of salads, small plates such as sweet potato chips and fish cake soup, and sides of kimchi coleslaw and pickled radish. L, D; $7.95-$9.95
MARI & CHUY'S MEXICAN KITCHEN
1240 Avenue of the Oaks Suite 100  |  Sparks, NV  |  (775) 409-3910 
www.marichuysmexicankitchen.com
Jesus "Chuy" Gutierrez, who with his wife Mari opened their popular Midtown restaurant by the same name in 2012, have launched a second, 80-seat cheery location on Victoria Plaza. Thanks to the equipment left behind by former tenant Golden Rotisserie, there's lime-marinated chicken and tri-tip off the spit, as well as sweet additions such as horchata bread pudding and a chili-cinnamon-tinged brownie sundae. Otherwise, much is the same as the Midtown offerings, from the well-prepared modern Mexican fare to the roll-up garage door leading to a spacious patio. L, D; $11-$18
GREAT FULL GARDENS CAFé & EATERY
1330 Scheels Ave.  |  Sparks, NV  | 775-440-1663
Located at the Outlets at Legends, this is the fifth store for Juli and Gino Scala (Gino the Soup Man who also produces and sells vegan soups to Whole Foods and Natural Grocers). The all-day, wide-ranging menu employs organic, local and sustainable ingredients with something for everyone, from Benedicts, frittatas and vegan hash to lunch and dinner entrées, including a vegan Reuben, wild Alaskan sockeye salmon gyro, Chilean sea bass and filet with chimichurri sauce. B, L, D; $16-$32
POKE KING
2835 North McCarran Blvd.  |  Sparks, NV  |  (775) 971-4237
The fourth location for this fast and fresh casual local operation that started in Northwest Reno in 2017 duplicates the same build-your-own bowl concept. Choose from a base of rice, greens or wonton chips or mix, add several scoops of protein from salmon to scallops, tuna and tofu, and toppings from tobiko to furikake. Finish it off with sauces such as truffled ponzu, creamy miso, unagi or wasabi yuzu. L, D; $8.95-$14.95