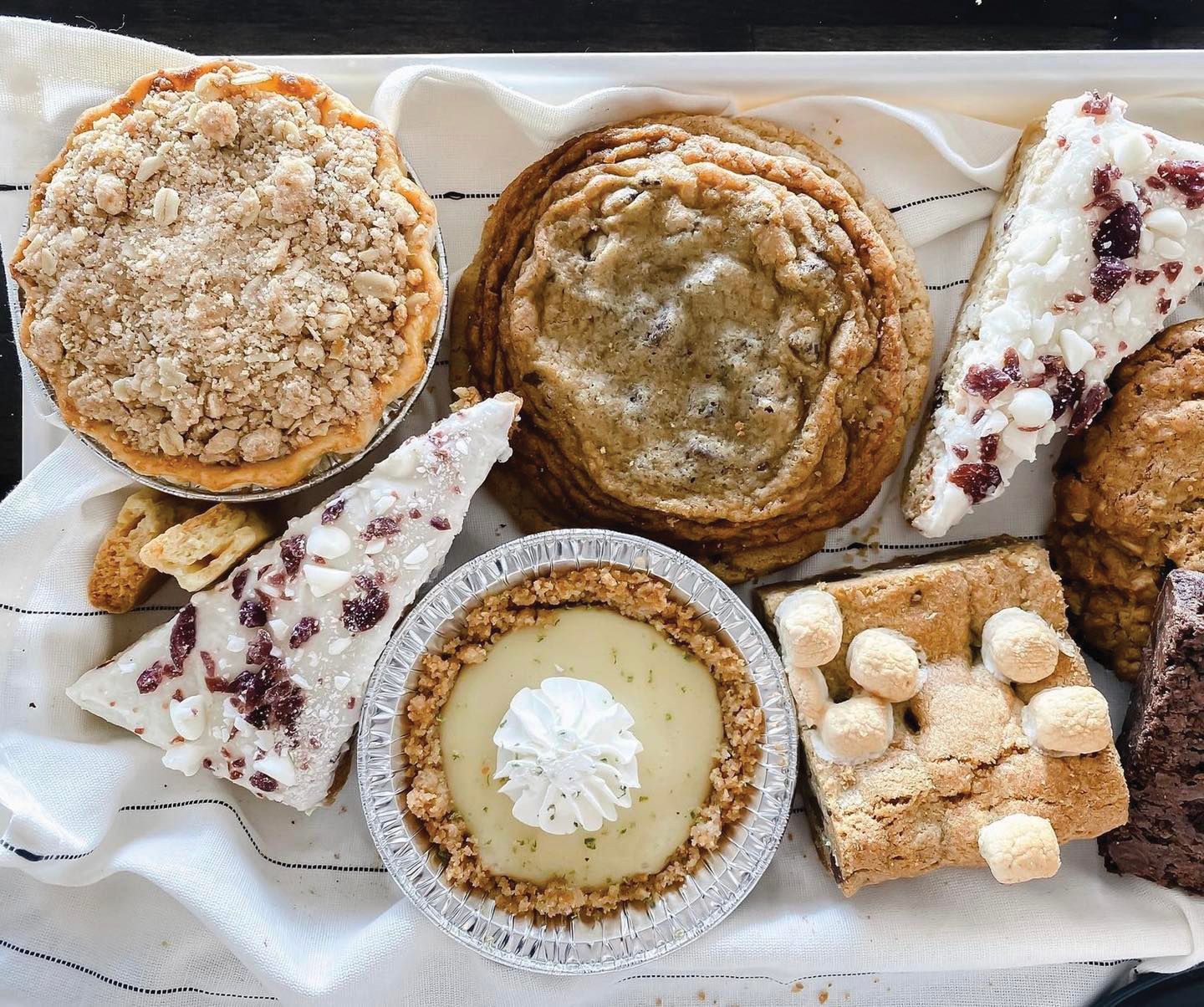 Sweet treats from Happy Tiers Cafe, photo by @itscalledbalance
27 Jun

New Spots
NORTH SHORE
SAM CHOY'S OHANA DINER
920 Southwood Blvd.  |  Incline Village, NV | (775) 831-1900  |  www.bowlincline.com
Tracy and Steve Tomkovicz, who restored Bowl Incline to its 1960s-era glory, tapped longtime friend, award-winning chef, Food Network star and restauranteur Sam Choy—also known as the godfather of poke—to open this casual eatery as part of the project. An Oahu native whose family ran a bowling alley when he was a child, Choy's menu reflects his Hawaiian heritage: poke bowls, loco moco, a wide array of pupus, plus weekend breakfast options. Patrons can take their meal wherever they like: the outdoor patio space with fire pits and heat lamps, the upstairs lounge or 16 lanes. Three bars serve 10 beers on tap as well as wine and cocktails. Additional entertainment includes an arcade, pool tables, ax throwing, bocce courts, cornhole and video poker, plus over 25 television screens. BR, L, D; $16.95-$29.95
HAPPY TIERS CAFE
868 Tahoe Blvd.  |  Incline Village, NV | (775) 600-5416 | www.happytiersbakery.com
Longtime local Andrea Jurss, who has been baking custom cakes and pastries in Incline Village for the past several years, together with her husband Jason remodeled this spacious storefront cafe at the Christmas Tree Village shopping center. There's plenty of seating, coffee drinks brewed with Coffeebar beans and cases stocked with an ever-changing selection of sweet and savory treats—quiches, scones, brownies, cupcakes, cake pops, cookies, macaroons and Andrea's signature cinnamon rolls. B, L
MEDITERRANEAN CAFE
395 North Lake Tahoe Blvd. | Tahoe City, CA | (530) 580-5018 | www.medcafetahoe.com
Husband and wife team Jon Ganea and Kelley Keleher, who met while working as managers at Jake's On The Lake, opened this cheery counter-service cafe in the former Za's location behind Pete n' Peters. The menu is a mix of Med classics like chicken and lamb shawarma, falafel, gyros, dolmas, tabouli, hummus, baba ganoush, Greek salad and feta-topped fries served with sauces such as tahini, tzatziki and zhoug, plus a few dishes from Ganea's native Romania. L, D; $11.95–$17.95
TAHOE NATIONAL BREWING CO.
850 North Lake Blvd.  |  Tahoe City, CA | (530) 213-3505 | www.tahoenational.beer.com
David Renkert, who returned to his passions for beer and food following a 15-year detour in the software industry, completely gutted and renovated the lakefront property behind Safeway once occupied by Pierce Street Annex and Lakeside Pizza. Featuring a seven-barrel brewhouse and a full liquor license, the building seats 100 inside plus another 40 on the deck. The menu includes items like cornmeal crust deep dish pizza, a farro bowl, baby gem Caesar, house-made pretzels with mustard, pickles and beer cheese, as well as specials such as braised bison rib on rye, pork rillettes and smoked trout on smashed potato. Noteworthy: Their Mug Club funds projects around Tahoe City. L, D; $11–$32
RMU TRUCKEE
10292 Donner Pass Rd.  |  Truckee, CA | (530) 536-3208 | www.rmuoutdoors.com/pages/truckee
Rocky Mountain Underground, a Colorado-based company that makes skis, bikes, clothing and accessories, now sells their goodies in what they call concept stores that are part shop, part social spot. Located in the historic and lovingly restored Kruger White House, most recently home to Tahoe Mountain Brewing in Old Town Truckee's Brickelltown, this third location (the others are in Breckenridge and Whistler) boasts a bar with a seasonal menu of craft cocktails, regional beers and some 15 interesting wines by the glass, plus hearty eats such as blistered shishito peppers, slow-smoked brisket croquettes, crispy Brussels sprouts, tacos, burgers and gourmet grilled cheese. There's also outdoor seating and live music. D; $4–$12
WHITE RABBIT RAMEN + DONUT
7001 Northstar Dr.  |  Truckee, CA | (530) 208-0660 | www.whiterabbitnorthstar.com
Scott Baird, who also owns food and drink ventures in San Francisco and Nashville, completed a fun and funky remake of the Village at Northstar's White Rabbit, located near the Big Springs Gondola base. Along with chef Danny Salgado, this counter-service spot turns out an unlikely combination of savory and sweet freshly made ramen, poke bowls, miso, karaage chicken and gyoza, plus avocado toast and ham and cheese pastries. Mochi cake donuts rock flavors such as dulce de leche, passionfruit, ube, dragonfruit, golden chai caramel, and Oaxaca cocoa and chile. For liquid refreshments, look for bubble and boba tea, kombucha, ube latte and coffee drinks made with Sparks-based Lighthouse beans. L, D; $9–$22
DOG & BEAR TAVERN
7000 West Lake Blvd.  |  Tahoma, CA | (530) 525-8138 | www.thedogandbear.com
This rustic, stylish neighborhood tavern in the space formerly occupied by West Shore Pizza features a long live-edge bar offering cocktails, beer and wine, along with a menu designed by chef-partner Quinen Frye, graduate of Texas Culinary Academy, a James Beard rising star chef semi-finalist and owner of Lobo Provisions catering. Pizzas are still on the menu here, albeit dressed up with prosciutto, crème fraîche, fontina, garlic confit, basil and chili oil. Also find selections such as burrata with green harissa, pumpkin oil, spiced pepitas, and aged sherry vinegar and lamb and pork meatballs with charred tomato sofrito. D; $15–$25
SOUTH SHORE
TAHOE BAGEL COMPANY
276 Kingsbury Grade  |  Stateline, NV | (775) 580-7038 | www.tahoebagelco.com
New Jersey natives and brothers Justin (Cold Water Brewery alum) and Jeffrey (former F& B manager at Edgewood) Kaplan opened their second shop in the former 7-Eleven on lower Kingsbury with the same East Coast–inspired menu plus weekly specials. Their house-baked bagels are the base for morning sandos such as the Back to Life with two breakfast meats, cheese, eggs, hashbrown and hot sauce, as well as the more traditional lox, cream cheese, onion and capers. Also find deli sandwiches like a Rueben on rye and chicken parm on an Italian roll, as well as coffee drinks made with locally roasted Black Cabin beans. Online ordering and takeout window available. B, L; $3.20–$12.50
SAPORI ITALIAN KITCHEN
15 U.S. Hwy. 50  |  Stateline, NV | (800) 427-7247 | www.caesars.com/harrahs-tahoe/restaurants/sapori
Located at Harrah's Lake Tahoe, this 200-seat remodeled restaurant serves high-end Italian cuisine and panoramic views from its 18th-floor dining room. Chef Ivano Centemeri, executive chef of La Strada at the Carano's Eldorado Resort Casino in Reno, designed the menu which includes his signature mushroom ravioli that Food Network put on its "Best Pastas in the Country" list. In addition to other specialty dishes such as orecchiette with broccolini and lobster fra diavolo, look for cheese-stuffed focaccia with prosciutto and fig marmalade, a grilled lamb chop with Tuscan farro, and for dessert, tableside tiramisu and chocolate chip cannoli. The wine list, with some 20 pours by the glass, goes big on Italian varietals. D; $22–$54
THE IDLE HOUR
3351 Lake Tahoe Blvd. | South Lake Tahoe, CA | (530) 600-3304 | www.theidlehourlaketahoe.com
This lakefront location that boasts balcony and patio seating overlooking the water combines wine tasting with light bites and retail sales, including home decor, kitchen and wine-themed items, plus gourmet chocolates. Pair up some 150 bottles and 20 pours by the glass with pizza, spinach dip with crab, charcuterie boards, grilled panini, chicken wings, cheese fondue, crab and shrimp stack, honey-drizzled brie and, for something sweet, lava cake and Minnesota's Abdallah chocolates. D; $12–$25
TAHOE BEAR TEA HOUSE
3668 Lake Tahoe Blvd. | South Lake Tahoe, CA | (530) 625-7719 | www.southlaketahoebubbletea.com
Owner Parima Mekrakeseree and her husband import most of the high-quality ingredients they use to make their drinks, starting with chewy boba from Taiwan. They get tea leaves from Thailand, make with matcha green tea with Hokkaido milk from Japan and buy their soft serve matcha ingredients from Italy. The couple also makes in house a traditional Asian jelly pudding alleged to have many health benefits, which can be added to any drink. Online ordering available. L, D; $5.45–$7.45
CHAMPAGNE & CHOCOLATE
1001 Heavenly Village Way | South Lake Tahoe, CA | (530) 416-1121 | www.champagnechoco.com
Located in the former Rocky Mountain Chocolate Factory space at the Shops at Heavenly, this sweet and savory spot serves selections such as the Breakfast on a Board stacked with waffles, croissants, bacon and hard-boiled eggs, as well as later-in-the-day options like flatbreads, gourmet sandwiches and seasonal fruit with dipping chocolate sourced from Carson City–based Chocolate Nugget Candy Factory. Also on the menu: coffee drinks made with South Lake Tahoe's Black Cabin beans, teas and, of course, bubbly. There's retail products for sale, plus patio seating with fire pits and music. B, L, D; $9.25–$25
Reno
KOKO'S KOREAN KITCHEN
1655 Robb Dr.  |  Reno, NV | (775) 384-1122 | www.kokoskoreankitchen.dine.online
A longtime fixture at local food events, Chongsuk Ko, who goes by Koko, opened this cheery, family-run counter-service spot serving Korean favorites in Northwest Reno. The menu includes japchae (glass noodles), meat-filled mandu (dumplings), teok-bokki (rice and fish cakes), bulgogi, teriyaki chicken, spicy short ribs, pork and chicken, and breaded and deep-fried katsu served in bento-style boxes called dosirak. To drink, look for fresh lemonade plus Korean melon, mango and watermelon soda. L, D; $18.99–$28.99
THE ARCH BOUTIQUE BAR, BITS & BOWLING
111 South Virginia St.  |  Reno, NV | (775) 683-9912  |  www.thearchreno.com
Tucked in the basement of the historic Woolworth building at the corner of Mill Street, this spot serves up comfort food like wings, bacon-laced mac and cheese, pizza, sandwiches such as Philly cheesesteaks and meatball subs, burgers and Southwest grilled chicken plus loaded baked potatoes including the Steakenator with garlic butter, grilled steak, onions and white cheddar. The 41-foot horseshoe-shaped bar offers cocktails, beer and a short list of wines by the bottle and glass. Mix it up with six bowling lanes, giant Connect Four and Jenga, and cornhole. Open late Friday and Saturday. D; $6–$20
NEVADA TACO GRILL
1771 Valley Rd.  |  Reno, NV | (775) 622-1894 | www.valley.nevadatacogrillnv.com
Owner Jose Ortiz Dimas opened his third casual Mexican location (the other two are in Meadowood Mall and Sparks) not far from UNR's main campus. The signature Nevada burrito is packed with carne asada, guacamole, sour cream, French fries and melted jack and cheddar cheeses. Also on the menu: all manner of breakfast burritos, tacos, enchiladas, quesadillas, tortas and tostadas, plus carne asada fries and menudo. Open late. B, L, D; $4.95–$11.75
THE CAFE
160 West Liberty Rd.  |  Reno, NV | (775) 329-3333  |  www.nevadaart.org
Colin and MaryBeth Smith's Roundabout Catering has taken over the former Chez Louis space in the atrium inside the Nevada Museum of Art. Find sophisticated and savory brunchy selections such as a smoked chicken tart, burrata with grilled garlic toast and basil aioli, avocado toast with a cheddar-chive egg souffle and, for those feeling a little fancy, a truffled scrambled egg with caviar. Also available: house-made pasta, grilled cheese and soup, and a half-pound burger. The full bar mixes mimosas and bloody Marys and serves several wines by the glass along with locally brewed beers. Admission not required; museum members receive 10 percent off. L; $16–$35
DESERT SUN BAGELS
495 Morrill Ave.  |  Reno, NV | (775) 384-3075 | www.desertsunbagels.com
This spot just off North Wells next to Pigeon Head Brewery makes bagels the old-fashioned way: water boiled then baked. Choose from breakfast selections such as the Oasis with pesto, spinach, tomato, onion and egg, and lunchtime melts like the Heatwave with roast beef, pepper jack cheese, spicy barbecue sauce, grilled onions and jalapeños. Coffee drinks are made with local roaster Blind Dog beans. Online ordering available. B, L, $6.95–$12.95
DOPO PIZZA + PASTA
18 St. Lawrence Ave.  |  Reno, NV | (775) 848-8180 | www.dopopizzapasta.com
Coffeebar's Greg Bucheister revived and rebranded Aaron Foster's Midtown artisan pizza spot Food + Drink, where the menu still features pies like the Cherry Picker topped with tomato sauce, mozzarella, burrata, sautéed cherry tomatoes, basil and balsamic glaze and the Fig + Pig made with mozzarella, asiago, fig preserves, prosciutto, balsamic glaze, arugula and Parmigiano-Reggiano. Also on the menu: calzone-style panuozzi, plus salads such as the mixed greens with almonds, dried cranberries, feta and citrus vinaigrette. Coffeebar's private label wines, Giuseppe Rosso (red) and Soave Monetondo (white), are offered by the glass. Reservations available. D; $17–25
LA CONDESA EATERY
1642 Wells Ave.  |  Reno, NV | (775) 409-30000 | www.lacondesaeatery.com
Located in the old Plaza Maya space, this sleek brick building tucked behind an iron gate in the Wells district features a global menu, open kitchen and roll-up doors that lead to a courtyard. Look for charcoal-grilled octopus, Korean barbecued pork belly fried rice, bucatini al cilantro, tuna tostada, Kobe beef ravioli, Wagyu and bison bolognese, chicken cacciatore, prosciutto and salami pizza, teriyaki cheeseburger and fish tacos. Pair eats with cocktails like the Tamarindo Rush made with conejos mezcal, tamarind, key lime, smoked jalapeño and salt. L, D; $12–$19
BIGGEST LITTLE STEAKHOUSE
1401 South Virginia St.  |  Reno, NV | (775) 622-3488 | www.biggestlittlesteakhouse.com
Inclined Burger and Brews founders Mitch Penning and Scott Beck have launched another dining concept with this approachable counter-service steakhouse in Midtown's former Fat Cat Cafe location, coincidentally already decorated with wood panel wainscoting and a photo mural of Nevada cowboys ranching the Carson Valley. Diners can choose from grilled cuts of beef as well as fish and shrimp, all served with a choice of several sauces and sides such as honey balsamic Brussels sprouts, wine-braised mushrooms and fried onion loaf. House-baked focaccia comes with chili water—a spicy sugar and vinegar-based sauce. There's also a full bar, outdoor patio seating and kids menu. D; $22–$24
CHAPO SPORTS BAR
1401 South Virginia St.  |  Reno, NV | (775) 420-5535 | www.chaposportsbar.com
Upstairs from the new Biggest Little Steakhouse, the former Rue Bourbon spot is now a sports bar boasting brick walls, a pool table, lounge area outfitted with couches, plus plenty of high-top seating, multiple screens and an outdoor patio. Tequila and mezcal drinks like the Tammy with reposado, agave, pineapple juice, tamarind and bitters are the specialty here and go well with tacos de birria, quesabirria, nachos, quesadillas, chicken wings and charcuterie trays.
L, D; $3–$12
MIDTOWN SPIRITS, WINE & BITES
1527 South Virginia St.  |  Reno, NV | (775) 384-6002 | www.midtownspiritswine.com
Formerly known as the Midtown Wine Bar, this reimagined sleek space done up in gray, black and purple hues is owned by a pair of Nugget casino executives and partners, Amanda Flangas and Anthony Layton-Matthews. The cocktail menu features drinks like the smoked Old Fashioned and blood orange cosmo and over 80 wines and beer by the bottle and on tap. Pair beverages with bites such as chicken chopped salad, lamb lollipops, sausage skewers, smoked salmon on mini bagels, Italian panini and arepas—the Colombian tortilla-based dish topped with shredded chicken and smoked red salsa or pulled pork and spicy green salsa. There's also live entertainment and retail sales. D; $11–$31
MARI CHUY'S
2001 East Plumb Ln.  |  Reno, NV | (775) 322-6866  |  www.marichuys.com
Replacing the Mountain House Diner pre-security at Reno-Tahoe International Airport, this is the fourth Mexican restaurant from husband-and-wife team Mari and Chuy Gutierrez, fixtures in the local dining scene since 2001 (their other eateries are in Midtown, Victorian Square and Village at Rancharrah). Choose from breakfast selections such as chilaquiles and huevos rancheros and, later, the likes of shrimp-stuffed avocado, tortilla soup, grilled chicken breast with roasted pasillas, broiled tuna with key lime cilantro sauce and sautéed prawns in a spicy roasted chile sauce. Drinks include house margaritas and a long list of beers, B, L, D; $14–$20
LOS CHILAQUILES
3380 South McCarran Blvd.  |  Reno, NV  | (775) 622-8966 | www.orderloschilaquilesmexicanbreakfast.com
Located in the Mira Loma Shopping Center, this Mexican restaurant starts the day with nine styles of its namesake chilaquiles, such as those smothered in mole with shredded chicken or made with spareribs roasted in tomatillo sauce. A long list of egg dishes includes the machaca scrambled with beef, onions, tomatoes, cilantro and serranos. Also find here an exhaustive list of tacos, gorditas, sopes, tortas, burritos and enchiladas, plus tamales, flautas, carnitas and cinnamony café de olla. Online ordering available. B, L; $14.99–$17.99
R TOWN PIZZA
180 West Peckham Ln.  |  Reno, NV | (775) 622-8838  |  www.rtownpizza.com
Marvin Kinney has finally launched this long-awaited spot that specializes in Detroit-style pizza—Sicilian-inspired rectangular pies rocking crispy edges named with a nod to the Motor City, like the red-sauced Devil's Night topped with spicy shrimp, garlic, tomato, Calabrian chili and fresh basil. Also served here: starters such as cast-iron meatballs, a haloumi cheese bake, turkey wings, panzanella salad and grinders—sub sandwiches on a hoagie roll or focaccia. Look for lunch specials, a full bar, outdoor seating and arcade games. L, D; $14–$34
ENCHANTED CAT CAFE
8555 Double R Blvd.  |  Reno, NV | (775) 418-9700 | www.enchantedcatcafe.com
Cat lovers can hang out with furry four-legged friends at this feline-focused spot in South Reno, which Devin Sizemore and fiancé Haley Meadows opened after watching a YouTube video of a cat cafe. On the menu are coffee and tea drinks from Glory Cloud and Lighthouse roasters and snacks like a vanilla berry and churro parfait, chicken wraps, donuts, brownies and cookies from Sparks-based Mother of Macros. Visitors pay $15 per hour or purchase $45 monthly passes to spend time with the animals, all adoptable via the Nevada Humane Society, in a dedicated "cat lounge" separate (but viewable) from the cafe. Open 10 a.m. to 6:30 p.m. daily; lounge time bookable online.
CENTRO SOUTH
7600 Rancharrah Pkwy.  |  Reno, NV | (775) 384-2611 | www.centroreno.com/south
Chef-restaurateur Alberto Gazzola, who recently sold his long-running La Vecchia, opened a second Centro location, this one in the new Village at Rancharrah. Executive chef Cameron Atkinson oversees the contemporary restaurant's open kitchen, where a flavor-packed menu features little plates like beef tartare with fish sauce caramel, tamarind, harissa, shiitake mushrooms and soft-boiled egg. Look for equally innovative cocktails such as a Manhattan made with mezcal, bergamot infused Italicus and orange bitters, as well as some 25 interesting wines by the glass, plus sake and beer. L, D; $10–$27
HINOKI POKE
7600 Rancharrah Pkwy.  |  Reno, NV | (775) 499-5818 | www.facebook.com/Hinokipoke
Khai Duc Du, owner of Hinoki Sushi and Haru, opened this bright and cheery counter-service takeout spot next door to soon-to-debut sister restaurant Hinoki Omakase. Pick from one of their themed bowls or build your own with a rice or mixed greens base. Add tuna, salmon, hamachi, octopus, shrimp or tofu, toppings from avocado to tobiko, sauces such as habanero, mango mayo or Korean chojang (sweet and spicy chili sauce), then a final shake of togarashi or fried garlic. Also on the menu are apps such as gyoza and takoyaki, plus various teas. L, D; $14–$15
VILLAGE WELL
7600 Rancharrah Pkwy.  |  Reno, NV | (775) 977-0614  |  www.villagewellnv.com
Kyle McDermaid, who owns Huntsman Tavern in Sparks, partnered up with Cory Hunt, an exec with Rancharrah developer Tolles, to open this industrial-chic sipping spot in the Village. Thirty self-serve beer wall taps are stocked with seasonally rotating local brews from producers such as Alibi, St. James Brasserie, Truckee Brewing, Great Basin, Revision and Huntsman, as well as hard seltzer, mead and a couple of wines. Cocktails include the 24 Karat Cider mixed with pineapple cider, white and coconut rum, and cayenne pepper. The Village Well also offers outdoor seating, an 11-foot video wall, live music and roll-up doors and, to nosh, free popcorn and a purchasable pretzel with beer cheese and whole grain mustard.
MOFO'S PIZZA & PASTA
18180 Wedge Pkwy.  |  Reno, NV | (775) 376-8121 | www.mofospizza.com/galena
The Morrison family, owners of the longtime Incline Village favorite Mofo's Pizza & Pasta, launched a second location in the Raley's center on Wedge Parkway in South Reno. The menu includes meatballs and marinara, pesto or garlic chips, cheesy garlic bread and chicken wings, a half dozen salads and a handful of classic pasta dishes. Of course, pizza is the main attraction here: The signature Mighty Mo is topped with pepperoni, mushrooms, onions, sausage and black olives and the barbecued chicken pie gets Sweet Baby Ray's sauce, onions and bacon. Check out their lunch specials and homemade ice cream. $8–$29.95
Sparks
ROUNDS BAKERY
1180 Scheels Dr.  |  Sparks, NV | (775) 357-9631  |  www.roundsbakery.com
Anton Novak and Sean Cary opened this industrial-chic spot at Legends with a menu similar to their original bakery on East Moana, which shuttered during the pandemic. Some of the bread products are baked on site, while others are delivered from their commercial kitchen in the former Bavarian World space on Valley Road. Find breakfast bagels, burritos and bowls, hot and cold sandwiches, wraps, bagel dogs, bread bowl soups and stews, pretzels and beer cheese, and of course their croissant donut infamously caught up in a cronut legal kerfluffle. In addition to coffee drinks, wine and 10 beers are on tap, as well as both indoor and outdoor seating. B, L; $3.85–$5.95
Carson City
GREAT BASIN BREWING COMPANY
302 North Carson St.  |  Carson City, NV | (775) 885-7307  |  www.greatbasinbrewingco.com
A stone's throw from the state capitol, Mark Estee's Union has been renamed and rebranded a third Great Basin Brewing outpost following last year's merger with his Local Food Group. Remodeled with kitchen upgrades, a revamped upstairs dining area and expanded bar seating, a 15-barrel on-site brewing system produces a variety of craft beers that are featured—along with signature Icky IPA and other area brews—on the bar's 18 taps. For food look for favorites like Willy Dillys made with Nevada Brining Company Icky IPA pickles battered with Wild Horse Ale then deep fried, as well as burgers, sandwiches, fish and chips, ribs, brick chicken and lamb gnocchi, along with pizzas tossed with 72-hour fermented dough. L, D; $15-$24
EVE'S EATERY
402 North Carson Rd.  |  Carson City, NV | (775) 461-0352  | www.eveseaterynv.com
Located in the former Gather space, this eclectic eatery serves breakfast items like chilaquiles, pide (Turkish flatbread) topped with mozzarella, bell peppers and eggs, and the Hangover sandwich made with sourdough, porchetta, eggs, arugula and Calabrian aioli, along with selections such as short rib hash, banana brûlée oats, red velvet chicken and waffles, plus Greek donuts with honey and chocolate sauce. Lunch looks like pizza, handmade pasta cacio e pepe, braised short rib ravioli, salmon, steak, pan-fried chicken, tacos and burgers. B, L; $11.99–$20.99