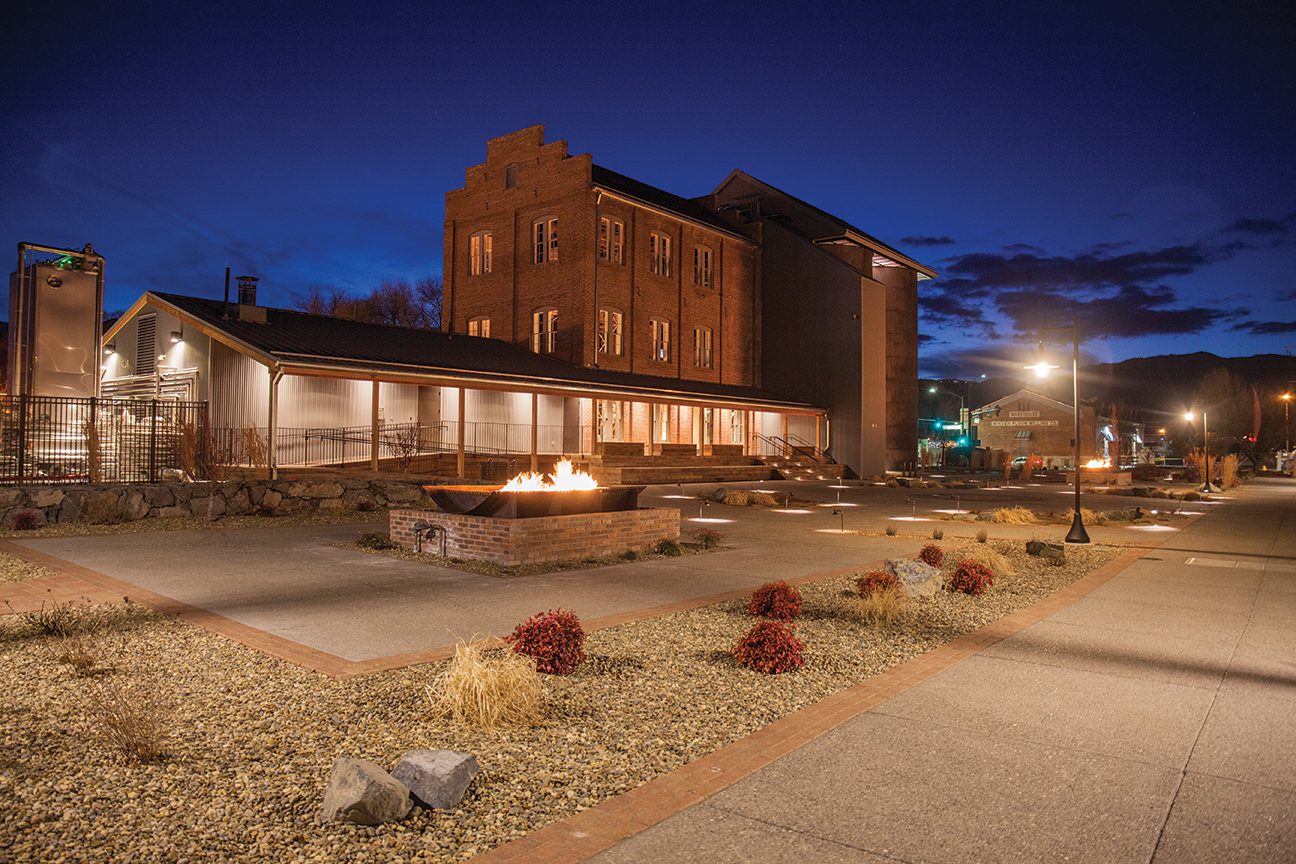 Sonoma-based Foley Family of Wines has purchased Bently Heritage Distillery in Minden, photo courtesy Foley Family Wines
27 Jun

Side Dish
North Shore
REBRANDED RESORTS SHUFFLE CHEFS
Gavin Lubben is the new chef de cuisine at Six Peaks Grille, the signature restaurant at the recently renamed Everline Resort & Spa (formerly the Resort at Squaw Creek) in Olympic Valley. Originally from Tucson, Lubben comes to Tahoe from Miraval Berkshire in Lennox, Massachusetts, also in the Hyatt family; Wade Eybel remains Everline's executive chef. 
Lubben takes over for Chris Watkins, who moved to Truckee's 49-seat farm-focused Stella at the former Cedar Sport Hotel, rebranded as Gravity Haus Truckee-Tahoe. Watkins, a graduate of Le Cordon Bleu College of Culinary Arts in Portland, honed his culinary chops in Switzerland before spending the next decade at San Francisco restaurants like Daniel Patterson's Coi and Traci Des Jardins' Jardinière. Watkins, who also worked at Christy Hill in Tahoe City, has created a Cal-Med menu that includes items such as seared Spanish octopus, crispy fried fingerlings and sake-cured cucumber with a locally farmed sweet and savory fermented black garlic aioli.
DORINDA'S CHOCOLATES RETURNS TO TRUCKEE
Dorinda Vance, who started her eponymous chocolate shop in Truckee in 2009 before focusing on Reno with stores on Riverside Drive and the Village at Rancharrah, along with a production facility on South Wells Avenue, has returned to her roots with a new location next to Jack and Emmy's Clothing in historic downtown. In addition to her award-winning artisan chocolates, find gift baskets, teapots and Dorinda's line of loose leaf tea. dorindaschocolates.com
RUBICON PIZZA RAISES $25K
The Village at Northstar's Rubicon Pizza Co. awarded a check for $25,000 to the Friends of Truckee Library. Its most successful fundraising effort since opening in 2007, each year Rubicon sponsors a local nonprofit, raising money through sales at its outdoor pizza cart, patron donations via their checks and an end-of-year fall fundraising feast.
CB'S BISTRO FOR SALE
Originally opened in 1986 as CB's Pizza, the family-friendly Carnelian Bay eatery is up for sale. Owner Callie Dela Fuente, who worked her way up from busser to owner and in between studied at the California Culinary Academy in San Francisco, cooked at Michelin-starred restaurants in Italy and came home to Tahoe to work at Wolfdale's, PlumpJack, the Ritz-Carlton and Jack Rabbit Moon. She returned to CB's to help her dad, local architect and owner Phil GilanFarr, run the business, expanding the menu and revamping the interior. After her daughter developed celiac disease, completely incompatible with pizza crust and flour, Dela Fuente had to make the hard choice to sell.
CHANGEOVER AT CHAMBERS LANDING
Dating back to the 1800s, Chambers Landing Bar & Grill has a new boss. South Shore's Luca Genasci, whose growing Tahoe Leisure and Lifestyle group, which includes Lake Tahoe AleWorX, Lakeview Social, the Cocktail Corner, the Lake House, Bistro at the Corner and Backyard Bar & Grill, acquired the five-year lease previously held by Rick Brown of Fire Sign Cafe and Swiss Lakewood, to operate the popular West Shore summer season destination. The new menus range from fried crispy tuna and kalua pork tacos to pan-roasted duck breast and filet mignon. Check chamberstahoe.com for more updates.
T'S ROTISSERIE REOPENS
Much-loved T's Mesquite Rotisserie, an Incline Village staple for 32 years that shuttered last year due to a fire, has finally reopened after a longer-than-anticipated hiatus during which the Swing family also installed new countertops and soda machine and painted the building. The recipes, menu and crew (who were paid while the eatery was closed) remain the same. tsrotisserie.com
TUNNEL CREEK CAFE EXPANDS OFFERINGS
Located at the start of the Tunnel Creek and East Shore Trails, Incline Village's Tunnel Creek Cafe has added live music and a few additional dishes to the menu on Saturday nights this summer, staying open until 8 p.m. Owners Evan Roa and Chad Burns, who offered dinner Friday through Sunday nights this past winter with a full bar, table service and entrees such as black cod with eggplant, enoki mushrooms, herbed rice and green curry broth, plan to do the same next season. tunnelcreekcafe.com
MOUNTAIN HIGH OWNERS MOVE ON
Miles and Mayra Hendrickson, owners of Incline Spirits in the Country Club Center, bought neighboring Mountain High Sandwich Company from John and Ashley Brimm, who launched the all-natural gourmet breakfast and lunch deli in Incline Village in 2014.
TURN MY WATER INTO BOOZE
Eric and Brianna Roe, along with friends Paola and Paul Pruteanu, launched 72 Mile Spirits, named for the distance around Lake Tahoe, whose water is used to distill their small-batch spirits—signature Desolation rye whiskey, Cascade blended bourbon (both aged in American oak barrels), Clarity vodka and Backcountry gin. The Incline Village residents hope to establish a distillery at the lake, but for now, the whiskey and bourbon are produced in Reno and the clear spirits are acquired elsewhere but proofed and bottled in Reno. 72mile.com
ANNIKA SORENSTAM LAUNCHES Tees up cocktails
Golf legend and part-time Incline Village resident Annika Sorenstam has launched a line of vodka-based sparkling cocktails called Fizzy Beez that use ethically farmed organic honey in place of added sugars. Fizzy Beez flavors—Cosmo, Margarita, Mojito and Moscow Mule—are made with real fruit juice and use all-natural, gluten-free ingredients, with 5 percent ABV and only 140 calories per 12-ounce can. Find at Raley's in Northern Nevada. fizzybeez.com
SOUTH SHORE
RALEY'S AT HEAVENLY CLOSES
Raley's in the Village shopping center across from Heavenly closed and will not be reopening due to a partial roof collapse from snow this winter, as well as an expiring lease that could not be renegotiated. The store on Emerald Bay Road remains open. Target is planning on moving into the space, once remediated.
STEAMERS REOPENS
Paul Brenner and Heather Cords purchased South Shore staple Steamers Bar & Grill from Kelly and Dennis Sheehan. After a four-month closure, they reopened with some interior upgrades and an updated menu with additions such as a smash burger, Buffalo chicken sando, banh mi with grilled chicken or braised pork, and chili verde; their popular parmesan-crusted tacos remain. steamersbargrill.com
CARSON VALLEY
GENOA PINK HOUSE CHANGES HANDS
The historic Pink House in Genoa, which closed briefly in the fall, reopened under new ownership. Genoa residents since 2015, Stephanie Marr and her husband Ike (of local folk music duo Ike and Martin), took over operations, with much of the business, staff and menu staying the same, including the handmade pizzas, fresh soups, sandwiches, salads, cheese plates and full bar. thepinkhousegenoa.com
CUSTOM CHARCUTERIE BOARDS
Krisha Caraway opened Caraway Charcuterie & Creations in Carson City, creating custom boards with cheeses, meats, dried fruit and nuts, as well as fruit and veggie platters. They go one step further with options such as European-style butter and artisan bread, bagel with smoked salmon and cream cheese, and whipped camembert with honey, and tapas and appetizers like Caprese bites and lemon garlic hummus shooters. carawaycharcuterie.com
BENTLY HERITAGE DISTILLERY SELLS
Minden's Bently Heritage Distillery, launched in 2019 following a multi-million-dollar renovation of a pair of historic buildings and closed just three years later, was sold to Sonoma Valley-based Foley Family Wines, whose founder, Bill Foley, also owns the Vegas Golden Knights NHL franchise. Christopher and Camille Bently, who sourced grains from the family's 2,500-acre Carson Valley ranch to distill their line of spirits, purchased a Scottish estate to focus on whisky production there. Foley Family Wines, which includes Ferrari-Carano Vineyards & Winery founded by Reno's Don and Rhonda Carano of Eldorado Resorts, will pick up where the Bentlys left off, including re-opening the tasting room. foleyfamilywines.com