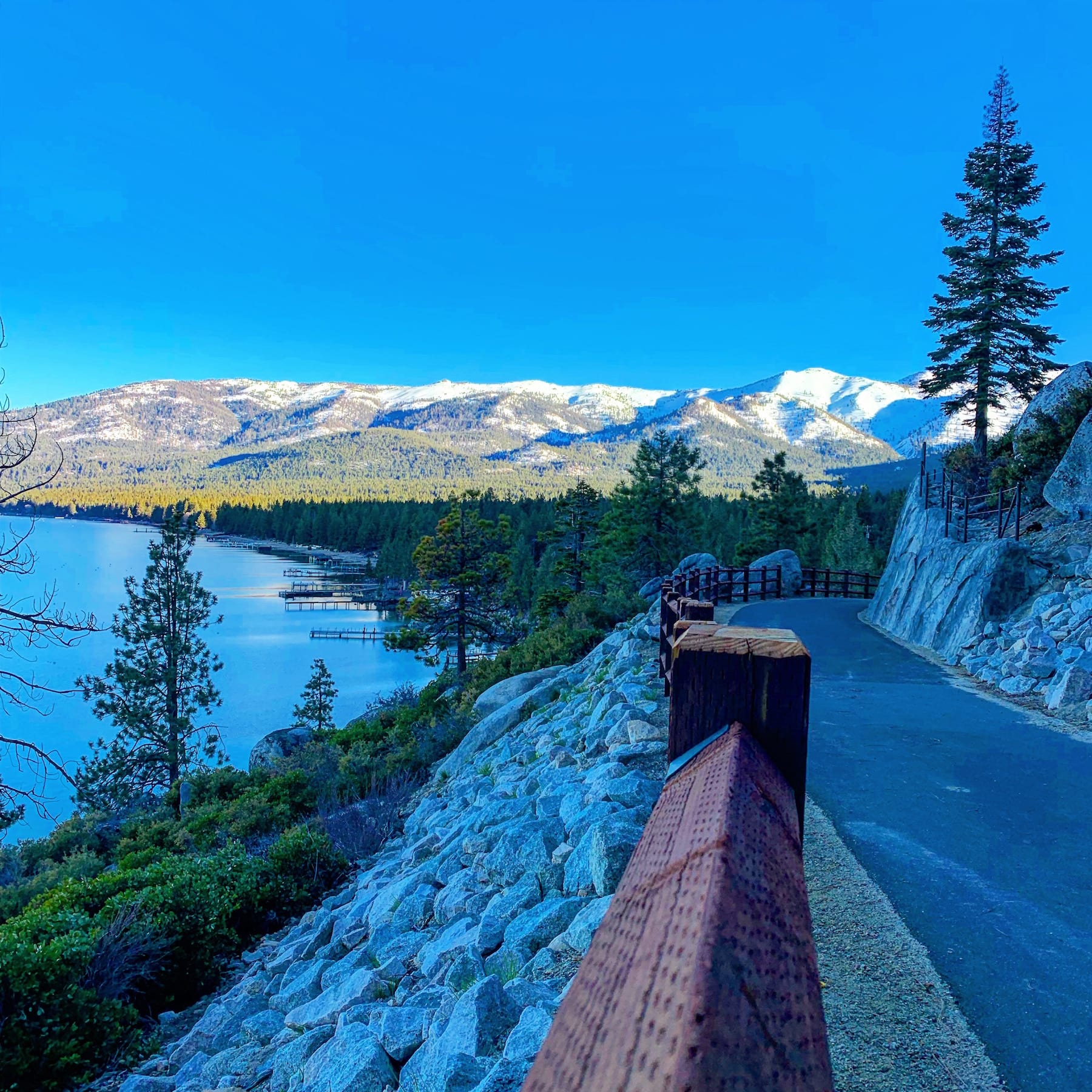 The Tahoe East Shore Trail is roughly 3 miles long and includes a mellow climb in the first mile, courtesy photo
26 Nov

What to Know Before Hitting the Tahoe East Shore Trail
"Most of the things worth doing in the world had been declared impossible before they were done." – Louis D Brandeis
Even before the first line was drawn on a map in 1988, residents and visitors have been dreaming of a trail that provides a safer alternative for cyclists and beachgoers near the scenic East Shore of Lake Tahoe. Through the work of 13 partners, the impossible is now a reality with the opening of the new Tahoe East Shore Trail. The opportunity now exists to safely explore a wide range of activities along the East Shore, whether walking, riding or rolling.
Here's what you need to know before you go:
Parking
To alleviate the risk of having to cross State Route 28, there are now 91 new parking spots at the northern end of the trail, ensuring a safer, easier place to unload for the day. Roadside parking along State Route 28 is now prohibited.
Trail information
The trail is about 3 miles long. The first mile includes a short mountainside climb down through the tunnel and out to Hidden Beach. The rest of the way includes a smooth cruise along 2 miles of shore, landing at Sand Harbor.
Tunnel Creek Cafe
Located at the northern trailhead, a new remodel of this popular trailhead cafe will be sure to take care of all your pre and post trail needs. From the cafe, you can access a lot of really exciting mountain bike rides and hikes such as the Flume Trail and Monkey Rock.
Dogs
The trail is pet friendly, so you can bring your four-legged family members. Just make sure to also bring their leashes. And don't forget to pick up after your pup.
Bears and trout
Along the path you will notice bears set in concrete and steel trout mounted along the bridges. These are in honor of Tahoe Fund donors who gave more than $1 million in private donations to secure public funding needed for the path. All donations of $100 or more are featured on the donor wall at the start of the trail. If you would like your name added to the path on a bear, trout or the next donor wall, visit tahoefund.org/donate.
Pack in, pack out
Remember to take care of Tahoe by always picking up your trash and personal belongings before you go.