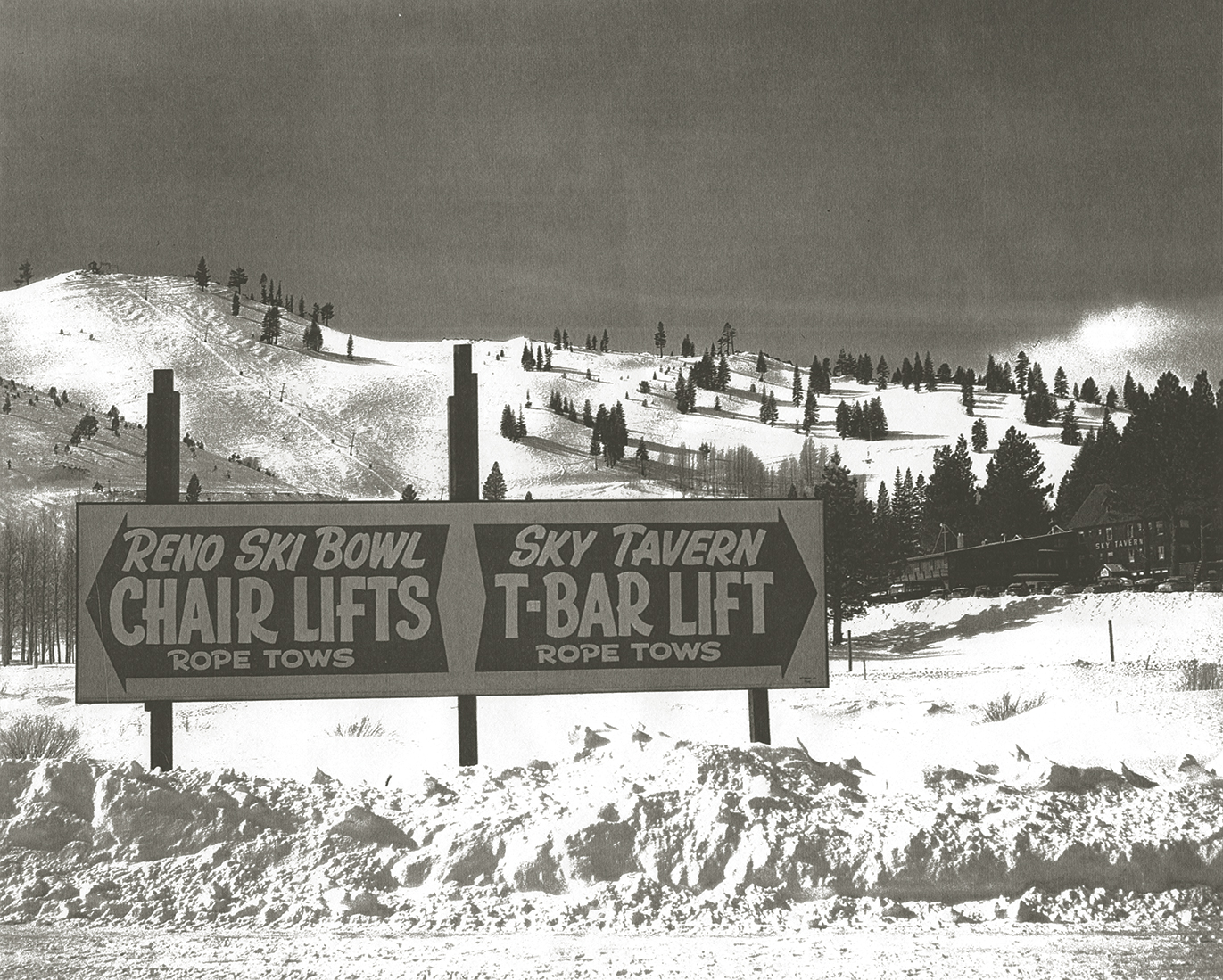 In the early 1950s, Sky Tavern was known as a chic, intimate resort patronized by some of the most famous personalities of the day, photo courtesy Sky Tavern
27 Sep

Sky Tavern: Bringing the Past Forward
This all-volunteer, 75-year-old Tahoe tradition is home mountain to multiple Olympic and World Cup ski champions, with big plans for the next quarter-century
Two curvy miles down State Route 431 from Mt. Rose-Ski Tahoe is a little gem of winter sports, barely noticed by most drivers speeding by. Few California skiers have ever heard of Sky Tavern, but if you grew up in Reno, chances are you learned to ski or ride there. North of 100,000 kids have.
Sky Tavern is practically all parent-volunteer run, but it's no ordinary "Ma and Pa" operation.
The nonprofit has both a strong vision for its future and national recognition for its present. Earlier this year, Sky Tavern won the coveted National Ski Area Association "Conversion Cup," the award given to the North American ski area deemed best at "creating lifelong enthusiasts."
The award is fitting and well-earned, agree Bill Henderson and Yale Spina, Sky Tavern's executive director and chairman of the board, respectively. They should know. Both lifelong ski enthusiasts were seemingly born into their roles at the resort, which they fondly recall as the site of some of their earliest and best memories.
"I've basically been here ever since I was 10," says Henderson, whose great uncle was a key investor in the original Sky Tavern.
"My grandfather installed the first ski lift here," says Spina, who in his past life was a professional freestyle aerialist. "My parents got engaged here, I had my first kiss behind the lodge and did my first flip in front of it."
Reno's Resort
"Sky," as it's affectionately known, spans the history of Reno skiing.
The tavern itself was built and opened by two brothers in 1946, at the spot in the highway where in those days the plows stopped plowing. From there, a 2-mile-long chairlift carried skiers to the upper slopes of what is now Mt. Rose's "Slide Side." In 1948, Reno school teacher Marce Herz convinced the brothers to host an affordable new learn-to-ski program for the area's youth.
The tavern and its 146-acre property were purchased in 1967 by the City of Reno, which continued the now-established children's program. In 1991, Reno residents formed the nonprofit co-op and took over operations, leading to the installation of the area's first modern chairlift and expanded race and training programs.
Two years ago, Sky's future was reframed with the co-op's signing of a new 50-year lease from the City of Reno. Since then, the resort has installed a second chairlift, two moving-carpet lifts, new features in its freestyle park and new trails to its summer mountain bike park.
Sky is hopeful it will receive grants to help pay for its first snowmaking system and the installation of lights on its slopes, leading to nighttime "town league" racing and events. A 7,100- to 8,200-foot elevation, location on the Carson Range's colder east slope and an existing pond on the property would seem to support the resort's snowmaking ambitions.
Family-Friendly
Except for lift operators and snowcat groomers, all ski area operations at Sky are performed by volunteer labor. This is the most family of "family resorts," with parents and children joining its programs together, the parents volunteering two hours for every day their children participate. Like a community barn-raising, specialists do their specialty and everyone else fills in where needed (with some jobs requiring preseason training).
Families pay approximately $300 per winter per child for instruction and season-long equipment rental (minimum age is 4). "We never turn anyone away for lack of money," says Henderson, who is also the resort's general manager. Children in low-income households are also fed a free lunch.
On average, families stay with Sky's beginner program for three winters. "We're not the end game for most skiers," Henderson says. "For others, we're an excellent training facility." The resort's race and freestyle teams are certified U.S. Ski Team development programs, its athletes recruited by Tahoe's best ski and snowboard coaches.
Above its beginner run, the resort packs a surprising quality of terrain into its small 146 acres and 1,100 vertical feet. There's a freestyle park with a music system and "treat shack," a slope of advanced tree skiing, a race hill long and steep enough to be certified for national giant slalom races, and "the perfect jump hill," according to Spina.
Surprisingly Star-Studded
Former alpine ski racing star Tamara McKinney also serves on the resort's board; she started skiing at Sky with her mother before going on to win multiple World Cup Championships.
Sky's alum also includes David Wise, a graduate of its freestyle program who has become the world's best halfpipe skier, winning the last two Olympic gold medals in the sport (2014 and 2018) and four X Games golds.
Spina's brother Lane is also an Olympian, winning silver and bronze medals in ballet skiing in 1988 and 1992, as well as the gold medal at the 1991 World Championships.
Sky owes its success not solely to the dedication of its alum, but support from a broad spectrum of city and business leaders. Prominent Northern Nevada businessman Ranson Webster, for example, purchased one of the moving-carpet lifts for the resort. Reno Mayor Hillary Schieve is also a strong supporter.
"Sky Tavern has a tremendous opportunity to become a world-class destination for our community and visitors," says Schieve. "(Their) vision gives our region an opportunity to develop sustainable partnerships and invest in our future generations to come."
Outside the Status Quo
Running a ski resort is a serious business, but when it's run by a quasi-ski club, it can be done with both wonderful bluntness and the adopting of more lofty goals. No other ski resort general manager, for example, would write on its website: "If you don't like the way it is done, fix it! That's how I got here." Henderson did.
Sky's website also touches on its holistic approach to teaching winter sports. What they do for a kid, it says, "cannot be measured. They make choices, become engaged, meet new friends and play, and playing is important! They laugh, they cry and experience a real world, not a virtual one! They are outside, not locked in a room with electronics. They have to take care of real gear and remember where they left it."
Instructors and coaches are trained to encourage self-reliance, confidence and courage. Unlike the paid ski instructors at regular ski resorts, Sky points out that its volunteers "are only there to help for the sheer love of the sport and the kids."
One of Sky's growing commitments is to adaptive sports, winter and summer. The resort promises a major announcement soon concerning a new partnership with the High Fives Foundation.
"We work alongside Sky Tavern cohesively in the goal of increasing adaptive sports for all," says Roy Tuscany, High Fives founder and CEO. "Our goal is creating adaptive sports in all four seasons." Sky recently built an adaptive mountain bike trail and has plans to offer power-assist adaptive cycles next summer.
Mountain biking is also a key part of Sky's evolving mission. "The goal is to become a trail hub and bike park that connects to the emerging Reno-Tahoe trail system," says Spina. The mountain bike park already has a good progression of singletrack trails, plus a pump track, kid features and a banked dual slalom run created in part by University of Nevada Reno (UNR) mountain bike team.
Henderson hopes that UNR and other area schools and clubs will increasingly look to the resort as a site for activities and training. "If you've got a program," says Henderson, "we're your place."
The addition of snowmaking and lights would fundamentally change the way the community views Sky's value, both Henderson and Spina believe. Increased community use would allow the co-op to expand its management of transit options to and from the resort, a current sticking point due to the limited availability of weekend school buses. Spina's vision for Sky includes a year-around staff who help run multiple programs, both member-only and ones open to the public.
The resort has events in the works this season that could also raise its profile. Spina's been approached by Far West Freestyle to hold races at Sky, he says, and received a letter of intent from the new World Pro Ski Tour for a televised race the weekend of February 26–27, 2022.
The Sky is the Limit
Could this Ma and Pa resort turn into a new cool spot for winter sports? Consider that Sky was the center of coolness in the early days of Reno skiing, the tavern hosting the rich and famous for a "quickie divorce." Baseball legend Joe DiMaggio and actors Gary Cooper, Rita Hayworth and Robert Stack all relaxed at the tavern, where Bill Harrah ran a small casino.
Sky envisions a different kind of coolness for its future, the kind rooted in the cool air of an all-season mountain resort, open to everyone despite their physical or economic challenges.
The resort appears to have the team and community support to pull off its unique vision, one that would make Sky Tavern more than a sign on the highway for the rest of us.
---
Chaco Mohler is the former publisher of Tahoe Quarterly and the magazine's first editor-in-chief.