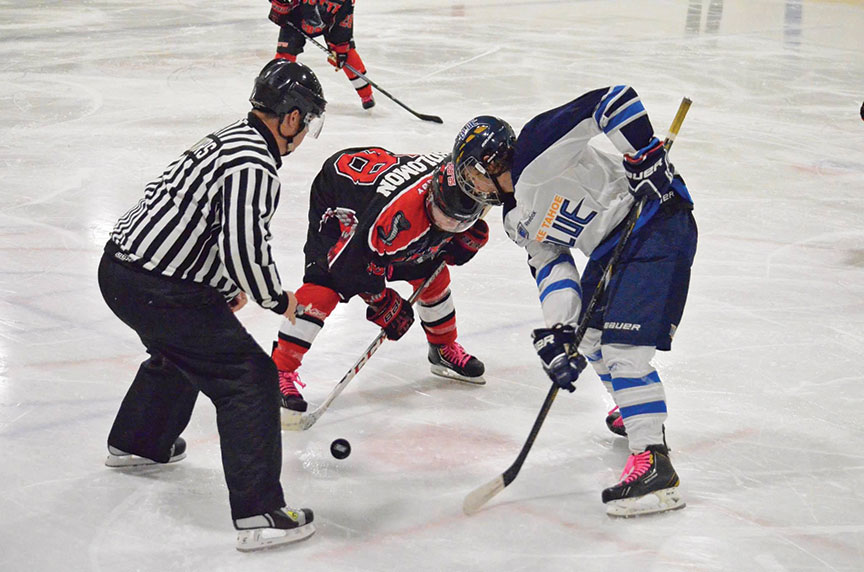 02 Feb

Junior Hockey Finds a Home in South Lake Tahoe

A global group of youngsters is boarding in South Lake Tahoe this winter—in more ways than one.

The Lake Tahoe Blue is a junior, tier-III hockey team playing its second season in the city's ice sports center. The team plays in the Western States Hockey League—a consortium of teams from throughout the West Coast and Intermountain West that showcase domestic and international players ages 16 to 20 on their way to college programs or higher-level juniors programs. Players hail from as far away as Russia and as close by as the Bay Area, some staying with host families as they navigate high-level hockey and being away from home for the first time.

The Blue is the only spectator sports team in the Lake Tahoe Basin and plays a 48-game schedule on weekends throughout the winter.

"It's a chance to see how a hockey career starts," says Spencer Jamison, team president. Jamison—a longtime employee of the San Jose Sharks—is part of the ownership group that bought the Blue after the 2013–14 season in South Lake, the team's first.

"A town like this really lends itself to hockey," Jamison says. "Coming to games is a good way to bring townspeople together."

Coach and San Jose native Michael Richardson also has Sharks connections, having coached for developmental teams as well as working as a video coordinator in the organization. He came on over the summer and says his main goal is to develop the skills of his 25 young charges.

"Development is over 90 percent of what we do as a staff," he says. "We're working with them on good fundamental habits—you can't play the game tactically if you can't play it technically."

For most of the players, it's the first time away from home and from the lower levels of hockey, Jamison says.

"When you're talking about junior hockey, there's just an advanced maturity level and physicality here," he says. From a rougher on-ice game to learning to manage their time off of it, the Blue players are entering a more professional world.

That's where host families like Patience and Fritz Wenck come in. The South Lake Tahoe couple are veterans as parents and hosts—they raised seven children and have hosted a dozen exchange students.

As of this writing, they were one of just a few host families for the team—most players stay at a home rented by the team. The Wencks hosted two players through late October until one was traded, and when they were interviewed their only charge was Blue forward Vladislav Polyashov, age 16.

"Vlad showed up here not speaking a word of English," Patience says. "But he has a translator on his iPhone and he types Cyrillic there and it comes out as English, so he can show us his phone when he needs something."

Polyashov is picking up some English as the season progresses and the Wencks, coincidentally, took an introductory Russian class at Lake Tahoe Community College, so they could introduce themselves to Polyashov and bid him hello, Patience says.

The team is looking for more families like the Wencks, and also hoping to bring more fans out to the arena on weekends this winter, Jamison says.

"Obviously Tahoe is known for skiing and snowboarding, but when people are done there, there's a hockey game going on," Jamison says. "It's family-friendly and affordable—we've got tickets for $5, $7, $10, you don't have spend a ton of money."

"The sport really sells itself," says Richardson. "There's no other sport like it; it's fast, it's intense and exciting."

From crashing into the boards to boarding with locals, the Blue are trying to tie their sport into the South Lake community. Drop the puck.
---
For information and schedules for the Lake Tahoe Blue, check out http://www.laketahoebluehockey.com/