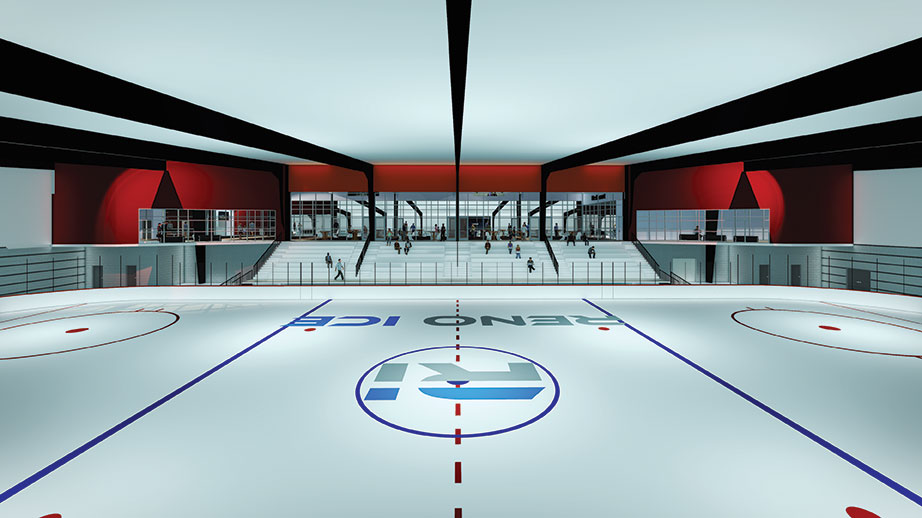 Interior rendering of the Reno ice rink, illustration courtesy Frame Architecture
09 Dec

$2 Million Raised for Reno Ice Arena

A sheet of ice isn't the first thing that comes to mind when envisioning Northern Nevada's expanses of sage, but one group is hoping to change that perception, potentially bringing a full-sized ice arena to south Reno as soon as late 2016.

What is now the Greater Reno Community Ice Skating Association started about two years ago as a passion project for a group of residents with a love for hockey and figure skating but disappointed in the dearth of options for hitting the rink in Northern Nevada. As it stands, ice enthusiasts in the area have to travel to South Lake Tahoe or the Sacramento area to practice on an NHL-size rink, says ice skating association president Joel Grace.

"There are kids out there that can be Olympic athletes or who could be professional hockey players or professional figure skaters and they just don't have the opportunity right now," Grace says.
Reno, on Ice
Grace, a New Hampshire native and Reno transplant who grew up ice skating on Lake Winnipesaukee, says it's hard to believe a community the size of Reno doesn't have a full-size rink of its own.
As envisioned, the Jennifer M. O'Neal Community Ice Arena would be located in the South Valleys Regional Sports Complex off Wedge Parkway. The approximately 45,000 square foot first phase of the project is estimated to cost $7 million and would include a building, ice rink, mezzanine for spectators, restaurant, locker room and pro shop. The second phase would be about 25,000 square feet, include a second sheet of ice and have an estimated cost of about $3 million. The ice skating association expects to fund the project through private donations and has already received a $2 million commitment from Incline Village's Sean and Jennifer O'Neal Family Foundation.
If approved and funded, the facility would become one of roughly 600 ice facilities that have opened in the U.S. in the past decade. Having a nonprofit own the arena through private donations is key to its eventual success, Grace says.
"We want this to be successful, and the [ice rinks] that we talked to that were successful were nonprofits because, number one, they can go out and get donations, number two, they were run for cash," he says. "Anybody who had large debt service on their property were the ones that were failing."
The ice arena would be open seven days a week with hours from 6 a.m. to midnight, according to the association's proposal. Everything from open skating to youth hockey leagues to figure skating to curling are included in the vision for the rink. The association is committed to the community and providing young people with opportunities to get on the ice, Grace says.

Exterior rendering of the Reno ice rink, illustration courtesy Frame Architecture
Community Enhancement
A high-quality ice arena also has the opportunity to add to the area's growing reputation as a sports destination, said Shelli Fine, director of sports development for the Reno-Sparks Convention and Visitors Authority. With its existing facilities, competitive rates and large bed base, Reno has attracted sporting events ranging from fast-pitch softball to taekwondo in the past few years.
"We're clearly more than gaming now," Fine says. "We're a diversified destination that can offer so many things. Having an ice facility in Reno only enhances the soccer complex, the baseball complexes, the football, the basketball, our convention center, all those things. The more facilities you have to sell, the more diverse you can be. And so I think that's clearly the direction we're going. The sports market has proven to be a pretty successful market for us to attract."
A decision on a lease for the proposed arena is expected from Washoe County in December. Securing a lease will allow the association to move the funding phase into high gear, Grace says. Information on donating to the rink is also available on the group's website, www.renoice.org.
Although Grace acknowledged the ice arena is not a done deal, he says he would be surprised if the idea doesn't come to fruition, adding that the level of support has been inspiring.
"With everybody behind it, I'm not going to say it couldn't fail, I'm saying it would be very difficult for that to happen," Grace says. "When our board talks, it doesn't talk about if this is going to happen, it talks about when this is going to happen."
The group's measured approach to accomplishing its goal is not unlike the advice one could give a beginner skier or, perhaps, even an ice skater.
"We're not getting out over our skis," Grace says. "We're making sure we stay on our feet."
---
Michael Kilburg is a South Lake Tahoe-based writer and editor.