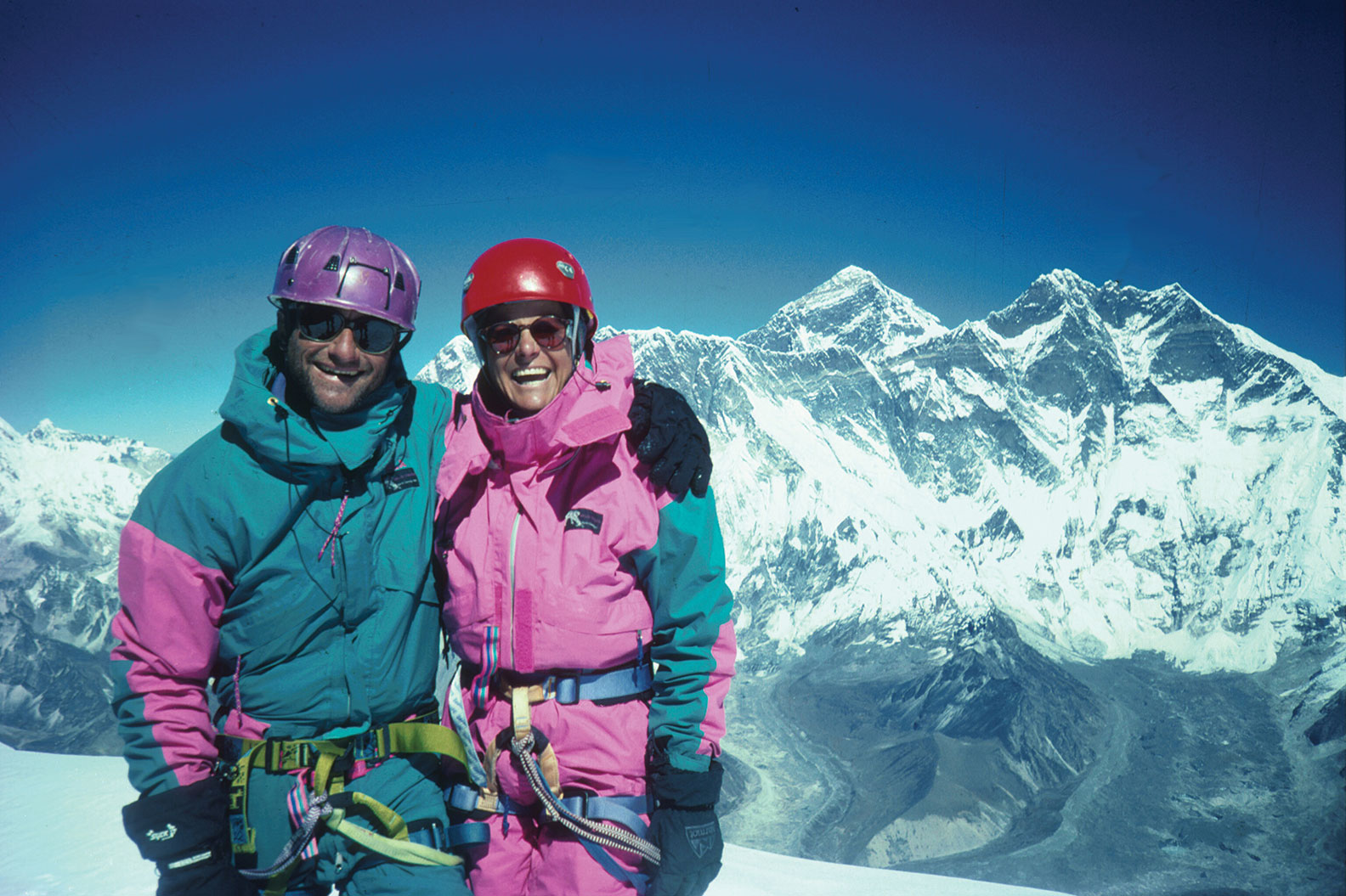 Bela and Mimi Vadasz at the summit of Ama Dablam in the Himalayas, photo by David Riggs
09 Dec

Bela G. Vadasz, 1953–2015

Tahoe mountain guide Bela G. Vadasz died September 15, 2015, during a medical procedure, leaving behind a legacy spanning nearly 40 years of guiding and teaching mountain skills in the Sierra Nevada and beyond. He is survived by Mimi Maki Vadasz, his wife and co-founder of their guide service, Alpine Skills International, and sons Tobin, 24, and Logan, 20.

Vadasz was a practical visionary whose love for the mountains was amplified by his respect for the skills required to gracefully ascend and descend them. His mission was to fashion a methodical teaching platform capable of taking a beginner to an expert under his guides' tutelage. Alpine Skills International (ASI) eventually became one of the premier all-round guide services in the United States, and Vadasz one of the country's most decorated guides. In 1997 he was one of the first Americans to receive the coveted pin of the International Federation of Mountain Guides Associations (IFMGA). In 2008 he received the American Mountain Guides Association (AMGA) Lifetime Achievement Award for, among other things, his leadership in architecting the AMGA's path to becoming accredited by the IFMGA. Today, due in large part to Vadasz's leadership, aspirant guides trained and certified by the AMGA are considered on par with their European colleagues, a stunning accomplishment given that just several decades earlier the then-loosely organized community of U.S.-based guides were characterized as "monkeys without ropes" by their European counterparts.

Bela Gabor Vadasz was born in Budapest, Hungary, in 1953, the only son of Eva and Bela Vadasz, Sr. The family fled Hungary in 1956, joining the nearly 36,000 Hungarians who relocated to the United States after the Hungarian Revolution broke out in autumn of that year. The family settled in San Francisco, and soon Bela Sr. and Eva, both outdoor enthusiasts, introduced their son to hiking and skiing in the Sierra Nevada. Vadasz once recounted how his father adapted a wire release on his cable bindings and wrapped a cord around their skis so the two of them could climb and ski Mt. Judah, where nearly 20 years later, Vadasz and Mimi would run their guide school.

As a young adult, Vadasz roamed the coasts with a surfboard and mountains with skis, and consumed accounts of grand adventure in various books shelved bedside. "As my eyes grew heavy I would begin to dream myself into those pictures and stories and beyond, into the adventures I hoped I would someday lead," he wrote in the foreword to Lou Dawson's compendium of ski mountaineering, Wild Snow. He not only succeeded in doing so, but in the process became one of the pantheon of Sierra skiers, climbers and guides he so respected: David Brower, Allen Steck, David Beck.

But Vadasz was as in love with the sea as the Sierra, and his friend, Rich Everett, described many middle-of-the-night misadventures to reach a distant California break by dawn.

"Bela's dad got us into backpacking to get us out of the ocean," said Everett, speaking at Vadasz's October memorial at Sugar Bowl Resort. "Backpacking turned into climbing and mountaineering. Bela had something to do in every season to get us involved." That included skiing, of course, but also, increasingly, rock climbing through the Sierra Club.

Logan, Bela and Tobin Vadasz, Haute Route, Switzerland, photo by Mimi Maki Vadasz
In 1969, at 16, Vadasz climbed Austria's Grossglockner (elevation 12,461 feet) with his father, which cemented the younger Vadasz's desire to make the mountains his career. Later he would become a habitué of the European Alps. He and Mimi made the first American ascent of the Peuterey Integral, a serious and rarely climbed spur of France's Mt. Blanc massif. Ten years later, as a ski instructor, guide and budding entrepreneur, Vadasze brought a distinctively European style to California's guiding culture, grounding mountain exploration in a rigorous, systematic curriculum influenced, in part, by his and Mimi's undergraduate and post-graduate studies in outdoor recreation at San Francisco State University. They were also influenced by the Professional Ski Instructors of America (PSIA)'s learner-centered, skills-based methodology—an approach Vadasz recognized as a guidepost for teaching mountaineering in the United States. They moved from the Bay Area to Donner Pass, overhauled a derelict Caltrans facility on Donner Pass and transformed it into a European-style mountain hut, like those found in the high Alps, with dining room and bunk beds. They called it the Donner Spitz Hütte.
ASI taught many disciplines of mountaineering from that singular locale, including rock and ice climbing, but perhaps influenced by those early years on Donner Pass with his father, Vadasz had a special fondness for teaching ski mountaineering, which incorporated avalanche science and downhill skiing, along with climbing in its various formats. The popularity of the  free-heel technique in the 1980s and '90s and Vadasz's teaching made ASI the go-to guides to learn the mechanics of the drop-knee turn.
"In the mid-'80s we had ten instructors teaching telemark skiing full-time," says Peter Leh, a ski guide and instructor who has been with the outfit for over 30 years. Vadasz's tiered ski mountaineering program ranged from teaching basic cross-country downhill techniques to instructing experts how to negotiate extreme terrain. His vision was to mold beginners into skiers capable enough of touring the deepest and highest reaches of the Range of Light during its springtime melt-freeze cycles—a tour that meanders above 13,000-foot mountain passes for nearly 45 miles, from near the Marble Fork Kaweah River in the west to cross the headwaters of the Kern River in the east. It is known as the Sierra High Route and it, along with the European tour from Chamonix to Zermatt, the Haute Route, were his two favorite ski tours. The attention Vadasz gave to ski mountaineering as the most complex of all mountaineering disciplines, and the codification of the necessary skills were pivotal to the AMGA's inclusion in the IFMGA in 1997.
Form and function mattered to the man, who was fastidious in speech and manner. He politely corrected those who mispronounced his first name (Bay-la, not Bell-a), disabused those from the belief they were climbing in the Sierras (it's Sierra), and Leh remembered the time Vadasz straightened the collar of his guide's jacket at an industry event.
"Bela was unique and pure to his core," Mimi wrote about her husband. "He did not do things to advance himself, he didn't have a tick list. He loved to share his passion, whether it was skiing, climbing, surfing, music, communicating, encouraging and believing in people more than they believed in themselves… he loved the mountains, because they would always be there; he loved everyone he ever talked to because everyone was important to him."
"He was instrumental in making guiding in America come to grips with being professional in its approach," says John Moynier, a former Sierra ski mountaineering guide. "You're dealing with the lives of people. You can't really afford to be treating it as a hobby or as a passion."
One of the best of his many outings as a guide was a traverse of a contiguous chain of 14,000-foot peaks in the Sierra's Palisades requiring nearly 130 belayed pitches of climbing, Vadasz said.
"It was definitely a career highlight for me," said Vadasz some years ago on a stormy day at Sugar Bowl Resort, "[because of the] guys I did it with and the friendships we created. Extraordinary, good guys. That trip really brought us together in a great way and we've done many other things since then."
One of those guys was David Riggs, who, speaking at Vadasz's memorial, recounted the time when he, Mimi and the other partner on the Palisades traverse, Tom Burch, were seated on a plane en-route to Nepal. Vadasz leaned over in his seat and looked at his wife and two friends and said, "You know, we all have a choice to live our life as an artist, so let's make a masterpiece."
"It was quintessential Bela," said Riggs, whose friend and mentor was known for his heartfelt apothegms about life in the mountains.
"You walked the talk," Riggs said, honoring his friend. "You lived your life as an artist. And you did indeed create a masterpiece."