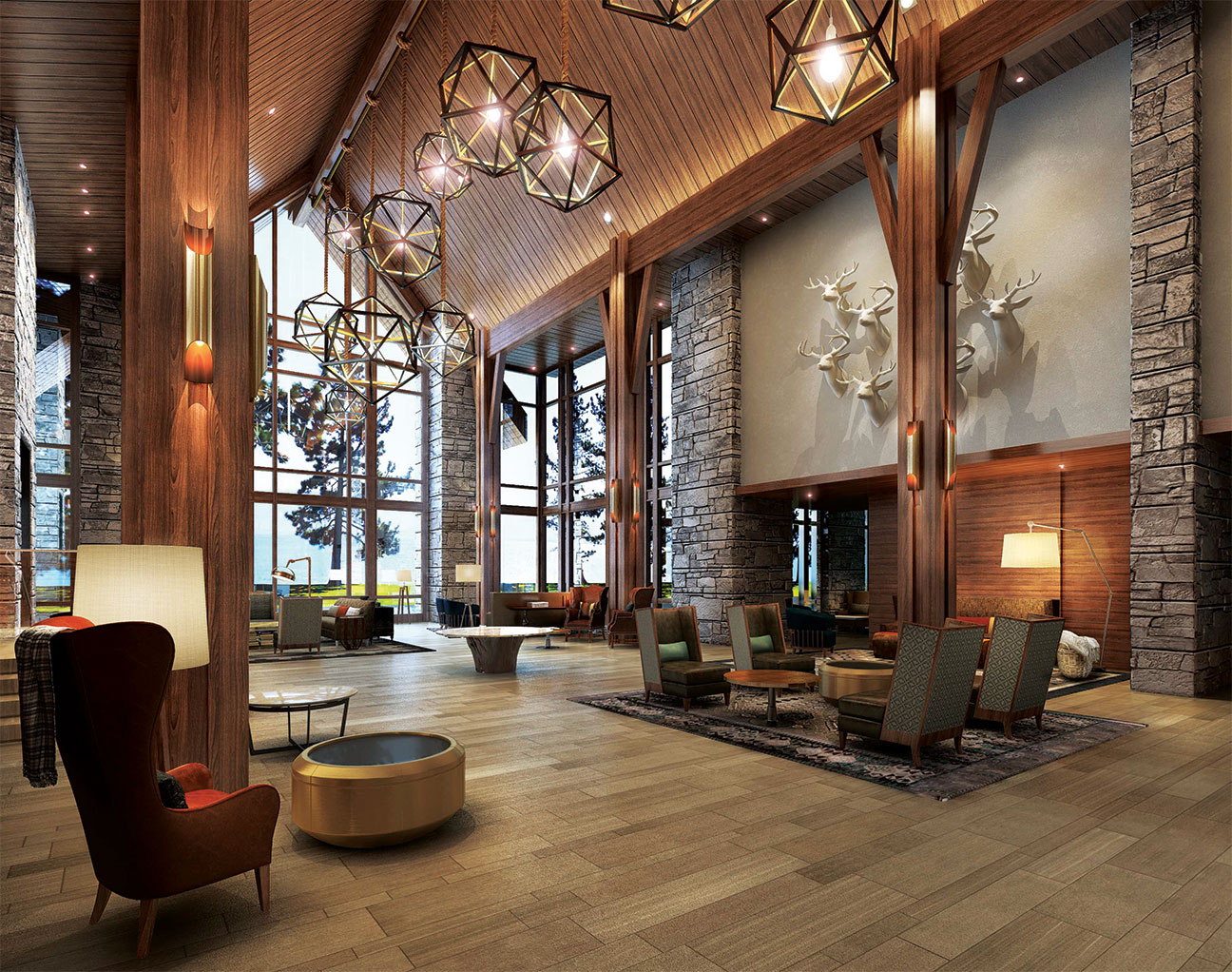 Rendering of the Lodge at Edgewood's great room, courtesy photo
09 Dec

South Shore Revitalization Continues with Edgewood, Zalanta

From busted to flush in the space of less than a decade, the fortunes of Lake Tahoe's South Shore are changing dramatically over the next few years as new development projects come on line.

In the teeth of the recession, the bi-state area's casino corridor and surrounding businesses were hurting. Win was down at the tables while construction and development projects stalled or fell apart. Economic recovery has been slow, but today, roughly $200 million has been invested in the area along U.S. Highway 50 in renovations at the casino resorts and new development. These include the $60 million total renovation of the Horizon Casino as the Hard Rock Hotel & Casino Lake Tahoe, a $24 million remodel of MontBleu Resort Casino & Spa and $12 million in renovations at Harrah's Lake Tahoe, among others.

"There's been a huge financial commitment in the South Shore community right now," says Bryan Davis, the marketing director at Edgewood Tahoe. His employer is making one of the biggest splashes, as ground broke this summer on the Lodge at Edgewood, a $100 million, 169,000 square foot hotel/resort designed in the manner of a National Park lodge, which is currently slated to open in spring 2017.

Exterior and pool rendering of the Lodge, photo courtesy Lodge at Edgewood Tahoe
Joining Edgewood in projecting a 2017 opening is Zalanta Resort at The Village. Named for the Native American word for "Big Mountain," Zalanta is a planned development of whole-ownership luxury condominiums directly across from Heavenly Village in South Lake Tahoe in the Chateâu. The $25 to $30 million, 19,571 square foot development will contain 30 two-, three- and four-bedroom condos starting in the high $800,000s; an opening is planned for spring 2017 with additional phased developments for up to 60 future units.
"I think everyone notices it now," says Mike Dunn of Chase International (which is part of the development team behind Zalanta) of the changes between recession-era South Shore and today. "South Lake Tahoe has already done an incredible job making it more appealing to our visitors… There is a tremendous amount of money coming into the South Shore."

Rendering of the planned Zalanta Resort at the Village, located within the Château at the Village
Edgewood's LEED-designed resort will add a much-needed 154 rooms to South Shore's bed-base, says Davis.
"It's something our customers have been asking for for a while," says Davis. "It turns us into a full-service, destination resort. Being able to control the lodging experience for our customers is something we're excited about pursuing. It's going to cater to that luxury traveler who is looking for the four-star experience they might not find elsewhere."
The planned resort will feature a swimming pool, meeting facilities, spa, bar and a new restaurant in addition to Edgewood's current offerings at its clubhouse. Positioned on the south side of the resort's property, the hotel will be lakeside with room views overlooking Tahoe.
"The Lodge at Edgewood, with all its amenities and lakefront location, represents what makes Tahoe a timeless destination," said Carol Chaplin, executive director of the Lake Tahoe Visitors Authority in a release following the resort's groundbreaking. "It signifies what visitors want by combining the great outdoors and indoors with a central and spectacular location."
Also included in the Edgewood plans are 10 four-unit cabins for fractional ownership, located to the southeast of the building away from the lakeshore.
---
For more information on the projects, visit www.edgewoodtahoe.com/the-resort and www.zalanta.com.