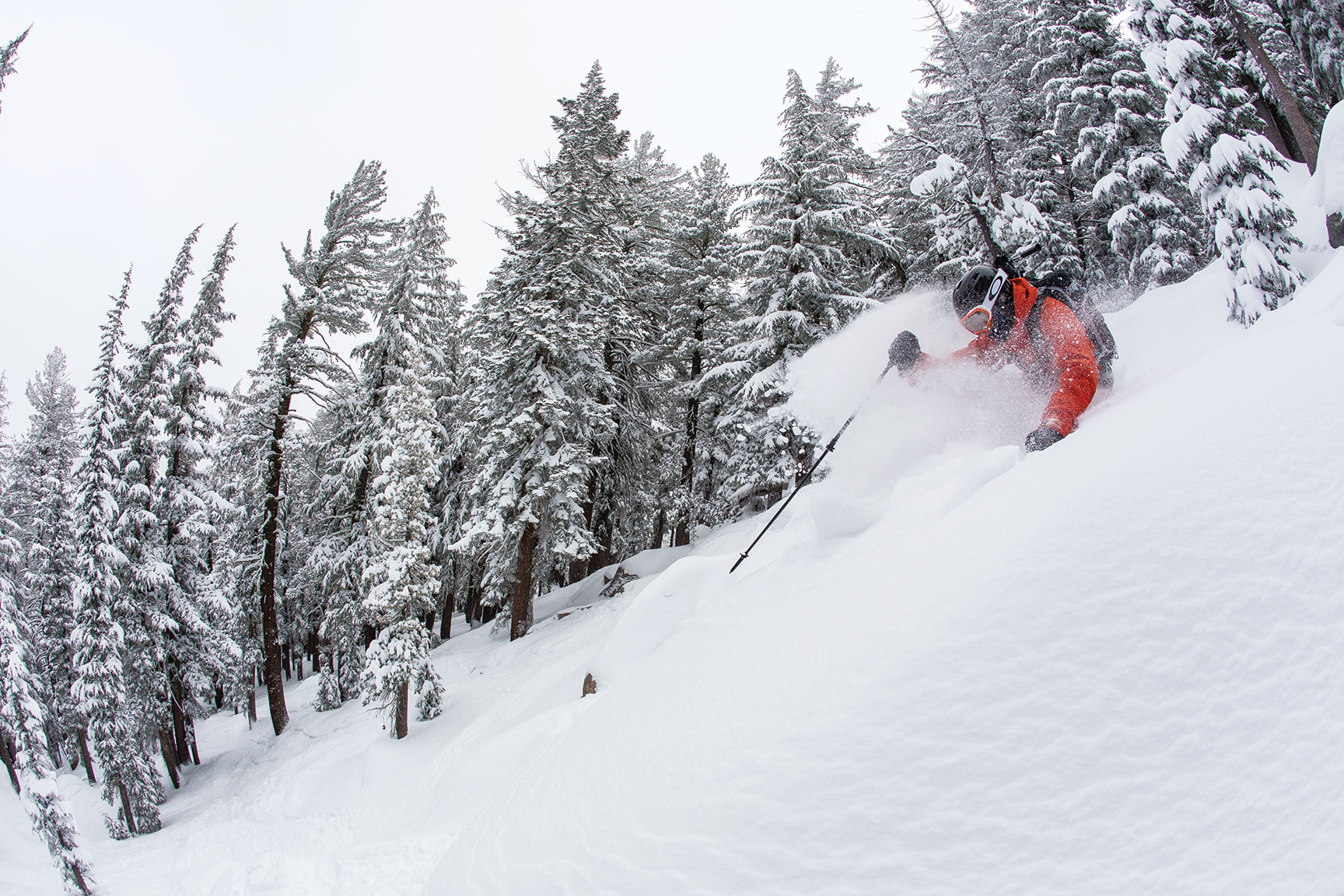 Dave Amirault enjoys a powder run at Sierra-at-Tahoe, photo by Brian Walker, courtesy Sierra-at-Tahoe
07 Dec

Surviving in the Shadows
Tahoe's smaller ski resorts find success among industry giants
Ruben Kimmelman scrolls down a list of season pass options on his iMac. Kimmelman, a snowboarder who recently moved to the Reno–Tahoe area from Washington, is torn between Squaw Valley and Mt. Rose. He snowboards a few dozen days a year. He's heard a lot about Squaw, but likes the location, vibe and price at Mt. Rose.
"For me, it's a balance," Kimmelman says. "I look at the price and I look at the ratio of size to people. To me, that's what matters."
Kimmelman is a tough sell. He symbolizes the tiny amount of market share that's willing to switch mountains each season. In an industry dotted with megaresorts and sprinkled with small and medium ski areas, the laws of physics may dictate Kimmelman would choose the larger. But Tahoe's modestly sized resorts have an appeal of their own.
While the number of ski resorts in the United States continues to decline, each mountain at Lake Tahoe is positioned to attract a loyal audience. The area's smaller and independent resorts are relying on location, terrain, pricing and sometimes a certain je ne sais quoi to maintain a foothold in a market lately characterized by huge mergers and consolidation.

Kyle Smaine throws a 450 tail grab during an afternoon session on the hip during Maddie Bowman's season-ending event,
Recess, at Sierra-at-Tahoe, photo by Brian Walker
Resorts like Sierra-at-Tahoe and Mt. Rose are holding their own in the fight to keep customers. Tiny hideaways like Granlibakken on Tahoe's West Shore are targeting specific categories. Mountains like Boreal and Sugar Bowl have added attractions to keep guests coming back. Though they don't operate on the same scale as Squaw Valley, Northstar or Heavenly, these resorts hold a lot of value for those who come from around the region and the world to slide on snow.
"People have a tendency to go where they go for pretty good reasons," says Tim Cohee, who teaches ski business and resort management at Sierra Nevada College and co-owns China Peak Resort to the south of Tahoe. "The ski areas that are left operating in Lake Tahoe, every single one of them you could make a case for."
Big and small resorts in the Tahoe area aren't exactly having a David versus Goliath fight for skiers and snowboarders. Most of the resorts are focused on entirely different demographics or geographies. In essence, each mountain markets itself to a different customer. Though there is some fluctuation, these roles are pretty well-defined. In other words, the resort scene around Tahoe is steady.
Too Many Mountains
It hasn't always been this way. The region is dotted with the remains of now-defunct ski areas.
Past Kirkwood on Highway 88, Iron Mountain Ski Resort is a tangle of abandoned lifts, old buildings and clear-cut runs. In the early 1950s, White Hills Ski Area used to draw huge crowds to Spooner Summit, but the resort closed after just five years of operation. Edelweiss was a popular mountain off U.S. Highway 50 before it closed in the early 1960s. A Facebook group titled "Lost Ski Areas and Ski History of CA" documents many other area resorts that couldn't make their way.
The boom-and-bust that happened in Tahoe mimics a national trend. According to the National Ski Areas Association (NSAA), there were 463 ski resorts operating as of last season, the lowest number in history. This decline is understandable, says NSAA director Michael Berry.
"The decline has been occurring since the peak, which happened some time in the late '60s," Berry says. "The reality is the places that went away probably shouldn't have been there in the first place."
Many smaller resorts were founded with big flaws, Berry says. Their base altitude was too low. They didn't have a large customer base to target. Or, they just couldn't make the leap from tiny sled hill to full-fledged ski area with updated lifts and facilities.
As the sport has progressed, it takes a certain sized mountain to satisfy skiers and riders. Another big reason many of the region's—and nation's—resorts have closed is the failure to install snowmaking, which can help the seasonal ebbs of winter weather, Berry says.
"Whether you want to believe it or not, there's always been huge variations in the Tahoe snowpack. If you're a couple hundred feet above lake level, you have to have snowmaking," Berry says. "You also have to have a fairly sizeable mountain to compete."

The Chutes at Mt. Rose, photo courtesy Mt. Rose Ski Tahoe
Taking on a Vibe
Sierra-at-Tahoe has operated on its Forest Service plot off U.S. Highway 50 since 1968. The resort caters to the drive-up crowd from Sacramento. The mountain's locals, including Olympic gold medalists Jamie Anderson and Maddie Bowman, are fiercely loyal. Sierra's management works to cultivate this attitude.
"We want to make you feel like you're at home," says Sierra's director of marketing, Steve Hemphill. "We're fully aware people are going to try different things, but we want to be that home that people come back to."
They push this atmosphere by being honest about how much snow is falling, listening to their customers and being consistent in their delivery, says general manager John Rice. Sierra's size allows him to test different programs and quickly adapt to changing conditions, he says.
"I can take an idea and do a beta test without a lot of approvals," Rice says. "If it works I can put it in place."
On the West Shore, Granlibakken has one lift with around 300 feet of vertical. To a seasoned skier or snowboarder, this might sound like a major drawback. But for Granlibakken's target audience, it's great. Parents can sit at the base of the hill and watch as their children come zipping down on a sled.
"It's a very family-minded resort," Granlibakken marketing director Annora McGarry says. "It's a safe and inviting location. Parents want to let their kids run around outside without having to worry about cars or other things."

Sledding hill at Granlibakken, photo courtesy Granlibakken, photo by Tor Johnson
Granlibakken has also eked out another niche in the resort market: groups. The resort caters to groups that want to rent out an entire facility. They've hosted silent retreats, tennis camps, international conferences and even a hearing aid convention.
"We offer a slightly different product," McGarry says. "We don't necessarily compete with the large resorts on groups. A group can come here and rent out our entire facility. It's kind of got that summer-campy vibe."
Off Interstate 80, Boreal, at 380 acres, has set itself up in a unique way. Devoting almost the entire mountain to terrain parks, the resort attracts the freestyle set. For added value, the neighboring Woodward Tahoe indoor facility allows customers to hone their tricks on trampolines, foam pits and a variety of skateparks.
With its proximity to Reno and some prominent terrain, Mt. Rose is well positioned to carve out a slice of the Pacific Southwest's 7,000,000 yearly skier visits. The resort draws many Reno residents, but also benefits from the skiers and snowboarders who fly into Reno and stay in the city for a winter vacation.
"We're perceived as a local resort. About 55 percent of our business comes from the valley," says Mike Pierce, marketing director for Mt. Rose.
Pushing the Terrain
Part of Mt. Rose's allure is the striking, steep gullies known as The Chutes. The mountain has capitalized on its unique and challenging terrain, marketing The Chutes as a less-crowded alternative to Squaw's steep zones.
"There's no hiking," Pierce says. "It's straight into 1,500 feet of vertical. And there isn't a line at Northwest like there is at [Squaw Valley's] KT-22 first thing in the morning."
The terrain is what sets each resort apart, Cohee says. Between the mountain features and the geographic location, almost every resort in the Tahoe area is positioned to be viable.
"One of the great things we have in our sport is tremendous product differentiation," Cohee says. "When you look at hotels and rental cars and airlines, there is a tremendous amount of parody. The beauty of the ski industry is every property is very unique and it's unique in many ways, including its layout, the type of terrain, the elevation and its location."

Tyrell Gillett eyes a line at China Peak Resort south of Tahoe, photo by Sylas Wright

Mt. Lincoln and the Palisades at Sugar Bowl, photo by Sylas Wright
Sierra-at-Tahoe features renowned tree skiing and a host of beginner terrain. Diamond Peak is close to Incline Village. Homewood boasts spectacular views of The Lake. Sugar Bowl has the peaks. Whether it's the convenience of being able to ski or snowboard to your car or the ability to find your friends on the mountain, small resorts have a lot to offer in terms of terrain, Hemphill says.
"It seems there's been a race lately to be North America's biggest resort. We'll let them compete for that. We have 2,000 acres that is all skiable. Our terrain is perfectly wrapped in this box," he says.
But a big challenge for small resorts can be the infrastructure. While Heavenly, Northstar and Squaw have the capital to invest in new lodges and new lifts, some of the facilities at Tahoe's smaller resorts have been stagnant. This isn't always a drawback, says Rice.
"Someone once told me years ago that an old building that's clean is nicer than a new building that's dirty," he says, leaning back in his office chair. "These buildings are the funkiest old buildings. There's all kinds of different architecture colliding here. But what we've tried to do is make it seamless to the guest and keep it clean.
"Yes, I'd like to have $10 million lodges. But when we surveyed our guests, we found that's not what they're looking for. They want a place to eat their lunch."

Bill Powell skis the front face of Homewood, photo by Garry Moore
The Deciding Factor
In the end, Kimmelman hopes to get a job at Squaw and a pass at Mt. Rose, so he can make quick trips from his home in Reno. On a student budget, Kimmelman wants to get the most for his money.
"It's not the only factor, but it is a factor. It has to be," Kimmelman says.
Single-day lift tickets at smaller resorts cost less. Season passes, now the bread-and-butter of many ski businesses, also cost less. Still, connected resorts owned by a single parent company are able to add value. Vail can offer access to a variety of resorts around the country for a slightly higher price. But many smaller resorts in the Tahoe area have co-opted partnerships for themselves.
"They've formed these alliances," Berry says. "If you buy a certain type of season pass, you can enjoy the benefit of skiing or boarding at a number of ski areas. At the end of the day, you probably go most to your home resort. But it gives people incentive."
Cohee notes that ski resorts are targeting customers on a socioeconomic scale, similarly to car companies. A person driving a Toyota isn't going to go out and buy a Ferrari, he says. But having a variety of options is good for the entire market.
"One of the big things about what the big resorts are doing is it benefits the region as a whole," says Mt. Rose's Pierce. "On the destination front, it puts a lot of eyeballs on us. When we're in the periphery, it helps us as well. We benefit from having good neighbors that are proactive."
---
Dylan Silver is a South Lake Tahoe–based writer and photographer.