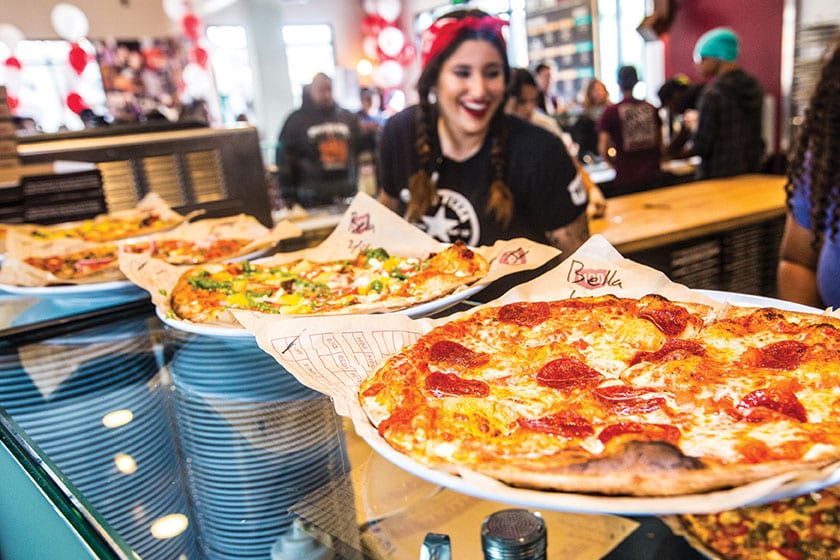 MOD Pizza, courtesy photo
30 Nov

New Spots
NORTH SHORE

SUKO YAMA SUSHI
1850 Village South Rd. #52
Olympic Valley, CA
(530) 584-0110
www.squawalpine.com
Vanessa and Richard Fielder, who own Tahoe City Sushi, took over the space vacated by Mamasake in the Village at Squaw Valley. In addition to rolls like Solomon's Tsunami—spicy tuna and shrimp tempura wrapped with salmon and a mustard sauce drizzle—look for seafood-focused items like katsu scallops, baked green lip mussels, tempura soft shell crab, udon noodles, teriyaki baked salmon, and even fish and chips. L, D; $14.99–$28.99
South Shore

TAHOE HOT POT
177 U.S. Hwy 50  |  Stateline, NV
(775) 586-8883
Bangkok native Chirawat Mekrakseree opened this shabu-shabu spot next to My Thai and Noodle, which he owns along with My Thai Cuisine at the Y. Diners choose two broths from a list that includes tom yum, miso, vegetable or a pork bone broth with Thai herbs he calls Tahoe Soup. Veggies, thinly sliced beef, chicken, pork, seafood, udon noodles and tofu are cooked in the hot pot, and enjoyed with sweet and spicy dipping sauces. L, D; $16.99–$30.99

CREATIVE CREPES
4118 Lake Tahoe Blvd.
South Lake Tahoe, CA
(530) 600-3700
This second-story spot above Stateline Brewery turns out some 25 varieties of crepes including egg-based selections to start the day, followed by choices like chicken Florentine, turkey pesto and Reuben. The Dog Pile is made with peanut butter, chocolate and banana, and the S'mores employs chocolate, marshmallow and graham crackers. Crepes are served in a cardboard cone for ease of consumption. There's also craft beer on tap, and locals get 10 percent off. B, L; $7–$13
RENO

FINBOMB SUSHI BURRITO
& POKE BAR
681 South Virginia St.  |  Reno, NV
(775) 391-0621 |  www.finbombsushi.com
This Midtown counter-service spot in a former tattoo parlor is the latest to roll with the sushi burrito mashup. You can go with one of the signature selections such as the Hook Up with shrimp tempura, spicy tuna, surimi crab, cucumber, guacamole, wonton strips, sweet chipotle mayo and unagi sauce, or build your own. There are also DIY poke bowls, while chicken and steak are on the menu for non-piscatorial peeps. Online ordering is available. L, D; $5.95–$11.95

ARARIO
777 South Center St.  |  Reno, NV
(775) 870-8202
www.facebook.com/arariomidtown
The owners of Soul from Seoul food truck opened this Midtown Korean fusion restaurant in the second-story space where Bukko had its short run. The name translates as "great heavenly energy," and the lengthy menu features umami-rich standards like short rib galbi, beef, pork and chicken bulgogi, seafood pancakes and broth-based bowls, along with mashups like kimchee risotto topped with mozzarella, ground beef and green onion. L, D; $12–$28

MOD PIZZA
4945 South Virginia St.  |  Reno, NV
(775) 826-0232  |  www.modpizza.com
Located in the Redfield Promenade–Firecreek Crossing shopping center in the former Brugo's Pizza space, this counter-service spot tosses individual artisan pies with a choice of more than 30 toppings from artichokes to spicy Italian sausage and finished with drizzles like fig balsamic glaze. Pizzas are all one price: Go with one of the classics, or create your own pizza or salad using the same ingredients. L, D; $5.47–$11.47

SUSHI MAKI
550 West Plumb Ln.  |  Reno, NV
(775) 384-1690
The pillared storefront that was formerly Napa Sonoma is now a seafood spot rolling maki like the Lobster Shrimp made with grilled lobster, tempura asparagus, ebi and avocado. Menu items also include tempura soft shell crab, poke nachos, grilled salmon salad, bento boxes and sushi tacos—grilled mahi shrimp or tuna on corn tortillas. Try the green tea cheesecake for dessert. L, D; $18.95–$24.95 (all you can eat).

LONGBOARDS PIZZA
440 East Golden Valley Rd.  |  Reno, NV
(775) 507-4589
www.longboardspizza.com
Four Reno friends opened this surfer-themed pizzeria in the North Valleys featuring wood-fired oven pies like the Shark Attack layered with barbecue sauce, mozzarella, pepperoni, Italian sausage, salami and jalapeños, and the Woody made with ranch, mozzarella, grilled chicken, artichokes, bacon and red onion. The signature Longboard is three individual pizzas on one 24-inch crust. There are also build-your-own salads, garlic knots, meatballs and ribs. L, D; $5.95–$24.95

JUST RAVIOLI
1655 Robb Dr.  |  Reno, NV
(775) 507-4200
www.justraviolireno.com
Located in the now subdivided second Hummus Fresh spot, this counter-service eatery serves over 20 different types of ravioli and nine different sauces to enjoy in house or at home. Pasta is stuffed with ingredients like porcini mushrooms, butternut squash (vegan), mac and cheese, a bacon leek and potato combo, eggplant, sundried tomato and goat cheese. For dessert, try the fried chocolate ravioli with whipped cream and caramel drizzle. D; $10.99–$13.99

URBAN MARKET
303 West Third St.  |  Reno, NV
(775) 302-3555  |  www.umreno.com
Denise and Dale Barcomb opened this market on the street level of the new 3rd Street Flats, providing a convenient grocery store for downtown denizens to shop for and enjoy local and regional products. Find prepared foods including goodies from Gino the Soup Man, Doughboys Donuts, Rounds Bakery and House of Bread, as well as a coffee bar serving Reno's Old World brews. Well stocked with wine and a walk-in beer fridge, a portion of proceeds benefits a monthly rotating local charity. B, L, D

SPROUTS FARMERS MARKET
587 South Meadows Pkwy  |  Reno, NV
(775) 335-1055  |  www.sprouts.com
This grocery chain specializing in organic and natural foods features a deli with a wide range of inspired dips and spreads, salads, premium meats and more than 500 artisan and specialty cheeses. Sandwiches, sushi, baked goods, prepared foods, a salad and olive bar, a line of microwaveable meals, plus a juice bar including a line of private label kombucha, can be enjoyed in the Recharge-Relax room, where there's free wi-fi and phone charging outlets. A second location is slated for Sparks Galleria. B, L, D