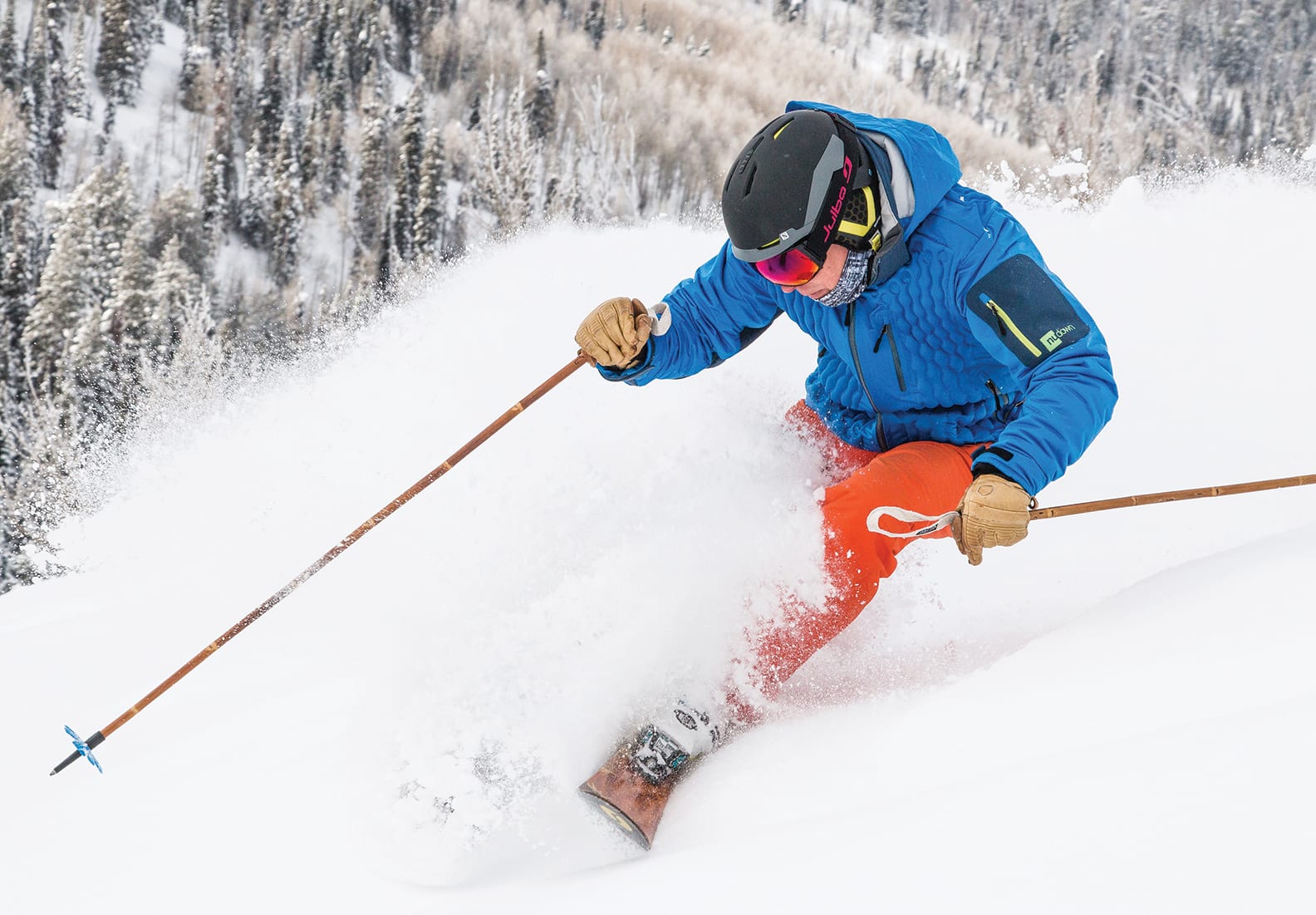 A men's NuDown jacket in action, photo courtesy NuDown
02 Dec

Farewell, Feathers
NuDown's technology can transform a jacket from breathable shell to insulated puffy—all with a few pumps of air
Jeff Pickett credits his friend Franz Weber, the former world champion speed skier, for the advice that spawned his latest business venture. Now, after years of tinkering, testing and designing, Pickett is convinced that his Reno-Tahoe-based NuDown jackets and vests are fit to compete with the behemoths of the outdoor apparel industry.
"Once you've worn a NuDown jacket you can't go back. It's the lightest jacket in the world for its warmth," says Pickett, citing studies performed at the Institute for Environmental Research at Kansas State University. "It took about four years to hit all of our goals and develop this technology. We were building something totally new, something totally disruptive to the industry."
Rather than using goose down like most high-end jackets, NuDown's game-changing ingredient is air, says Pickett—more specifically, compressed air delivered by a pocket-size hand pump, which can be regulated by a release valve for varying levels of insulation. The more air, the warmer the jacket. The feature allows users to ditch the multiple layers typically worn under jackets and instead wear just one thin base layer.
"The NuDown jackets are all you need on just about any given ski resort or heli-ski day. It has more range than any other jacket on the market," says professional big mountain skier and aerial sports athlete JT Holmes of Squaw Valley, who tests and promotes the jackets.

JT Holmes speedrides in British Columbia wearing his NuDown jacket, photo by Blake Jorgenson/Red Bull Content Pool
While Pickett did not invent the technology behind NuDown, he was savvy enough to recognize its potential. Pickett was an early investor in Klymit, a Utah-based company that developed the technology to conveniently pump air with one hand into gear such as backpacks and sleeping bags. The company also had a small line of outdoor apparel, including a vest that Pickett was partial to wearing in chilly weather.
"These vests weren't much to look at, but they made it so I could be outdoors in the cold for longer, and my wife could run all throughout the year with just the vest on," says Pickett, 42, who moved his family of six from the Silicon Valley to Reno in 2011.
It was this vest that prompted the advice from Weber, who founded a sports management and consulting company in Reno after retiring from competitive skiing.
"I gave one to Franz and he said, 'This is probably the best technology in ski clothing I've seen. You have to buy this company.' And so I did. I purchased the technology from Klymit in 2013," says Pickett. "As an investor there, it was a friendly deal, and basically the rights were that we would be able to have this technology for all apparel, and they'd be able to use the technology just for gear."
Although forms of such air-assisted products exist elsewhere, most require lung power, which Pickett says creates "wet air" full of bacteria that disintegrates the inner material over time. NuDown's adjustable dry air technology, patented under the name NuTech, is the superior air delivery system, Pickett says.
Combined with its high-tech ultralight and water-repelling materials, Pickett likes to say that NuDown is a technology company first, which, given his background, perhaps excites him most.
After graduating from Brigham Young University in 2000, Pickett began working with tech companies as a certified public accountant at Ernst & Young in Palo Alto—one of the so-called "Big Four" accounting firms in the world. He then started his own firm called Connor Group in 2006.
Under Pickett's leadership, Connor Group has developed into a global powerhouse providing technical accounting, financial operations and initial public offering (IPO) services to clients across six continents. To name a few: Tesla, GoPro, Spotify, Fitbit, Uber and Snap Inc.
"That's my real day job," Pickett says of overseeing the firm, which has grown to over 200 employees and earns about $80 million in revenue annually.
To the contrary, NuDown has a team of five plus a couple of outside vendors. But it's a lineup of all-stars, says Pickett, who was determined to recruit the foremost experts in the field.
He started by pulling Bob Hall, a 40-year veteran of the ski and outdoor sports industries, out of retirement to become NuDown's chief executive officer (CEO).
"Before I bought NuDown I said, 'I'm going to need a CEO, and someone who's a veteran,'" says Pickett. "And Bob is awesome. He's someone who not only loves the outdoors, he's one of the most experienced executives in the outdoor industry. He's also been a huge mentor to me."
Hall, whose career highlights include CEO stints with Salomon, Vuarnet and Ride Snowboards, among other companies, required some convincing but ultimately agreed to help carry out Pickett's vision.
"It took some arm twisting, but I knew that Jeff would do it right," says Hall. "He's patient. He's not doing it because he needs the money. He's doing it because he needs the challenge."
Behind Hall's recommendation, NuDown contracted with two elite outdoor apparel designers formerly with industry giant Patagonia. Julie Ringler was president of the company's design and development department, while Kimi Davies-Rice was her top designer.
"With Jeff's mandate of 'Go find the best,' Julie and Kimi were certainly the best I knew of," says Hall. "They are hugely talented people. They were fascinated by the technology and have really been integral partners."
Holmes was the next professional to join the NuDown team. After a serendipitous reacquaintance (Holmes was childhood friends with Pickett's brother in the Silicon Valley), Pickett asked Holmes if he wanted to be involved with his company. He now leans on Holmes for input and feedback as NuDown's "chief extreme user," as Pickett jokes.
"I thought it sounded cool. He and NuDown were zigging where the rest of the outdoor apparel industry was zagging," says Holmes. "I have a lot of respect for that, and both Jeff and Bob are extremely smart and very experienced businessmen. They are humble enough to recognize what they don't know and have the resources to surround themselves with the people that excel in the areas that they do not."
Pickett says instead of going all in on selling the product after he bought NuDown, the company spent the first few years focused on achieving three key goals. The first was perfecting the technology, which involved a state-of-the-art process of welding the fabric as opposed to sewing. The second was securing legal protection with patents. And the third was creating a fashionable and functional design.
Having checked all three boxes about a year ago—while selling a select number of jackets in two small runs—Pickett says the company is finally ready to challenge the established powers in the industry. "What we're selling now is the perfected product," he says.
Part of NuDown's strategy is to sell directly to the consumer via its website, which helps keep the cost down. Another is to keep its line of apparel small, with just three men's and three women's models in various sizes and colors. They include the Diamond Peak Ski Parka, which is the warmest and highest-end of the bunch, as well as the Lake Tahoe Jacket and the Echo Lake Vest.
"We wanted to reflect that this is a Reno-Tahoe-born company. That's why the jackets are all named after local places," Pickett says, adding that original models included the Squaw and Tallac jackets. NuDown also has plans for a JT Holmes model.
"We chose Reno-Tahoe as the place to build the brand, so those who live and vacation in Tahoe, this will be their product. And I believe honestly that we pulled the best team in the world together to do this."