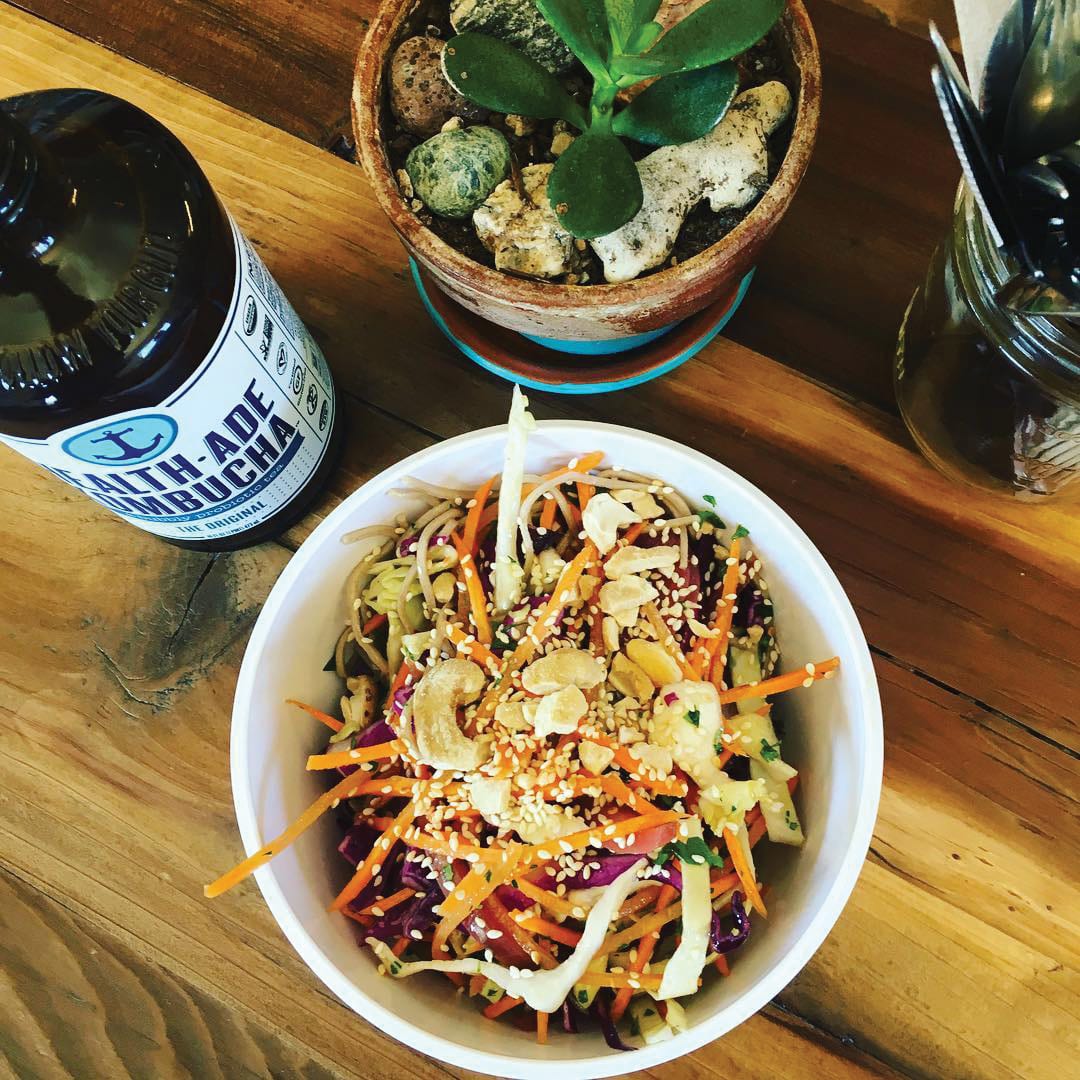 Bowl from The Station, A Truckee Eatery, courtesy photo
02 Dec

New Spots
North Shore
THE STATION, A
TRUCKEE EATERY
10130 West River Rd.
Truckee, CA
(530) 563-5285
The little yellow Union Pacific Railroad building in Old Town formerly Diego's is now serving a seasonal healthy menu under the auspices of Dragonfly vet Danny McCabe. Signature sandwiches such as the Mediterranean tuna melt, seared tri-tip with roasted poblanos and spicy grilled chicken are served on torta or gluten-free bread. Bowls and wraps include the Booyah with stir-fried quinoa, roasted beets, cashew cream, carrots, pickled onions, avocado, greens and balsamic glaze. There's also a falafel option with turmeric millet, tzatziki, cilantro tahini slaw and mint, and the Truckee with Spanish rice, black-eyed peas, roasted corn and roasted peppers. Sides include Buffalo cauliflower and Mexican street corn, and to drink, nitro cold brew, kombucha, beer and wine. L, D; $10-$13
THE GRILLE AT
SAWTOOTH RIDGE
5001 Northstar Dr.
Truckee, CA
(530) 562-2188
Channeling some of the former Mikuni space it occupies at Northstar Village, this full-service spot opened by the folks from nearby Copper Lane Provisions serves a selection of California- and Hawaii-inspired dishes accompanied by an extensive wine list and craft cocktails. Look for items like Drunken Pickles brined in Icky IPA then battered in Kona Big Wave beer batter, fried and served with housemade ranch. Pick a create-your-own poke or the beefy Carnivore burger topped with Kalua pork, bacon, onion rings and barbecue sauce. Other menu items include rib-eye steak, pan-seared salmon with a hoisin lemon glaze, macadamia lime-crusted mahi mahi, blackened ahi tuna and seafood linguine with a zucchini noodle option. L (weekends), D; $15-$45
LOS ARCOS MEXICAN GRILL
3001 Northstar Dr.
Truckee, CA
(530) 386-3171
Located in the former Big Wave Burrito space, this modern family-run eatery has its origins in Jalisco, Mexico. With warm wood flooring and outdoor seating in season, the brief menu designed to get folks back on the slopes includes tortilla and albondigas soups, tostada salad and chimichangas. There's fajitas and chile relleno prepared burrito or bowl style, plus tacos, enchiladas and Jarritos sodas. For something sweet, try the flan, churros or Mexican fried ice cream. L, D; $8.50-$10.75
Inclined Burgers
and Brews
901 Tahoe Blvd.
Incline Village, NV
(775) 298-7909
Taking over the smallish space across from T's Rotisserie that was most recently Barjay's Diner, this simple counter service burger joint is co-owned by Mitch Penning, a veteran of Ritz-Carlton, Lake Tahoe and Leilani's in Maui, Sunnyside's sister restaurant. Single or double grilled beef patties (veggie option is the Impossible Burger) come with cheese, lettuce, tomato, grilled onions and special Thousand Island style sauce with add-on options like bacon, egg and avocado There's a simple tossed salad, garlic and regular fries, beer and wine along with outdoor seating in season and online ordering. L, D; $6.75-$9.75
FUMO WOOD FIRED EATERY
120 Country Club Dr #61
Incline Village, NV
(775) 833-2200
Located in the old Tomaato's space, this spot brought to you by the folks who own neighboring Austin's uses a wood-fired oven to make many of its dishes. Breakfast into lunch-hour items include a charred rib eye with bearnaise sauce, Benedicts, cheddar cheese biscuits and gravy, and croissant French toast with barrel-aged maple syrup with java from IV Coffee Lab. Evening brings starters such as roasted bone marrow with onion and bacon marmalade and blistered street corn with buttermilk crema, and entreés like cioppino, wild shrimp scampi, roasted chicken and buccatini bolognese. Pizza lives on here and, of course, Austin's house-made pie. B, BR, D; $15-$23
South Shore
JOASIS
31 U.S. Hwy 50
Stateline, NV
(775) 339-1987
www.facebook.com/joasistahoe
Joe Castro's little healthy-eats oasis on the casino corridor tucked between Harrah's and Montbleu offers Brazilian-inspired acai bowls with berries, dates, beets, spinach, banana, apple juice and almond milk, blended to soft serve consistency and topped with locally made granola. The menu includes egg sandwiches served between warm vegan waffles layered with Havarti or vegan cheese; the vegan Sloppy Joe uses a lentil base, and there's also avocado toast. For drinks, try the muddy chai or the Brain Booster blended coffee with MCT oil, coconut oil, cacao butter and almond milk. B,L,D; $5-$14
CHICKEN IN A BARREL
2100 Lake Tahoe Blvd.
South Lake Tahoe, CA
Mark Hudson and Don Havard traveled to Hawaii to learn the secrets of this 35-year-old family business from owner Mike Pierce and now smoke and barbecue chicken in custom-made 50-gallon barrels—Hawaiian style (three of the other locations are on Kauai). The super casual counter service spot in a 1950s-era drive-in also offers baby back ribs, pulled beef and pork, all served with brown rice and chili beans. Also available are tacos and burritos, with mahi mahi options for pescatarians, plus grass-fed beef burgers and sides such as chili cheese fries and cornbread. L,D; $6.99-$33.50
CRAZY GOOD BAKERY & CAFE
2040 Dunlap Dr.
South Lake Tahoe, CA
(530) 600-1771
After many years of baking custom cakes and selling her goods at local farmers markets, longtime baker Christine Anderson-Smith has opened a storefront location at the Y in the space previously occupied by Moonhouse Brewhouse and Grass Roots Natural Foods. Find her full range of gourmet small-batch doughnuts, scones, bagels, seasonal pies, cookies, cupcakes, cinnamon rolls, muffins, croissants, biscuits, bread pudding, loaf cakes, quiches and frittatas, along with cakes to order. Enjoy with a coffee drink or house-made chai in the country kitchen-style cafe or box it to go. B, L
FRESCANA MEXICAN BISTRO
3141 U.S. Highway 50
South Lake Tahoe, CA
(530) 577-5304
Longtime locals Tim and Kristi Cain, who also own Freel Perk Coffee Shop in Meyers, took over the space next door vacated by Verde Mexican Rotisserie. Here, chef Jeremy Sherman oversees a wide-ranging menu that starts with nearly a dozen breakfast items from chilaquiles to loaded cinnamon French toast. Later in the day, look for fajitas, tacos, burritos, salads, veggie bowls, soups and specialties like almond-tortilla crusted Mexican sea bass and a blackened ahi tostada, plus a dedicated vegan menu. B,L,D; $10-$20
Reno
MONACIELLO
190 California Ave.
Reno, NV
(775) 507-7540
Taking up residence in the old Blue Moon Pizza space in the heart of Midtown, chef Jacob Gordon (Tuscan Tomato, Grill at Quail Corners) dishes out a breakfast menu boasting tasty Benedicts such as smoked salmon, spicy prawn and crab, as well as strawberry and brie-stuffed French toast, crepes and frittatas. Later in the day, look for over a dozen innovative wood-fired pizzas, burgers and salads and plates like pork belly with peach habanero jelly, bacon butter and pickled shallots, a smoked salmon spaetzle with dill, shallots and peppers in ancho chili cream and spinach, and artichoke-filled agnolotti with caramelized onions, sweet peppers and corn. B,BR, L,D; $13-$27
BRAUHAUS 701
713 S Virginia Street
Reno, NV
(775) 384-6756
Hoist a frothy stein at this exposed brick, beer hall-themed spot in the former Good Luck Macbeth theater in St. Lawrence Commons where 15 German options on tap await. Chef Jim Dallen's menu includes freshly baked pretzels with mustard or cheese sauce, duck fat fries, potato salad, bratwurst and charcuterie boards. Non-meat eaters will find a couple of green salads, mac and cheese, falafel tacos and hummus, plus cheese and pickle boards. Of course, there's German chocolate cake for dessert. L, D; $8-$26
THE KITCHEN BY GREATFULL GARDENS
5220 Longley Ln.
Reno, NV
(775) 384-6420
Juli and Gino, aka the Soup Man, Scala opened their fourth location as a base for their catering operations. The small space in the Longley Town Centre focuses on healthy grab-and-go items including their popular turkey pesto sandwich, wraps such as the smoked salmon roll-up with wasabi dressing, daily specials such as eggplant parm, lasagne, chicken fajitas, shepherds pie and hot soups, plus an organic salad bar and many vegan options. L
PINE STATE BISCUITS
200 South Center St. 
Reno, NV
(775) 432-2464
The first outpost beyond its four stores in Portland, Oregon, this industrial chic biscuit haven is on the ground floor of the South Center Street Lofts, its entrance on, ironically, Pine Street. Started by a trio of North Carolina natives homesick for Southern comfort food, the menu features all manner of biscuit sandwiches stacked with fried chicken, smoked brisket, pulled pork, eggs and, yes, gravy. There's even a veggie option made with vegan sausage, tofu bacon and shitake mushroom gravy. Also on the menu are chicken pot pie, blueberry cornmeal pancakes, shrimp and grits, corn dogs (veggie version avail), sweets like biscuit beignets and a fun list of bourbon-based cocktails. B, L; $6-$12
WILD GARLIC PIZZA & PUB
720 South Meadows Pkwy 
Reno, NV
(775) 284-8900
At the corner of South Meadows and Double R, this is the fourth location for this Reno outfit's braided-crust pizzas. Find familiar apps like oven-baked wings and pesto-stuffed dough knots, panini and signature pies such as the Californian with Al's tomato sauce, spicy garlic Buffalo mozzarella, chicken, corn, pineapple or Platos with hummus, sun-dried tomatoes, mozzarella, Kalamata olives, red onions, artichoke hearts and feta. There's pizza by the slice, as well as eight beers and four wines on tap. Outdoor seating and online ordering are also available L,D; $7.95-$27.45
BABA'S EATS & ALES
6148 Mae Anne Ave.
Reno, NV
(775) 470-820
Located in Northwest Reno in the former Pearce's Pub space, this remodeled spot still sports plenty of screens and a dozen taps but now offers a menu featuring starters such as Brussels sprouts roasted in garlic and olive oil then flash fried and served with sambal oelek aioli and lemon. Also available are locally sourced Italian sausage grilled and tossed in wildflower honey, served with grain ale mustard, along with salads, burgers and items like three-cheese chicken mac, a smothered pork chop, and beer-battered fish and chips. For dessert, try the Japanese O-Cha Cake—a delicate green tea cake topped with whipped cream and shaved milk chocolate. L, D; $9.99-$17.99
CIELITO LINDO RENO'S MEXICAN RESTAURANT
3687 Kings Row 
Reno, NV
(775) 800-1354
Located in the old High Point Cafe in Northwest Reno near Blind Onion Pizza and named after the mariachi-made famous Mexican song ("ay, ay, ay, ay"), find here authentic recipes from Michoacán. Breakfast includes chilaquiles and plenty of egg dishes including huevos divorciados—fried and topped with both green and red sauces. Other menu items include tacos, fajitas, enchiladas, burritos, pozole (pork and hominy), birria (goat stew), menudo (tripe) and caldo de res (beef soup), here dubbed "hangover soup." Wash it all down with micheladas, Jarritos and agua fresca. B,L.D; $9.99-$16.99
HOUSE OF MEXICA
3600 Warren Way
Reno, NV
(775) 384-1690
Situated in the former Sushi Maki space near Z Pizza, this modern eatery serves up vegan and vegetarian version of familiar fast food favorite sandwiches, burgers, burritos and tacos. Textured vegetable protein (TVP) stands in for for carne asada, chicken and burgers, along with the option to upgrade to the much-hyped meatlike Impossible Burger. The menu's Return of the Mac even features a house made Thousand Island substitute special sauce layered in with the lettuce, vegan cheese, pickles and onions on a sesame seed bun. L, D; $9.99-$13.99
Krem
115 East Moana Ln.
Reno, NV
(775) 685-8695
Located near Asian Mart at South Virginia Street, this stylish dessert spot takes a new twist on the traditional ice cream cone route, swirling soft-serve in Asian flavors like matcha, black sesame, ube (sweet purple yam) along with chocolate and vanilla. The cone is replaced with cake and it's all layered with a choice of four sauces, including red bean, condensed milk and ganache. Pick one of their curated cones or customize your own. Savory pies topped with puff pastry are available by pre-order: char siu Chinese barbecue pork, chicken curry and beef stew. L, D; $6.80
CANTINA LOS TRES
HOMBRES
1180 Scheels Dr.
Sparks, NV
(775) 451-7667
Occupying the old Jazz Louisiana Kitchen space in the Outlets at Legends, this is the second spot for this local Mexican favorite on Victorian Avenue. Specialties include selections off the mesquite grill—tacos, carne asada and chicken, plus enchiladas Suizas, huevos rancheros, chile verde and colorado, and burrito bowls. Tuesday is all-you-can-eat tacos; there's live music and a patio open in season. L, D; $7.99-$16.99