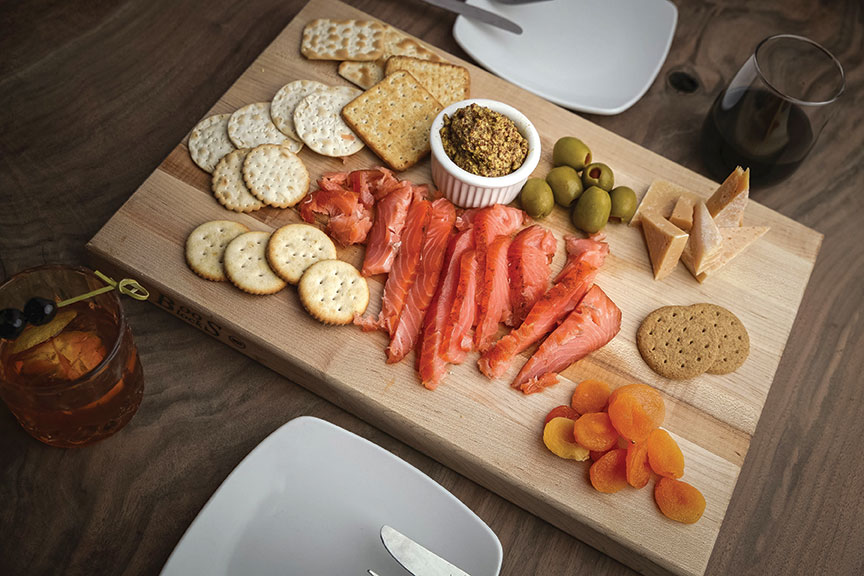 Smoked salmon dish from Tahoe Cocktail Corner, photo by Brian Walker
01 Dec

New Spots

Editor's note: Information was accurate at the time of this writing, but check directly with establishments due to constantly changing COVID-19 conditions.
North Shore
GREAT GOLD
11025 Pioneer Trail, Suite 100 | Truckee, CA | (415) 829-7814 | greatgoldtahoe.com
David Steele, founder and partner of the noted Ne Timeas Restaurant Group in the Bay Area, has relocated his San Francisco restaurant, Great Gold, to the Pioneer Center. Chef and business partner Brandon Kirksey's farm-to-table modern take on traditional Italian cuisine includes pastas made in house daily, Roman-style pizza from the 1,000-degree Marra Forni oven, smoked meats and grilled seasonal vegetables; the wine list is devoted to Italian varietals. Outdoors, the restaurant features a bocce ball court and a covered patio with seating for 30 people. D; $15–$30
BURRO BURRO
868 Tahoe Blvd. Suite 5 | Incline Village, NV | (775) 413-5024 | burroburro.net
Brought to you by Rick Boyd, owner of the recently shuttered Brewforia, this Tex-Mex-inspired spot in the Christmas Tree Village shopping center boasts burritos stuffed with chile verde, chicken tinga, beef chili Colorado and verde, sweet braised pork and a Hawaiian-style ahi tuna option. Also on the menu: tacos, tortas and enchiladas filled with smoked beef brisket and fried snapper, as well as chicken mole, grilled hanger steak and adobo braised lamb shank. To start, try the tableside prepped Caesar, guacamole and salsas, spicy crab with chili butter and lime or jumbo shrimp with chimichurri. Drinks include south-of-the-border-inspired cocktails and beer to go.
L, D; $5–$22
DONNER CREEK BREWING
11448 Deerfield Dr. | Truckee, CA | (530) 414-9923 | donnercreekbrewing-brewpub.business.site
Longtime locals and husband-and-wife team Greg Speicher and Wendy Lautner launched this family-friendly spot in the former Truckee Bagel space. Speicher, who has a PhD in pharmacy, draws on his chemistry background to brew beers like his latest pale ale produced from locally foraged hops. To go with the craft beers, cider and hard seltzers, the brewery offers gourmet grilled cheese sandwiches off the panini press: The Jalapopper piles pickled jalapeños, habaneros, pepper jack and cream cheeses, and bacon on sourdough, while the BBB includes blackberry preserves, basil, bacon and baby Swiss on multigrain. Outdoor seating is available, weather permitting. D; $9–$13.50
South Shore
TAHOE TAVERN & GRILL
219 Kingsbury Grade | Stateline, NV | (775) 580-6226 | tahoetavernandgrill.com
Owners David and Wendy Theroux and Edgewood alum executive chef Jason Winslow offer an extensive menu of brick-oven-fired pizzas and flatbreads, sandwiches like the smoked brisket dip with cabernet glazed onions and peppercorn au jus, and more sophisticated plates such as steak frites, roasted red pepper–encrusted halibut and gumbo fettucini. The weekend brunch brings the Resurrection—a half-pound burger, applewood bacon, fried egg, hash browns and cheddar cheese topped with a Bloody Mary garnish on a brioche bun. Food and drink specials and large screen TVs have you covered for game day. BR, L, D; $12–$29
TAHOE COCKTAIL CORNER
2042 Lake Tahoe Blvd.  |  South Lake Tahoe, CA | (530) 600-2751  |  tahoecocktailcorner.com
Located at the "Y" Crossing at Tahoe Valley, this sister restaurant to neighboring Lake Tahoe AleWorx—with shared patio space and options to order from either eatery—specializes in clever craft cocktails but also offers an extensive lineup of food courtesy of chef Spencer Bender, a recent grad of the Culinary Institute of America in Napa. The restaurant serves Southwest-style smoked salmon along with portobello or bison slider platters, as well as beet carpaccio, smoked duck breast, ahi poke and smoked trout mousse. Brunch brings gourmet toasts topped with poached eggs and sauteed spinach or fig jam, mascarpone and hazelnut honey. BR, L, D; $12–$25
CUPPA TAHOE
2054 Lake Tahoe Blvd.  |  South Lake Tahoe, CA | (530) 600-0433  |  cuppatahoe.com
Located in the same shopping center as the Cocktail Corner, this multi-use space founded by Dutch native and South Lake Tahoe resident Sandra Santane offers coffee brewed from local Refuge beans, tea from organic Art of Tea and a rotating menu of small bites from the Cake Lady Tahoe. Also enjoy the well-stocked bookstore, casual co-working space and private conference rooms; a water feature by Alpine Metal and enormous living plant wall make for a peaceful place to linger a little longer. B, L, D
CUTTHROAT BREWING COMPANY
14830 Highway 89  |  Markleeville, CA | (530) 694-2475 | cutthroat-brewing-company.business.site
Rachel and Colin Radach bought the Wolf Creek Restaurant & Bar and converted the historic building where Rachel once worked into a rustic family-friendly nano brewery and eatery, named for a 1970s-era raucous saloon it once housed. A general contractor and volunteer firefighter, Colin did much of the renovation, including the bar top constructed from the original 1862 flooring and handmade square nails. The dozen taps feature their beers along with other local brews; chef Cameron Johnson, veteran of Mark Estee's Overland Restaurant & Pub in Gardnerville, manages a menu with sizzling chicharrones, pulled bacon wedge salad, beer brats and cheese fries, IPA elk chili, plus a long list of pizzas and burgers. Dog-friendly patio included, weather permitting. L, D; $14–$17
Carson City
BOWLS 'N GO
963 Topsy Ln.  |  Reno, NV | (775) 267-0005 | bowlsngo.business.site
This clean, modern counter-service spot in the midst of shopping center chain eateries specializes in bowls of Japanese ramen and Korean bibimbap. There are five noodle soup options, including vegetarian, with a selection of traditional toppings such as pork belly, egg, bean sprout, wood ear mushroom, fish cake, green onion and corn. The bibimbap rice bowl with beef, chicken, pork bulgogi or fried tofu gets topped with bean sprouts, zucchini, carrots and Korean radish. Also on the menu are starters such as Korean chicken wings, karaage (Japanese fried chicken), takoyaki (aka battered octopus bites) and fried tofu. L, D; $11.95–$12.95
Reno
FERINO DISTILLERY
541 East Fourth St.  |  Reno, NV
(775) 433-2033
www.ferinodistillery.com
Nevada native master distiller Joe Cannella plies his trade in Italian spirits at this modern industrial space in the heart of the Brewery District formerly occupied by the Reno Bike Project. At the 48-foot birch bar, cinnamon cordial, amaro and fernet are available for tasting along with cocktails such as the five-spice old fashioned and house negroni (a portion of proceeds going to the Holland Project, Reno's youth music and arts initiative). Retail bottles, ready-to-drink beverages, cocktail kits, hand sanitizer and packaged upmarket snacks like Iberico chorizo and Provençal olives are also available. Reservations required.
BLACK ROCK DESSERT
100 California Ave.  |  Reno, NV
(775) 420-5570  |  www.blackrockdesserts.com
Jeremy Demarzon, owner of Icecycle Creamery and Pedalers Deli, launched this sleek, modern cafe that plays on all things Burning Man, playa and dessert. Locally made Icycle ice cream standards that find their way into scoops, shakes and sundaes include Reno 911 (made with cold-brew coffee and doughnuts from Holey Schmidt Donuts), Passion of the Goat (goat cheese base with a passion fruit swirl), Home Means Nevada with sage and pine nuts, and AppleJack Cereal Milk. Other happy endings here include panna cotta, stuffed cannoli and mousse, as well as seasonal specials such as caramel apple crumb cheesecake. L, D; $3–$10
PROST BIERGARTEN
180 West Peckham Ln.  |  Reno, NV
(775) 409-4142  |  www.prostnv.com
Thomas Wetzstein, whose German-born father was general manager of Incline Village's Diamond Peak in its early years, rolled out this Bavarian-themed beer hall and garden where outfitted waitstaff serve a rotating list of German brews by the bottle and on tap and a handful of cocktails crafted with a Teutonic twist. Soft salted giant pretzels from Rounds Bakery get a side of beer cheese for dipping, while smoked bratwursts are stuffed with caramelized onions; other manner of sausages are topped with sauerkraut, mustard, curried ketchup, bacon jam and truffled salt. There's oompah music, of course, along with a roll-up door to an outdoor patio. L, D; $6–9
THE FLAVOR STUDIO
5303 Louie Ln., Suite 1
Reno, NV
(775) 525-5898
www.theflavorstudio.com
This collaboration among chef Laurel Pine, wine and spirits guy Mark Anderson and cheese maven Laura Conrow, previously of Wedge, originally opened as a venue for regularly scheduled themed food and drink evenings. Pivoting in the COVID pandemic, they shifted to a pre-ordered meals-to-go paired with wine format, with offerings from seared ahi tuna and portabella mushrooms, spinach, pinot noir sauce and foie gras arancini to lamb meatballs with warm yogurt sauce, swiss chard and pomegranate. There's also cheese and charcuterie platters created with products often unavailable elsewhere in town. D
TWO CHICKS
5851 South Virginia St.
Reno, NV
(775) 323-0600
www.twochicksreno.com
Jessie Henderson and Haley Moseley, who also own GourMelt grilled cheese shop in Sparks, have replicated their successful Midtown breakfast-lunch eatery in the former Bangkok Cuisine space near Meadowood Mall. Breakfast faves include a clutch of egg dishes in skillets and omelettes, sourdough pancakes and apple cinnamon French toast, as well as a Caprese Benedict, breakfast burrito and biscuits and gravy. For lunch, the Buffalo chicken melt, harvest cobb salad with goat cheese and two chicks burger are popular. There's a long list of Bloodys, mimosas and fun cocktails. B, BR, L; $7.49–$16.99
399 SUSHI
6405 South Virginia St.
Reno, NV
(775) 686-9933
www.399sushi.com
Located near Blind Onion Pizza in the Crossing at Meadowood Square, this family-owned spot serves an à la carte and all-you-can-eat menu of sushi selections such as the crab, avocado, cucumber Nevada Crunch topped with crispy onions or the spicy Hopi with crab mix, lemon, salmon, yellowtail and jalapeños. There's also build-your-own poke bowls along with more unusual appetizers such as salmon skin salad, octopus salad, and salmon and yellowfin collar. Online ordering and delivery available. L, D; $3.99–$11.99
THE PARLOR
7689 South Virginia St.
Reno, NV
(775) 737-4018
www.theparlorreno.com
The folks from Flowing Tide Pub (who just launched their seventh location earlier this year) have taken over the former Hard Water House space in the South Reno Winner's Crossing shopping center. Open 24 hours, the day starts with breakfast items such as chicken and waffles, French toast sandwich and a house skillet, then moves on to poutine heaped with chicken tinga and jalapeño cheese sauce, salads, burgers, sandwiches and entrées like cabernet braised short ribs, pepper steak and White Marble Farms pork chop. There are some 18 beers on tap and a solid cocktail list, as well as big-screen televisions, gaming, a pool table and cigar bar. B, L, D; $11.95–$36.95
SUPERSTITIONS JAVA
440 East Golden Valley Rd. Suite G
Reno, NV
(775) 683-9331
Located in the same North Valleys shopping center as Long Boards Pizza, this supernatural-themed spot launched by Amber and Michael Howe serves a range of beverages with beans from local Wood-Fire Roasted Coffee Company, as well as teas. On the menu: peach pie chai, spicy Mexican mocha, cookie dough and lavender lattes, along with drinks dubbed Redrum, Grave Digger and Bermuda Triangle. To eat are three flavors of bagels, gluten-free "Clean Cheatz" donuts from Mother of Macros meal prep and avocado toast made with sourdough, arugula, red pepper flakes, parmesan and a squeeze of lime. Mobile ordering and curbside delivery available via the Jo app; look for a future location in South Lake Tahoe. B, L; $7–$11
MAMA CELESTE'S GASTROPUB & PIZZERIA
360 Los Altos Pkwy.
Sparks, NV
(775) 626-0200
www.mammaceleste.com
After losing his home and restaurant in the Camp Fire that destroyed Paradise, California, Jim Flanagan has remade both in (ironically) Sparks. Named for his grandmother and using family recipes from his native Chicago, this spot serves classic and red and white sauce specialty pizzas (including the Windy City's deep dish and cracker crust) from the wood-fired oven, which is also used to turn out apps like flatbread and quesadillas. The lengthy menu also includes Italian nachos—deep-fried lasagna leaves layered with alfredo, sausage, pepperoncinis, olives, tomatoes and mozzarella. There's also fish tacos, sliders, brats, salads, sandwiches, burgers and calzones. L, D; $9–$38