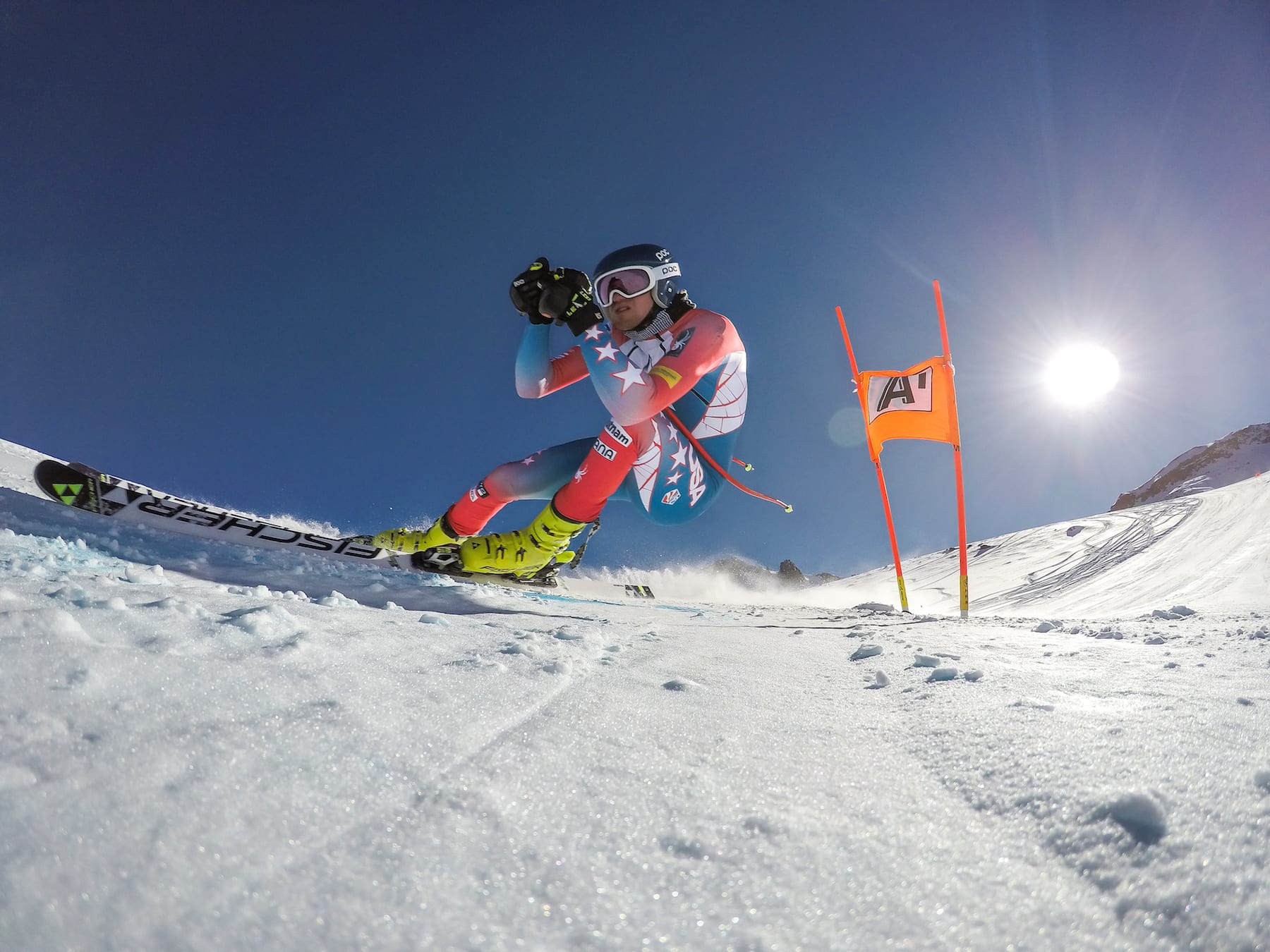 Bryce Bennett of Squaw Valley trains at a U.S. camp in Chile, photo by Neil Lande, courtesy USSA
01 Dec

Tahoe Olympians Set for XXIII Winter Games

Tahoe is a breeding ground for world-class winter athletes. Look no further than the sizable contingent of athletes with local ties who qualified to compete in the 2018 Winter Olympics. Topping a number of small countries, the Lake Tahoe region will be represented by 11 athletes across five disciplines when the 23rd edition of the Winter Games descends on South Korea. Here is a brief rundown on each:
Maddie Bowman
One of three defending gold medalists from Tahoe, Maddie Bowman grew up alpine ski racing on the slopes of Sierra-at-Tahoe before making the transition to freestyle as a teenager. She's been at the forefront of women's halfpipe skiing ever since. Now 23, Bowman landed in the spotlight at the 2012 Winter X Games when she was a senior at South Tahoe High School. She earned a silver medal that year in the halfpipe and followed with four consecutive X Games golds. She won gold in the inaugural Olympic halfpipe event in 2014 and enters the 2018 Winter Games fresh off another X Games gold last month, which she earned by landing back-to-back 900s. Read more about Bowman in this profile from TQ's Winter issue.

David Wise celebrates his gold medal in 2014, photo by Sarah Brunson, courtesy USSA
David Wise
Reno's David Wise has much in common with Bowman. Like his U.S. teammate from the South Shore, the 27-year-old grew up ski racing, first at Sky Tavern and then at Alpine Meadows. Also like Bowman, he gave up racing in exchange for halfpipe—and then went on to win gold in the discipline's Olympic debut. In 2009 Wise became the first halfpipe skier to ever pull off a double cork 1260. But his breakout season came in 2012, when he topped the field at the Winter X Games, Dew Tour and Grand Prix Finals. Two years later, he laid down a clean run in whiteout conditions in Sochi, Russia, to claim Olympic gold. After struggling through injuries in the ensuing seasons, Wise has regained his form this year. He enters his second Olympics healthy and on a tear, having won three of five qualifiers, including the X Games. He also holds the world record for highest air on a hip jump, at 46.5 feet, and is a married father of two. Learn more about Wise and his family in this profile from TQ's Winter issue.
Jamie Anderson flashes her signature smile at her home mountain of Sierra-at-Tahoe, photo by Brian Walker, courtesy Sierra-at-Tahoe
Jamie Anderson
Another South Lake Tahoe native and defending gold medalist, Jamie Anderson has dominated women's snowboard slopestyle since the age of 15, when she dethroned Shaun White as the youngest medalist in Winter X Games history. After starring in a two-year backcountry film project called Full Moon, Anderson is back to her old tricks in the terrain park. The 27-year-old Sierra-at-Tahoe rider enters the PyeongChang Winter Games on the heels of a fine season, including a gold-medal performance in the X Games. She also earned bronze in big air to boost her X Games medal count to 15. And with big air making its Olympic debut this year, Anderson has a chance to bring home two medals. Slopestyle is her bread and butter, however, and she's made a living flowing through parks with style, amplitude and a propensity for stomping tricks to her feet. Get a feel for Anderson's light-hearted personality in this Q&A from TQ's Winter issue.

BRITA SIGOURNEY TRAINS IN THE HALFPIPE AT PARK CITY IN 2016, photo courtesy USSA
Brita Sigourney
Brita Sigourney joins Bowman on the U.S. women's ski halfpipe team. A native of Carmel on California's central coast, the 27-year-old grew up training at Alpine Meadows and for years has been a threat to reach the podium in any given halfpipe competition. In fact, the three-time X Games medalist was the first woman to land a 1080 in competition. Now residing in Park City, Utah, Sigourney is a versatile talent, skiing moguls, aerials, halfpipe and slopestyle in her youth. She considers Olympic silver medalist Shannon Bahrke of Squaw Valley one of her biggest role models, and credits her coach, the late Clay Beck, with helping her develop her style. Sigourney finished sixth in her first Olympics four years ago and is coming off a silver-medal performance in the X Games last month. Check out what Sigourney had to say about the South Korea halfpipe in this Olympic preview.
Bryce Bennett
The tallest man on the World Cup circuit follows a long line of standout alpine ski racers from Squaw Valley. Like his predecessors, Bryce Bennet—who at 6 foot 7 earned the nickname "Big Man" from his U.S. teammates—learned his craft at a young age on the hallowed slopes of the 1960 Olympic venue. Bennett makes his Olympic debut at age 25 and in the midst of a solid season in which he placed ninth in the Wengen (Switzerland) combined last month and 11th in the Val Gardena (Italy) downhill in December. He has five career top-10 World Cup finishes, highlighted by a sixth-place downhill finish in Val Gardena in 2016. Bennett is a legitimate threat to land on the podium in any of his three disciplines (combined, downhill, super G) in the tightly packed men's alpine field. Read more about Bennett's ski racing rise in this feature from TQ's 2016 Ski & Ride issue. (Bennett would likely be joined by U.S. and Squaw Valley teammate Travis Ganong in PyeongChang had Ganong, who was fifth in his Olympic debut in Sochi, not suffered a season-ending knee injury.)
Stacey Cook in Lake Louise, photo by Roger Witney/Alpine Canada, courtesy USSA
Stacey Cook
A U.S. Ski Team veteran who's entering her fourth Winter Games, 33-year-old Truckee native Stacey Cook knows that this is her final shot at Olympic glory. The speed-event specialist will look to improve on her career-best 11th-place Olympic finish, which she achieved in the downhill in Vancouver in 2010. Cook has reached the podium three times in World Cup competition, all second-place finishes in the Lake Louise downhill. She's ranked 17th in the downhill this season, but certainly has the experience and talent to land on the podium. Cook enters the PyeongChang Olympics a little tender after crashing violently into the fence during the Garmisch (Germany) downhill on February 4. Although she'll compete in South Korea with a black eye and sore lower legs, Cook brushed off the incident on social media: "There's a weird kind of confidence you can take from doing an 80+ mph body slam in a wall followed by a face bashing into the ice."
Tim Jitloff
Although he now resides in Germany, Tim Jitloff is another Truckee native, having grown up in Tahoe Donner and graduating from Truckee High School in 2003. The 33-year-old learned to ski at Alpine Meadows and got into racing to show his older brothers that he could hang with them on the racecourse. He specializes in the technical events, mainly giant slalom, and will look to improve on his 15th-place finish in the GS in his 2014 Olympic debut (he was on the 2010 Olympic team but didn't get the chance to compete).
Mark Engel
Another technical specialist from Truckee, Mark Engel makes his Olympic debut after first joining the U.S. Ski Team in 2011. After two years on the U.S. team, the Sugar Bowl Academy product was hampered by back issues that kept him from making the 2013–14 squad. But he didn't let that hold him back: Engel attended the University of Utah and won the NCAA title in giant slalom before qualifying again for the U.S. team in 2014. Now 27 years old, Engel enters the PyeongChang Olympics fresh off of three top-30 finishes in World Cup slaloms in January.
JOANNE REID COMPETES IN BIATHLON AT THE WORLD CHAMPIONSHIPS IN HOCHFILZEN, AUSTRIA, PHOTO COURTESY RUSSELL REID
Joanne Reid
Olympic talent runs in Joanne Reid's family. The 25-year-old member of the U.S. Olympic biathlon team is the daughter of Olympic medalist speed skater Beth Heiden Reid and the niece of Eric Heiden, who made history by winning five gold medals in speed skating at the 1980 Winter Olympics. Although Reid grew up in Palo Alto, her parents drove her up every weekend to train at the Auburn Ski Club on Donner Summit. Reid went on to race at the University of Colorado, where she posted one of the best individual seasons in the college's history as a senior. She won nine of 12 races that season before claiming the 2013 NCAA Championship in the 15K freestyle. She made the transition to biathlon a couple years after college and, with sharp shooting skills combined with her speed in freestyle skiing, was a natural at the sport. Read more about Reid, as well as Tahoe's other cross-country Olympic hopefuls, in this feature from TQ's Winter issue.
Annika Taylor
Although she developed her love for cross-country skiing at tiny Donner Trail Elementary School on Donner Summit, Annika Taylor will make her Olympic debut not for her home country, but for the British Nordic Ski Team. Taylor, 24, enjoyed a successful youth racing career with Truckee High School and Far West Nordic before attending the University of New Hampshire. She hit her stride her senior year at New Hampshire, capturing several podiums during the season and earning All-American status with a seventh-place finish in the 15K classic at the 2015 NCAA Championships. The standout season combined with her father's dual British-American citizenship allowed Taylor to join the British team after college.
Russell Kennedy
Like Taylor, Russell Kennedy also raced cross-country for Truckee High School and Far West Nordic—and also qualified to compete for another country in the 2018 Winter Olympics. Kennedy is a Canadian citizen residing in Canmore, Alberta. Now 26, Kennedy grew up as a downhill racer before switching his focus to cross-country racing in eighth grade. While success came slowly in cross-country, he steadily improved with age and last year won the NorAm title and qualified to race on the World Cup. He earned one of the final three spots on the Canadian Olympic Team in the country's trials held in Mont-Sainte-Anne, Quebec.